September 30, 2014
How Is Property Distributed Without a Will in Illinois?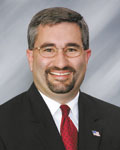 By Curt Ford
Nash Nash Bean & Ford
Despite knowing how important it is to create a comprehensive estate plan, over half of all Americans do not have one. There are an endless number of reasons why people procrastinate when it comes to creating an estate plan. Some people don't want to think about their own mortality. Others figure there is time to get to it later. Still other people are under the impression that they don't own enough things or have enough money saved up to warrant creating an estate plan. The reality is that everyone can benefit from creating an estate plan that includes at least a basic Last Will and Testament. Once you understand how property is distributed without a Will in Illinois you may finally decide to create
your plan.
Your Will gives you the ability to decide who will receive what assets when you die. Think of your Will as a roadmap or blueprint to be followed when you die. Even if you are not wealthy, you likely want to make the decision who will receive those assets you do have? If you die intestate, or without leaving behind a valid Last Will and Testament, in Illinois the state intestate succession laws will decide for you who receives your estate assets. Those laws look only at who survives you, not at your wishes. The basic distribution of assets by intestate succession in Illinois looks like this:
• Children but no spouse – children inherit everything
• Spouse but no children or descendants – spouse inherits everything
• Spouse and descendants – spouse inherits half and children inherit half
• Parents but no spouse, descendants, or siblings – parents inherit all
• Siblings but no spouse, descendants, or parents – siblings inherit all
• Parents and siblings – parents and siblings inherit equally except that if only one parent is alive that parent gets a double share as he/she inherits the deceased parent's share
Notice that friends, nieces and nephews, pets, and charities will receive nothing under the intestate succession laws. If you promised a beloved niece your doll collection, that promise will not be fulfilled if you die intestate. Maybe you are estranged from your siblings or parents at the time of your death and would prefer they not inherit from your estate. If you die without a Will in place, you give up the right to make that decision. For this reason alone, it is a good idea to create at least a basic estate plan. As you get older and add assets to your estate, you can revise and grow your plan as needed, but at least you know your wishes will be honored in the event of your death by creating a basic plan now.