September 30, 2014
PUBLISHER'S CORNER – The Baby Boomer Reunions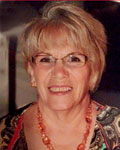 By Eloise Graham
The year was 1946. America had survived the Stock Market Crash of 1929, the Depression and dust storms of the '30s, World War II in the early '40s… but could it survive the Baby Boomers?
I was one of those in the first wave of "the Boomers." How many of you were? Do you remember the construction of new schools, because "we were the largest kindergarten class to enter the public school system?" Then seven years later, more school construction because "we were the largest Junior High age group to enter the public school system?" Then more high schools were built, followed four years later by larger dormitories on the college campuses. And so it went.
Now, fifty years after high school graduation, it is reunion time. A lot of things have changed in those fifty years – families, careers, moves, but one thing has been constant – those memories we made in our high school years. Those were formative years for us. We were trying out our wings and dreaming of the world ahead of us. For many of us, the crucial question of the week was, "What am I going to wear to the game on Friday night?" There was an air of innocence to us.
My 50th reunion is this month, and I am really looking forward to attending. I no longer ponder what I am going to wear, other than that it will be layered and warm, because we are attending the High School football game. I have attended our 10th, 20th, 25th, 30th, 35th and 40th reunions, along with some mini reunions and multiple class reunions along the way.
The weekend usually follows a similar format. Friday evening is a casual time at someone's home or at the football game; Saturday, various outings for breakfast or tours of the "Old School" during the day and the reunion dinner/social time in the evening; Sunday, a family picnic time in the City Park.
I remember our 10th reunion – Saturday night we all felt like we were back in high school, seemed as if only a couple of weeks had passed by. We had our dinner followed by a dance, and we were suddenly transported back to the gym and the sock-hops Then we had our family picnic at the park. Suddenly, there were children and babies there, we were families now. That was such a fun time, that the organizers continued that Picnic in the Park idea through our 30th reunion. It was exciting to see our classmates families and watch them grow.
One thing I have learned from these reunions is that maybe the clique we ran with in high school is often not our first choice of people to greet. New friendships have been formed with old classmates. It's exciting. So, if you have a chance, to go to a reunion, GO. I have heard excuses like, "I wasn't in with the in crowd. No one cares if I come or not." Not true!!! There are many people that would love to see you – even the so-called in crowd! "I have gained weight and don't want my old classmates to see." You are not alone. Many of us have added a few pounds. "Reunions! They are just a bunch of old people." Well, that's true, but they are your old people and you are one of them!
Filed Under: Personal Growth
Trackback URL: https://www.50pluslife.com/2014/09/30/publishers-corner-reunions/trackback/