December 29, 2014
FROM DREAM TO REALITY WITH MY SOCIAL SECURITY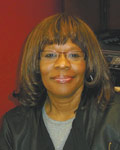 By Linda Clayton-Powell
Social Security District Manager
Davenport, Iowa
In 1963, Dr. Martin Luther King, Jr. spoke about his dream of an America where equality was more than a concept—where it was an everyday reality. I have a dream that one day this nation will rise up and live out the true meaning of its creed: "We hold these truths to be self-evident: that all men are created equal."
His dream struck a chord with many people and inspired a nation. It shined a light on the ideal that every citizen should have equal opportunity to prosper and succeed. As we remember Dr. King and his dream for America, take a moment to reflect on your dreams for yourself and your family. What are the things that you want for your future? Do you see yourself enjoying retirement someday?
With some planning, that dream can come true. The best way to keep your retirement dreams on track is by opening a my Social Security account.  A my Social Security account is an excellent tool that helps you plan for the future.  It lets you verify your earnings on your personal Social Security Statement—because your future retirement benefit depends on your earnings throughout your career.  You can view your Statement at any time, giving you a good picture of what your future benefits will be.  When you are ready to retire, you can even go online to apply for benefits from your home or office.
In addition, the advantages of having a my Social Security account do not stop after you retire. Once you start receiving benefits, you can manage them with a my Social Security account. You can get an instant benefit verification letter, check your benefit and payment information, change your address and phone number, and start or change your direct deposit information—all online.
Setting up a my Social Security account is quick, secure, and easy. Millions of Americans already have accounts. In fact, someone opens one about every 6 seconds. Join the crowd and sign up today at www.socialsecurity.gov/myaccount. It is the stuff dreams are made of.
UNFLINCHING IN THE FIGHT AGAINST FRAUD
If you are like most people, you protect what is valuable to you. Social Security is much the same. We value the people we serve, our employees who work hard to provide world-class customer service, and the integrity of our programs. We protect these by using many tools to identify, prevent, and stop fraud, and we seek the maximum punishment for those who commit it. The tools we use help us predict where fraud may occur, and, by monitoring cases closely, we identify fraud sooner rather than later.  We also have stiff penalties that discourage people from committing fraud.
Social Security has a zero-tolerance policy for fraud.  While we cannot prevent every instance of fraud any more than law enforcement can prevent all crime, we aggressively investigate and pursue prosecution of those who try to cheat the system.
Social Security takes fraud seriously and so should you.  If you suspect someone is committing Social Security fraud, report it online at http://oig.ssa.gov/report or call the Social Security Fraud Hotline at 1-800-269-0271.