September 27, 2017
Ella's Kitchen
October's cool, crisp days call for autumn comfort foods. Enjoy these encore appearances by some of our favorite Fall recipes. Have a great October!
                                                                                           –Ella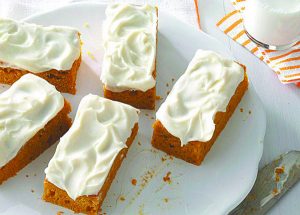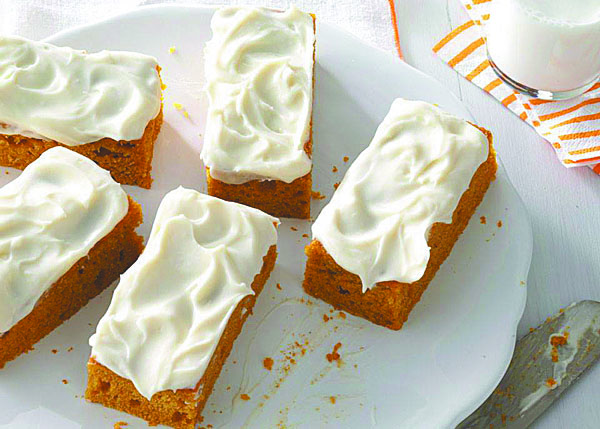 Pumpkin Bars
4 eggs

 

2 tsp ground cinnamon
1 2/3 Cups sugar
2 tsp baking powder
1 tsp baking soda
1 tsp salt
1 Cup canola or olive oil
1 can (15 oz pumpkin
2 Cups all-purpose flour
Directions:
In a bowl, beat the eggs, sugar, oil and pumpkin until well blended. Combine the flour, cinnamon, baking powder, baking soda and salt; gradually add to pumpkin mixture and mix well. Pour into an ungreased 15-in. x 10-in. x 1-in. baking pan. Bake at 350 degrees for 25-30 minutes or until set. Cool completely.
---
Icing:
6 oz cream cheese, softened
2 Cups confectioner's sugar
1 tsp pure vanilla extract
1 to 2 TBL spoons milk
Directions: Beat the cream cheese, confectioners' sugar, butter and vanilla in a small bowl. Add enough milk to achieve spreading consistency. Spread over bars. Store in the refrigerator.
Yield: 2 dozen.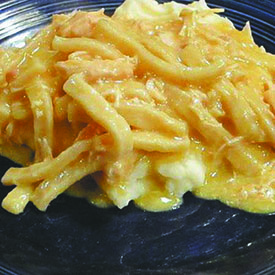 Crock Pot Chicken 'n Noodles
4 boneless skinless chicken breasts
2 cans cream of chicken soup
1 stick of butter
2 15 oz cans chicken broth
24 oz. frozen egg noodles
---
Cook chicken, soup, butter, and broth in crock-pot on low for 6-7 hours. Take chicken out and shred. Put chicken back in; add noodles and cook on low for 2 hours. Stir a few times while cooking. Variations: Add a package of frozen peas, or green beans or mixed vegetables when you add the noodles.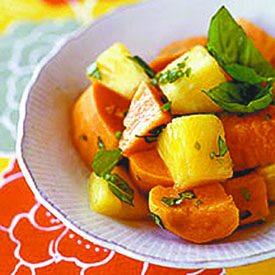 Sweet Potato, Pineapple Mango, Kiwi Salad
2 medium sized sweet potatoes, cooked, peeled and cubed in 1 to 1 1/2 inch pieces (I cook mine in the microwave – about 3 minutes per potato)
1 can pineapple chunks, drained – reserving 3 Tablespoons of the liquid

        

1 mango, peeled and fleshy part cubed

    

2 – 3 kiwi peeled and cut into about eight pieces each
1/2 Cup plain or vanilla yogurt
---
Gently toss the cut up pieces of fruit in a bowl. Add the reserves pineapple juice to the yogurt. Stir until well blended. Pour over the fruit. Serve chilled.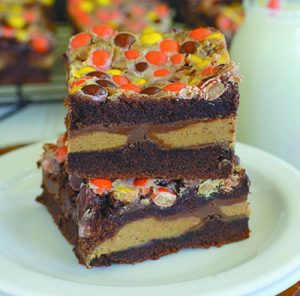 Reese's Gooey Cake Bars
1 chocolate cake mix

1 egg

1/2 Cup softened butter

1 tsp vanilla extract

16 regular sized peanut butter cups,    frozen and unwrapped

1/2 Cup sweetened condensed milk

1/2 Cup mini Reese's Pieces
---
Directions: Combine the cake mix, egg, butter, and vanilla in a mixing bowl. Beat until a soft dough forms. Press half the dough into an 8x8x2 baking dish that has been sprayed with non-stick spray. Arrange the frozen peanut butter cups over the top of the dough. You may need to trim the edges of a few. Press the rest of the dough over the tops of the peanut butter cups evenly. Drizzle the sweetened condensed milk over the top of the dough. Sprinkle with the Reese's Pieces. Bake at 350 degrees for 30-35 minutes. They will look very gooey and undone. Let the bars cool completely before cutting into 16 squares. Store in a sealed container on the counter.
NOTE: Make sure you freeze your peanut butter cups at least a few hours before you start to make these bars. *Make sure you also let these bars set completely before cutting into them. They will appear very gooey and undone, but do not worry. They will set up. Try this for Christmas, but use red and green M&M's instead of the Reese's Pieces.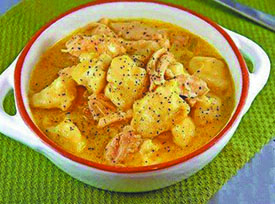 Easy Slow Cooker Chicken and Dumplings
2 Tablespoons Butter
4 boneless, skinless chicken breast (or 6 skinless chicken thighs)
1 Onion, finely diced
2 cans of Cream of Chicken Soup
2 small packages Grands Jr biscuits (10 biscuits)
Flour
---
Place the chicken, butter, soup, and onion in a greased slow cooker, and fill with enough water to cover.
Secure lid and cook for 5 to 6 hours on High. About 30 minutes before serving, roll each torn biscuit piece in flour (to prevent them from sticking together), then drop into the slow cooker. Replace lid and cook remaining 30 minutes.
This recipe is bone-in. If you prefer to remove the bones before serving, do this BEFORE you add the biscuits. You can pull the bones out and leave large chunks of meat or shred the meat with a fork.
[Ella can be contacted at ellaweeza@yahoo.com or Ella at 50+ Lifestyles, 804 W Lombard Street, Davenport, IA, 52804]