November 2, 2017
YOUR SOCIAL SECURITY | Davenport, Iowa Office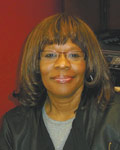 By Linda Clayton-Powell
Social Security District Manager
Davenport, Iowa
SOCIAL SECURITY ONLINE PUTS YOU IN CONTROL
Taking control of your future is the first step in planning a long and happy retirement. Social Security is making it faster and easier to do this with my Social Security.
With your own personal my Social Security account, you'll get immediate access to your personal Social Security Statement that has your earnings record and an estimate of your retirement benefits at age 62, at your full retirement age, and at age 70. While you are online, you should verify that your earnings are correct, since we base your future benefits on your earnings record. You can do all of this and more at www.ssa.gov/myaccount.
When you open a my Social Security account, we protect your information by using strict identity verification and security features. The application process has built-in features to detect fraud and confirm your identity. Your personal my Social Security account can help you figure out how much more you might want to save for your future, but it can do a whole lot more. For example, in the District of Columbia and more than 20 states, you can request a replacement Social Security card online — find out if you can at www.socialsecurity.gov/ssnumber.
Remember, we have many other valuable resources on our website. If you're thinking about retiring at an age not shown on your Statement, take control by using our Retirement Estimator.
The Retirement Estimator allows you to calculate your potential future Social Security benefits by changing variables such as retirement dates and future earnings. You may discover that you'd rather wait another year or two before you retire, to earn a higher benefit. Or, you might see that this is the season for you to kiss that work stress goodbye and retire right now. To get instant, personalized estimates of your future benefits, go to www.socialsecurity.gov/estimator.
Being in control means steering your future in the direction you want. Social Security's online resources are here to help, day or night. Check out your own personal "control panel" at www.socialsecurity.gov/onlineservices.
SOCIAL SECURITY SUPPORTS VETERANS
Supporting veterans and active duty members of the military is a key part of Social Security's mission. Our disability program has helped countless wounded warriors and their loved ones. On Veterans Day, our nation honors the brave people who risk their lives to protect our country.
For those who return home with injuries, Social Security is a resource they can turn to for disability benefits. Social Security's Wounded Warriors website is at www.socialsecurity.gov/woundedwarriors.
The Wounded Warriors website has answers to many commonly asked questions, and provides other useful information about disability benefits, including how veterans can receive expedited processing of disability claims. Benefits available through Social Security are different from those available from the Department of Veterans Affairs; they require a separate application.
Social Security's expedited process is available to military service members who become disabled while on active military service on or after October 1, 2001, regardless of where the disability occurs.
Even active duty military who continue to receive pay while in a hospital or on medical leave should consider applying for disability benefits if they're unable to work due to a disabling condition. Active duty status and receipt of military pay doesn't necessarily prevent payment of Social Security disability benefits. Although a person can't receive Social Security disability benefits while engaging in substantial work for pay or profit, receipt of military payments should never stop someone from applying for disability benefits from Social Security.
You can learn more by visiting our veterans page at www.socialsecurity.gov/people/veterans.
QUESTIONS AND ANSWERS
Question:
Do Members of Congress have to pay into Social Security?
Answer:
Yes, they do. Members of Congress, the President and Vice President, federal judges, and most political appointees, have paid taxes into the Social Security program since January 1984. They pay into the system just like everyone else, no matter how long they have been in office. Learn more about Social Security benefits at www.socialsecurity.gov.
Question:
How can I get proof of my benefits to apply for a loan?
Answer:
If you need proof you get Social Security benefits, Supplemental Security Income (SSI) and/or Medicare, you can request a benefit verification letter online through your personal my Social Security account at www.socialsecurity.gov/myaccount. This letter is sometimes called a "budget letter," a "benefits letter," a "proof of income letter," or a "proof of award letter."
Question:
I'm approaching my full retirement age and thinking about retiring early next year. When is the best time of year to apply for Social Security benefits?
Answer:
You can apply as early as four months before when you want your monthly benefits to begin. To apply, just go to www.socialsecurity.gov/applytoretire. Applying online for retirement benefits from the convenience of your home or office is secure and can take as little as 15 minutes.