November 29, 2017
Christmas Past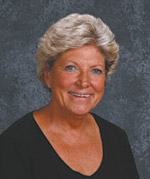 By Mary Schricker Gemberling
"There is no ideal Christmas; only the one Christmas you decide to make as a reflection of your values, desires, affections, & traditions."
                                                        Bill McKibbon
Christmas traditions have changed considerably over the centuries. Even within my lifetime, popular practices of the yuletide season have come and gone. The Christmases of my childhood were pretty formal. Now both the attire and
presentation of food and gifts match the casual lifestyle in which we live. However, the warm and fuzzy feeling that comes over us when we remember family traditions cannot be denied. So I invite you to join me as I look at some of the trends, toys, and interesting factors of Christmas past:
Aluminum Christmas Trees.  Initially sold in 1955 these metallic faux-firs did not require strings of lights. Instead the entire tree would shift in a kaleidoscope of color from a spinning red-blue-green wheel and spotlight. Interestingly, the popularity of the real little evergreen in A Charlie Brown Christmas, which premiered in 1965, is credited with killing off this trend.
Bubble Lights. First introduced to the U.S. market in 1946, these percolating baubles brought the look of Las Vegas neon to the Christmas tree. The tricky part was keeping them upright, so that the magic of physics could make the delicate lights work.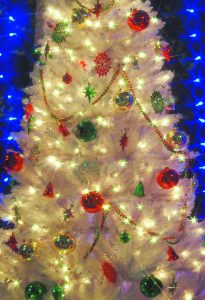 Flocked Christmas Trees. These are trees sprayed liberally with cans of fake snow. Patents for the spray-on snow were filed in 1953 and Christmas trees along with wreaths and greenery were soon covered in white.
Trains sets. The sales at the Lionel Corporation peaked in 1953, which can be considered the heyday of the toy choo-choo! Letting the little locomotive circle the base of the tree brought a touch of the department store window to the living room.
Strings of popcorn or paper chains. No tree was complete until the popcorn was strung round and round from top to bottom. And as if this was not labor intensive enough construction paper was cut in strips and glued making multi colored connecting chains to complete the tree decorating. People did have a lot more time in those days!
The Advent Calendar. This fun and festive tradition makes the countdown to Christmas part of the daily routine while focusing less on the materialism. Small notes, pieces of candy or suggested acts of kindness were placed behind the date beginning with December 1.
What might a child in past decades want to find under the tree on Christmas morning? Here is a list of the most wanted toys of earlier times! Did you have any of them?
Chatty Cathy. This talking doll gave Barbie a run for her money, becoming the second highest-selling doll of the decade. Pull the string from her back and Cathy would speak one of eleven phrases. Seems pretty simple in the present day of 'Siri'?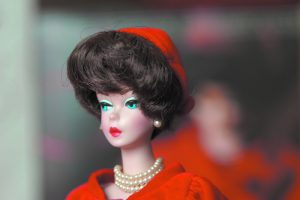 Ken Doll. Barbie made her debut in 1959 and went without a companion for two years before Ken arrived in 1961. The original doll had 'real' hair made of felt, but the subsequent Ken's had plastic dos!
Barbie's dream house. Both Ken and Barbie were popular in the 1960's and they needed a place to live. In 1962 a cardboard ranch complete with mid-century modern furniture became their first real home. As years progressed so grew the sophistication and size of Barbie's home to the
present day plastic estate!
Easy-Bake Oven. Teaching kids how to bake at a very young age, the Easy-Bake Oven utilized two light bulbs and came in two colors— yellow and light blue.
G.I. Joe Doll. Dolls got a little more masculine in the mid 60s with the introduction of G.I. Joe by Hasbro.
Lite Brite. Launched in 1967, Lite Br
ite was billed as "an amazing new toy that lets a child color with lite." It came with 16 pre-printed pictures and a magic box.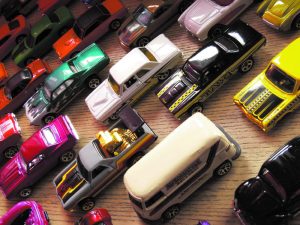 Hot Wheels. Still a popular Christmas gift today, Matchbox has been selling these tiny cars since 1968. The initial line of models included the Camaro, Corvette, Firebird, Mustang and more.
'Star Wars' action figures. The surprising success of George Lucas's Star Wars brought an entire line of toys designed to encourage the creativity of children everywhere as they replayed the adventure with look–alike characters from the movie. Most of the 12 original figures have been re-released in a 'Star Wars' classic line and are as popular as ever on a child's Christmas list today.
Cabbage Patch Kids. In 1983 this doll became a huge media-fueled hit, causing a mad scramble for the few million of the pudgy-cheeked dolls that were produced before Christmas. The fad grew even more the next year with 18
million Cabbage Patch Kids sold.
Transformers. The cartoon about warring factions of anthropomorphic robots from outer space was hugely popular and spawned a full line of toys by Hasbro. The toy company shipped an estimated $80 million worth of Transformers
in 1984.
No discussion of Christmas traditions would be complete without talking about the music. It seems from Halloween on we are inundated with Christmas songs playing over every loud speaker system within ear shot. It is interesting that many of the traditional songs we hear and sing during this time of year surfaced in the 1800s, To name just a few:  "Silent Night" (1818), "Joy to the World" (1839), "Hark the Herald Angels Sing" (1840), "It Came Upon A Midnight Clear" (1846),"Jingle Bells" (1850), "O Little Town of Bethlehem" (1868), and "Away in the Manger" (1885). With the invention of the radio in the early 1900s, modern carols and secular music became widely popular and reflected the mood of the times.  The holiday classic "Santa Claus Is Coming to Town" written by James Haven reflected a time when he was broke, jobless, and mourning the recent death of his brother. Despite being overcome with grief, he found inspiration in the holiday memories he and his brother had shared.  The classic longing of "I'll be Home for Christmas" was first recorded in the midst of World War II. The optimism and boom of the 1950's is reflected in its perky, uplifting carols, while the most modern ones ranging from country to pop are more individualized and unique. From Bing Crosby's iconic "White Christmas" to Kenny Rogers & Wynonna Judd's version of "Mary, Did You Know", Christmas spirit is synonymous with music.  If asked what my favorite Christmas tradition is, I would say without hesitation it is singing Silent Night in a candle-lit service on Christmas Eve. Like no other, this simple act, is for me Christmas!
I hope you have seen a bit of your Christmas past in this brief journey down memory lane. As you hold on to a bit of the traditions of yesterday I hope you continue to make new memories with family and friends this season.
Mary Schricker Gemberling
Mary, a former educator and Seniors Real Estate Specialist, is the author of three books; The West End Kid, Labor of Love; My Personal Journey through the World of Caregiving, and Hotel Blackhawk; A Century of Elegance.