January 30, 2018
The Fountains – A Certified I'm Still Here®
By Leah Luna
Marketing Director
The Fountains Senior Living
The Fountains Senior Living Community is proud to be a certified I'm Still Here Center of Excellence. What does this mean for our residents?
Specialized Training
The designation as an I'm Still Here® Center of Excellence is awarded only to a select few organizations each year. To achieve this certification, each organization must participate in a rigorous training and implementation program developed by the Hearthstone Institute.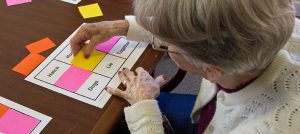 As part of the certification process, every staff member working in our memory care program, as well as many others in our community, took part in a six-month on-site dementia training curriculum. This program included extensive training in Alzheimer's disease and related dementias, communication techniques and life enrichment. The result: our team members are true dementia specialists, and we have a rich, dementia-friendly culture throughout our entire organization.
Unprecedented Memory Care
In partnering with I'm Still Here®, our organization has joined a network of professionals associated with a brand that has become synonymous worldwide with excellence in caring for the memory impaired. Founded in 1992, Hearthstone has become a world leader in the field of non-pharmacologic interventions for memory challenges through its evidence- and research-based approach. Its founder, Dr. John Zeisel, is internationally renowned for contributions to this field and his groundbreaking book, I'm Still Here.
Through meaningful engagement, the I'm Still Here®  approach has been shown to reduce the common symptoms associated with dementia, such as anxiety, agitation, aggression and apathy – the 4 A's™ – while significantly improving quality of life. This innovative approach employs evidence-based techniques to adapt experiences to an individual'scognitive abilities and strengths, thus increasing self-esteem and independence.
I'm Still Here® represents a profound paradigm shift in dementia care by creating an unprecedented level of true engagement for those living with memory challenges. Through environmental adaptations, specialized communication techniques, staff training and life-enrichment programs, I'm Still Here® provides the opportunity for those with dementia to remain creative, be actively engaged and to truly thrive – despite the severity of any cognitive challenges.
The growing network of I'm Still Here® Centers of Excellence can be seen by visiting the Hearthstone Institute website at www.thehearthstoneinstitute.org.