January 31, 2018
Ella's Kitchen
Hope you are having a fantastic February. Here is a meal plan for two. The soup recipe will make six servings, but you can refrigerate the extra for a future meal during the week.
                                                                                           Ella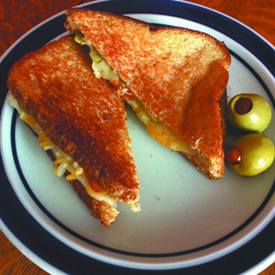 Grilled Sandwich
4 slices bread
4 slices white sharp cheddar
Some green olives – I used about 6 large olives

 

About 1/3 cup grated cheese

                

Mayonnaise – I used Miracle Whip

   
---
I learned a trick from a guest cook on the Rachael Ray show. Instead of buttering the outside of your bread for grilling the sandwich, use mayonnaise. It is easier to spread, won't rip the bread like cold butter will.
"Butter" the bread slices with a thin coat of mayonnaise on outside of bread (the part that will be on grilling surface). Place a slice of cheese on two of the slices of bread. Add sliced olives and some shredded cheese. Now place the second slices of cheddar on top. Put the remaining slices of bread on to make the sandwich. Grill on griddle or in a fry pan, medium heat, until bread is toasted and cheese has melted.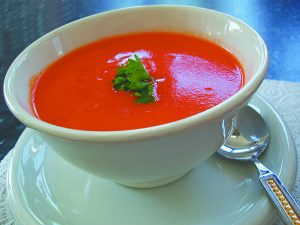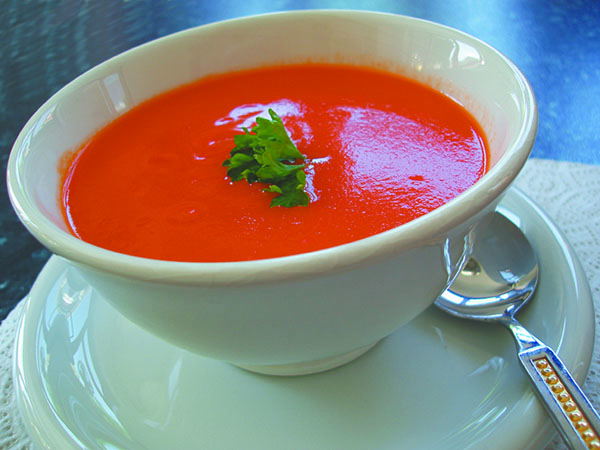 Country Tomato Soup
(if you are in a hurry, go ahead and use canned soup – but if you make this recipe, you won't be sorry)
1/4 cup butter
2 cups chicken stock or broth
1 Tablespoon brown sugar
1/2 small clove garlic, minced
1/2 teaspoon dried basil
1 medium stalk celery, chopped
1/2 teaspoon dried basil 1 small carrot, chopped
1/2 teaspoon dried marjoram 1 medium onion, chopped
1 bay leaf
1 small zucchini, chopped
1 cup half and half
2 Tablespoons flour
1/4 teaspoon paprika
1 can (28 ounces whole tomatoes
1/4 teaspoon curry powder
1/8 teaspoon white pepper
1/4 teaspoon salt
---
Melt butter in large saucepan; cook and stir in garlic, celery, carrot, onion and zucchini until vegetables are tender. Blend in flour and cook over low heat, stirring until mixture is smooth and bubbly. Add tomatoes, chicken stock, brown sugar, basil, marjoram and bay leaf. Heat to boiling, reduce heat, cover and simmer 20 minutes, stirring occasionally. Remove and discard bay leaf. Puree mixture in a food processor or blender. Using the same saucepan heat half and half to about the same temperature as the pureed tomato mixture. Whisk half and half into the mixture. Add remaining seasonings. Can be served either hot or cold. Garnish with parsley, if desired.

Chef Salad
1/2 head lettuce
1/2 cup julienne strips of Swiss cheese
1/4 bunch romaine or endive
/4 cup chopped green onion

     

1/4

 

cup mayonnaise dressing
1/4 cup sliced celery

 

2 Tablespoons French dressing 4 ripe olives
1 hard boiled egg, sliced

 

1/4 cup julienne strips of cold cooked meat (beef, ham, luncheon meat)
1/4 cup julienne strips of cold chicken or turkey
---
Tear greens into bite-sized pieces. Toss greens with onions, celery, meat, chicken, cheese – reserving a few strips of each for garnish. Just before serving toss with the dressings. Garnish with reserved strips, ripe olives and egg slices.
[Ella can be contacted at ellaweeza@yahoo.com or Ella at 50+ Lifestyles, 804 W Lombard Street, Davenport, IA, 52804]