May 30, 2018
Ella's Kitchen
It's summertime, picnic time. Remember food safety- keep hot foods hot and cold foods cold. A food safety rule is that after three hours hot food that has not been kept hot or cold food that has not been kept cold should be thrown out.
– Ella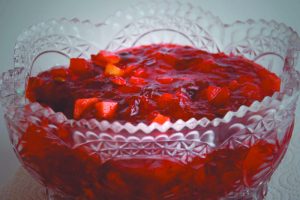 Cranberry Pineapple Salad
1 package (6oz) raspberry-flavored gelatin
1 3/4 cups boiling water
1 can (16 oz) jellied cranberry sauce
1 can (8 oz) crushed pineapple, undrained
3/4 cup orange juice
1 Tablespoon lemon juice
1/2 cup walnuts, pecans or almonds (optional)
---
In a bowl dissolve the gelatin in the boiling water. Break up and stir in the cranberry sauce. Add pineapple, orange and lemon juices. Chill until partially set. Then stir in nuts, if desired. Pour into an 11 x 7 x 2 pan. Chill until firm. Cut into squares and serve. Should yield 12.
To keep cold at a picnic, place the 11 x 7 pan in a larger pan containing crushed ice.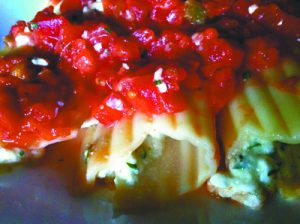 Spicy Cheese Manicotti
8 uncooked manicotti shells
1 cup low-fat cottage cheese
1/2 cup grated Parmesan cheese
2 oz (about 1/2 cup) shredded low-far part skim mozzarella cheese
1 egg, slightly beaten
2 Tablespoons fresh chopped parsley
1/2 teaspoon ground oregano
1/8 teaspoon cayenne pepper
1 can (16 oz) tomatoes, chopped and undrained
1 can (4 oz) diced green chiles, undrained
1 Tablespoon cornstarch
---
Spray a 12 x 8 (2 quart) baking dish with cooking spray. In a pot, cook manicotti as directed on the package – to your desired doneness. Drain and place in cold water. Heat oven to 350 degrees. In medium bowl combine the cheeses, egg, parsley, oregano and cayenne. Mix well.
Drain the manicotti, spoon cheese mixture into the shells. Place shells side by side in the baking dish.
In medium saucepan combine tomatoes, green chiles and cornstarch. Cook until the mixture comes to a boil and thickens, stirring constantly. Pour over filled manicotti shells. Cover and bake 40 minutes or until bubbly. Let ser a few minutes before serving.
Substitution ideas:
Use approximately 1 – 2 cups shell or elbow macaroni in place of the manicotti. Place cooked, cooled and drained pasta in the bottom of the baking dish. Spoon and spread the cheese mixture over the top. Then cover with sauce. Bake as directed above.
Use a can of mushrooms rather than the green chiles for a milder dish.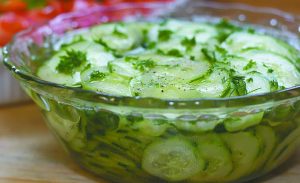 Swedish
Cucumbers
2 medium cucumbers
3 medium onions
1/2 cup white vinegar
1/2 cup sugar
1/2 teaspoon salt
---
Do not peel the cucumbers, rather score them with the tines of a fork. Slice paper- thin. Slice onions and separate the rings. Combine the two together. In a small non-aluminum saucepan combine the vinegar, sugar and salt. Bring to a boil. Pour over cucumber/onion mixture. Refrigerate at least 4 hours or overnight.
Editor's note: I like to garnish each serving with a dash of lemon pepper.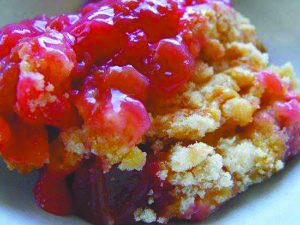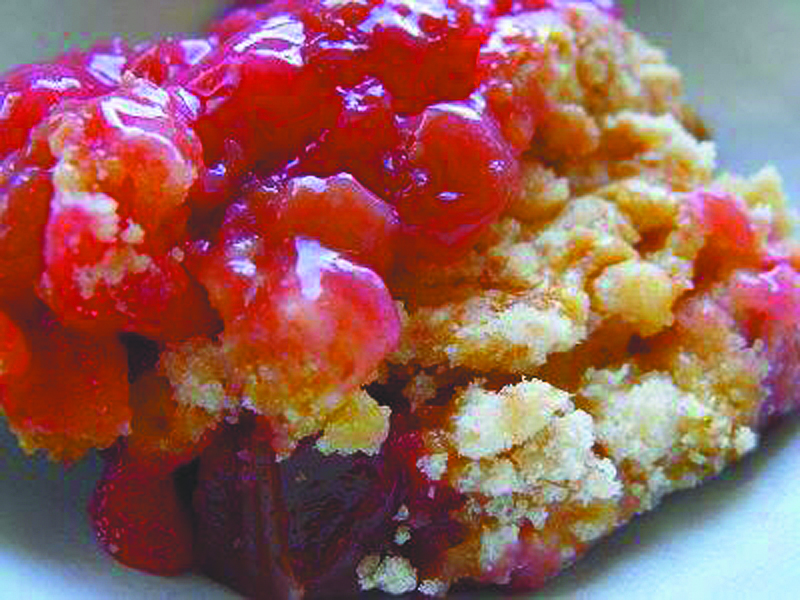 Rhubarb Dump Cake
1 pound rhubarb, cut into 1/4 inch pieces (3 – 4 cups)
1 cup sugar
1 package (3 oz) strawberry or raspberry gelatin
1 package yellow cake mix
1 cup water
1/4 cup melted butter
---
Preheat oven to 350 degrees. Grease a 9 x 13 baking dish. Spread the rhubarb evenly in the bottom of the baking dish. Sprinkle the sugar over the rhubarb, then the powdered jell-o, followed by the cake mix. Gently pour the water over the top. Then drizzle the melted butter. Do not stir. Bake for 45 minutes or until the rhubarb is tender.
[Ella can be contacted at ellaweeza@yahoo.com or Ella at 50+ Lifestyles, 804 W Lombard Street, Davenport, IA, 52804]