June 27, 2018
Max's Musings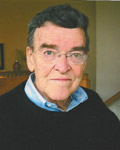 By Max Molleston
"It's that time of year again: time to get ready for local, county, regional and state fairs. Will you be able to spend an afternoon or evening in the Grand Stand, or on the midway with family and friends? Are you tempted by food stand offering the best summer treats you could imagine, whether funnel cakes or savory sandwiches?"
While I was and am a fan of the midway and the meals, my main mission was the livestock and young farm kids managing all that has to be done. And, to be at as many of the final judgings as possible. I left a couple things behind. Two banners on our farm broadcasting efforts, strung up in the cattle show barn, are forever beyond my grasp. This month I am moving in with lambs and goats, or rather with their shepherds via short remembered or imagined scenes conjured up by two poets long dead. These short poems come from a book which claims one-thousand poems. I did scout through many pages and enjoyed some of the verses.
On with the shepherds….
The Shepherd Boy
The shepherd boy a kingdom rules,
An emerald hill his throne;
Crown'd with golden sunshine,
He reigheth there alone.
His goats court players are;
Each wears a tinkling bell,
And the birds sweet pipings,
A royal concert tell.
And the piping and the bells,
With the brooks soft rhymes,
Lull the drowsy king to sleep,
While gently nod the pines.
Heinrich Heine was one of the first acclaimed German poets of the 1700 era, maligned for the tone of some verses even into the Third Reich. Imagine picking on a poet over that long a period of time for some of his political views and some language used.
He, of course, is not the last poet to be shamed and worse for words thought not fit for the times. Heine has retained his place in the German poetry ranks and is probably most remembered for his beautiful songs, usually solo efforts, based on folk ideas and melodies, and still parts of concerts. We know of him through translations.
William Blake, well regarded English poet, penned his version in this manner.
The Shepherd
How sweet is the shepherd's sweet lot !
From the morn to the evening he strays;
He shall follow his sheep all the day,
And his tongue shall be filled with praise.
For he hears the lambs' innocent call,
And he hears the ewes' tender reply;
He is watchful while they are in peace,
For they know when their shepherd is nigh.
Plentiful sheep and goat herds on the countrysides of an earlier Europe and Britain may have promised poetry outbursts from writers with a good hold of language and its use. Two is enough for you readers for now.
We continue to urge your good thoughts and attendance at the county fair near you. The farm youngsters need you there. Farm family pride is a part of these gatherings, The original purpose.
I will be back here in August for more memories and a different poet.