July 30, 2018
From Garden to Table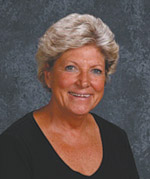 By Mary Schricker Gemberling
"A healthy outside starts from the inside"
                                                 … Robert Urich
As a young teenager growing up in St. Louis, the first thing I did when I burst through the front door after school was call my mom and tell her I was home, easing her concern about my whereabouts as she helped out at the family business.  The second thing I had to do was start dinner unless it was my slightly older sister's turn. Brenda and I took turns following the instructions for dinner preparations left by my mom on the kitchen table. I never looked upon this as a burden, as I had been helping my mom in the kitchen since I was a small child.
In my college years, in addition to studying English, I enrolled in 'Home Economics' courses, learning all I could about cooking, diet, and nutrition. Years later my summer's away from teaching English were spent freezing or canning my garden's bounty and devising healthy recipes for my young family to enjoy.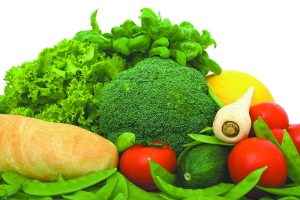 And now, at the age of 70, I am living proof that we often hang onto those special interests we have cultivated in our younger more carefree days. This afternoon I picked several tomatoes, a few cucumbers, a zucchini and several bunches of herbs in anticipation of dinner guests the next evening.  Surrounded by cookbooks and recipes and faced with the tasks of deciding on my menu and meeting my deadline for this article, I decided to "kill two birds with one stone" and share with you the recipes for tomorrow's feast! The menu includes whipped herb cheese with crackers, Caprese salad, grilled boneless pork chops, roasted red potatoes, cucumbers & onions, and lemon zucchini cake.
Let's begin with the herbs. I picked parsley, chives, oregano, sage, and basil. For the appetizer, the parsley and chives will be used to make an herb dip to serve with crackers. I got this recipe from my college roommate who is also a gardener and often cooks with fresh ingredients from her garden. Additional parsley along with the rosemary will be added to the potatoes and the meat marinade which also uses sage and oregano. The purpose of the marinade is to add flavor and tenderize the pork chops.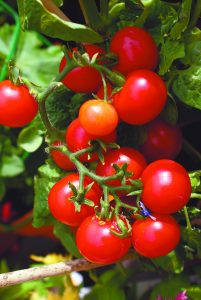 There is nothing better than tomatoes fresh from the garden and slightly chilled. The tomato Caprese salad which is often found in high-end restaurants is probably the easiest salad to make at home. The fresh basil and mild dressing make it very light with few calories. The cucumber side dish which I learned to make over 50 years ago is something I keep in the refrigerator throughout the summer, for a quick add to almost any main entrée.
You might be surprised to find out that zucchini, a prolific garden vegetable, has many health benefits. It is low in calories, high in fiber, has no cholesterol or unhealthy fats, and has more potassium than a banana. A bit bland and mushy served by itself, it can be an excellent addition to quick breads and cakes for added moisture. In addition to the lemon cake, chocolate zucchini bread is one of my grandchildren's favorite summer treats!
The recipes for my dinner menu are featured on this month's Ella's Kitchen. I hope you will try some of these dishes but I must warn you; they are not "hazardous to your health and contain no side effects". Once you begin using fresh garden vegetables and herbs in your cooking you will never go back to boxed mixes and canned or frozen alternatives.
This article, which combines my passions for gardening, cooking, and writing, has been so fun to write; I may have to do this again with other seasonal recipes.  Bon Appetite!!!!
Mary, a former educator and Seniors Real Estate Specialist, is the author of three books, The West End Kid, Labor of Love; My Personal Journey through the world of Caregiving, and Hotel Blackhawk; A Century of Elegance.