September 6, 2018
Ella's Kitchen
September- whether it's reaping the late season garden harvest, enjoying comfort foods or baking for the fall and winter festivities, please enjoy the ideas below.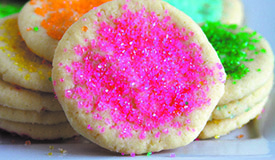 Simple but Elegant Sugar Cookies
1 stick + 2 Tablespoons of salted butter (room temperature)
1/3 cup sugar
1 cup flour
Sprinkles, candies or nuts for embellishments
---
Preheat oven to 325 degrees F.
Using an electric mixer cream together the butter and sugar, whipping the two until the butter is almost white and the mixture is light and fluffy. The consistency will be similar to a slightly gritty frosting.
Stir in the flour. Mix well.
Form dough into 1 inch balls and place about 2 inches apart on baking sheet. Flatten them into a disc shape if you are topping with sprinkles. Or push a thumb into the ball to make a hollow area and put in a nut or piece of candy or dried fruit. Hint: For fall, use a piece of candy corn.
Editor's note: This recipe was given to me by a lovely resident at Ridgecrest Village.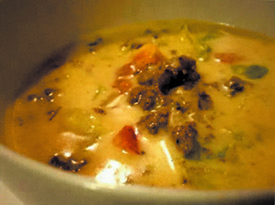 Cheeseburger Soup
1/2 pound ground lean beef
(for a beefier soup,
use up to a pound)
3/4 cup chopped onions
3/4 cup shredded carrots
3/4 cup diced celery
1 teaspoon dried basil
1 teaspoon dried parsley flakes
4 cups peeled and diced potatoes
1/4 cup all purpose flour
2 cups Velveeta processed cheese cubed
1 1/2 cups milk
3/4 teaspoon salt
1/4 to 1/2 teaspoon pepper
1/4 cup sour cream
---
Brown the ground meat in 3-quart saucepan. Drain and set aside. In the same saucepan add 1 Tablespoon butter and ad onion, shredded carrots, parsley flakes, basil and celery. Sauté until tender. Add broth, potatoes and beef, bring to a boil. Reduce heat, cover and simmer 10 – 12 minutes or until potatoes are tender.
In a small skillet melt remaining butter (3 Tablespoons) adding the flour. Cook and stir for about 3 – 5 minutes or until bubbly. Add to the soup and bring to a boil. Cook and stir for a couple of minutes. Reduce heat to low. Stir in the cheese, milk, salt and pepper. Cook and stir until cheese melts. Remove from heat and stir in sour cream.
Garden Fresh Green Beans and Potatoes with Ham in the Crock Pot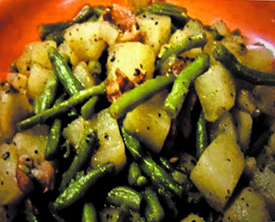 2 pounds fresh green beans, ends snapped off, and cut in pieces
2 pounds ham, diced
4 large baking potatoes, cubed (peel if you prefer, I often just scrub and leave the peels on)
1 large onion, diced
---
Put in the crock pot and add 3 cups of water, season with salt and pepper. To add more flavor do a dash of A-1 or another steak sauce.
[Ella can be contacted at ellaweeza@yahoo.com or Ella at 50+ Lifestyles, 804 W Lombard Street, Davenport, IA, 52804]