September 6, 2018
Max's Musings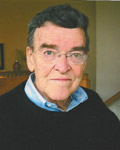 By Max Molleston
What were you doing back in 1964? Our poet, Mark Stellinga, a Tiffin, Iowa resident and self-employed antiques collector, restorer and sales point, started his poetry journey. Mark became a teenage poet composing special couplets that rhymed, his chosen style when he was a prize-winning junior high kid in Lyrical Iowa, a special book celebrating outstanding work from each years poetry contest held by the Iowa Poetry Association. Mark never looked back. A big kid, his teacher claimed he was the only football player writing poetry. Mark, correcting, told her he Was the only poet playing football. As the years rolled by Mark has claimed hundreds of compositions, the same rhyme and meter, beautifully crafted. His business in furniture and other restorations has taken him and wife Connie through the U.S. (and his poetry) which has brought praise and recognition from fellow poets and higher appreciations at poetry events. Mark is part of The Poetry Gang, a Coralville based writing group and also a member of the Iowa Poetry Association.
Most recently Mark published " a Treasure Trove of Rhyme" (2014). While conversing, we agreed on his initial offering, Gettysburg, a moving poem which is fiction.
Gettysburg
Despite the soft and tepid breeze, the day felt cold and mean, As I became a witness to the foulest thing I'd seen.
The flag they had so proudly flown, now lay there… in the mud… surrounded by the lifeless lads … the soil was red with blood.
Still huddled in their would-be tombs, I walked the losers trench. I saw the torn and mangled souls, and smelled the choking stench.
I watched as surgeons scoured the field for soldiers they might save, The souls that fought against us… were they not as fine, as brave?
Patriots just as we, whom by their causes are compelled, Duty bound to fight until they've won or they are felled?
I listened as the Chaplin gave his prayer for all who'd died. My heart had not complaint as- with his words … he chose no side.
As the poem develops five more couplets, the observer believes he finds his nephew, his brother's boy.
At once I knew the gentle face… he had his father's eyes. I told myself, "This is my flesh and blood… and if he dies,
Though I – myself – quite likely not be he that took his life, How would I disclose this to his father… and his wife?
His feeble body lying there, I knelt and took his hand. He found my eyes and softly said,"Weep not, I understand."
That would be the last time I would see my nephew's face, And those of us who mourn his death… we know the time and place.
But I have never found the need , nor strength, with which to tell that I was firing…from the other side… the day he fell.
Always, poetry and its structures are at odds with space offered and accepted for this monthly mission. You may have known that my storytelling has been concentrated on a few men and events of the U.S Civil, all induced by work on a poem about a Civil War veteran from Muscatine County, Iowa.
Want more? Google Mark Stellinga.