October 2, 2018
Ella's Kitchen Cheeseburger Soup Recipe – corrected
It was brought to my attention that two ingredients (chicken broth and butter) were left out of the recipe from the Cheeseburger Soup in the September issue. Below is the corrected recipe. One lady stopped me and asked me what kind of broth. She thought maybe vegetable broth or beef broth. I told her it was probably chicken broth, but I would check to make sure. Chicken broth is usually my go-to broth. The vegetable would also work. The beef broth would give a slightly different taste, but would also be delicious. She also asked if leftover soup could be frozen. In the recipe, it says to stir in the sour cream at the last and she wasn't sure if extra soup could be frozen with the sour cream added. Yes, it can be frozen. Just remember when reheating, to do it slowly and not to bring to a boil. Rapid heating or boiling will cause a curdled look to the soup. It will not harm the taste or nutritional value, but soup presentation will not be as pretty.
Again, I apologize for the omission. Hope this helps.
 – Ella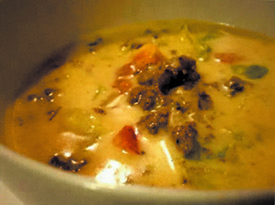 Cheeseburger Soup
1/2 pound ground lean beef (for a beefier soup, use up to a pound)
3/4 cup chopped onions
3/4 cup shredded carrots
3/4 cup diced celery
1 teaspoon dried basil
1 teaspoon dried parsley flakes
4 Tablespoons butter, divided
3 cups chicken broth
4 cups peeled and diced potatoes
1/4 cup all-purpose flour
2 cups Velveeta processed cheese cubed
1 1/2 cups milk
3/4 teaspoon salt
1/4 to 1/2 teaspoon pepper
1/4 cup sour cream
Brown the ground meat in 3-quart saucepan. Drain and set aside. In the same saucepan add 1 Tablespoon butter and ad onion, shredded carrots, parsley flakes, basil, and celery. Sauté until tender. Add broth, potatoes, and beef, bring to a boil. Reduce heat, cover and simmer 10 – 12 minutes or until potatoes are tender.
In a small skillet melt remaining butter (3 Tablespoons) adding the flour. Cook and stir for about 3 – 5 minutes or until bubbly. Add to the soup and bring to a boil. Cook and stir for a couple of minutes. Reduce heat to low. Stir in the cheese, milk, salt, and pepper. Cook and stir until cheese melts. Remove from heat and stir in sour cream.