October 2, 2018
Max's Musings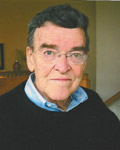 By Max Molleston
Schools everywhere in this nation are full of students and their educators by now. This session takes a peek at student poetry. I was connected with the Mississippi Valley Poetry Contest for a long period. One of our divisions, of eight, was for youngest students. Others with the higher grades through high school competition. On a Saturday night in May of 2004, this verse from Ariana Raya, age 8, of Moline, Illinois won the youngest competitor.
Guppy
I once had a fish named Guppy,
Because my mom wouldn't let me have a puppy.
She swam and swam all day.
I'm glad she isn't a Sting Ray.
I like feeding the fish her food,
It makes her in a happy mood.
I hope Ariana is still writing and even producing some poetry. I liked that simple expression. It seemed to fit what the judge felt was a part of an eight-year-old thinking. There is always a challenge for a parent to look over their youngster's shoulder on such a project, encouraging and helping.
With the Iowa Poetry Association, a celebration for students whose poetry ended as contest winners. The event is held at the Iowa State Historical Museum, in Des Moines in June. Winners read or recite their creations to an audience, of proud parents, grandparents, friends, teachers, and IPA board members. These prize-winning poems are a fraction of the two thousand plus entries in the 2017 contests printed into the IPA annual publication, Lyrical Iowa, now in its 73rd year. From that 2017 Lyrical Iowa, another young (third grade, that's eight, isn't it?) girl and her pet. The poem title:
I HAVE A LITTLE HAMSTER
I have a little hamster
He is very sweet
And when I go to feed him
He makes a little squeak
His fur is black and shiny
His eyes are very cute
My hamster's name is Rudolf
And he loves to eat fruit
He likes to run in circles
It's good exercise
He plays all night till morning
Then hides before sunrise
That is the effort of the third-grader from Ames, Sophia Kyveryga.
There is something positive about a youngsters' rhyme, given lessons, they learn to know and to use when speaking and understanding English. Other taught or used language is increasing for writers of all ages. It seems to feature the way kids think and what they can do in good direction. Maybe it is not creating a poem. Maybe a gentle "push" your child could understand and act on. For the most part, youngsters are encouraged to be better thinkers and doers from schooling they attend. English teachers at all levels can encourage results, and follow up on the successful poems, forwarded to compete, gaining attention for their advancing young poets.
50+ers can rethink some experiences, read poetry and work at composing a poem (you may call it a verse) getting better, as you recall how to get it done. If you wrote as a kid and did a good job you can try again and succeed. Work on it and come back for our meeting on this page in November.