October 2, 2018
Snowstar-Summit Lodge, a Fun Season You don't Want to Miss!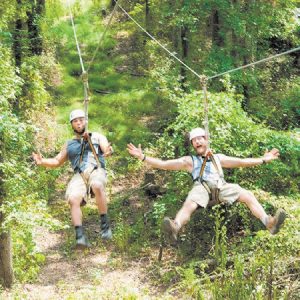 Snowstar-Summit Lodge has a lot happening this year! We have ziplines going in fall 2018, Cosmic tubing to come winter 2018, and of course skiing and snowboarding as usual! In addition, we are also adding several events for all ages! Check out our event calendar on skisnowstar.com or keep an eye on our Facebook page, Snowstar Winter Park events. This will be a fun season that you do NOT want to miss out on!
Sky Flight Zipline
The ziplines are set to open this Fall! Ziplining will be available year round. We are so excited to bring this to the QCA! Not only will it bring another entertainment option for people of all ages, but it will also bring more jobs to the area. There will be 5 ziplines in total. To start off, there will be a smaller zip to test your flight skills and see how you like it. Then there are two 1200+ ft ziplines that run parallel to each other that go from the top of our slopes all the way over to the other side of the creek! It will be such a thrilling experience! Then there will be a medium sized zip from the opposite side of the creek back to the bottom of lift 1. The ski lift will then take flyers back to the top of our slopes! All flyers will go through a pre-flight training before going on the ziplines. They will receive a harness and helmet for safety. Each tour can have up to 8 flyers with 2 tour guides. The tour guides are well trained for fun and safety. The ziplines and equipment are checked daily for safety.
Dress Code for Ziplining: Please always dress for the weather for your comfort!
Summer, Spring, Fall – Closed toe gym shoes must be worn for your safety. All long hair needs to be tied back and secure. No loose clothing or jewelry. We recommend longer shorts or pants for comfort inthe harness.
Winter – Boots without a heel, and no ski boots for your safety. Warm clothes for the weather that day such as gloves, warm socks, coat, snow pants/warm pants. No loose clothing such as scarves.
All participants must sign a waiver prior to their zipline flight. All participants under 18 must have a waiver signed by a legal parent/guardian.