December 4, 2018
Ella's Kitchen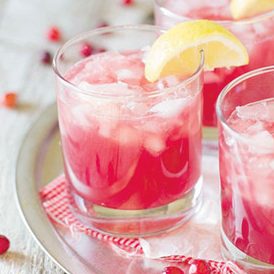 Holiday Party Punch
Ingredients
1-quart orange juice, chilled
1-quart cranberry juice, chilled
2 bottles ginger ale (33.8 ounces), chilled
1 bottle champagne (32 ounces), chilled – may substitute sparkling white grape juice or another chilled sparkling water.
Fresh or frozen cranberries or sliced citrus fruits
---
Directions
Combine orange juice and cranberry juice in a punch bowl. Gently stir in ginger ale and champagne. Garnish with cranberries or other fruits.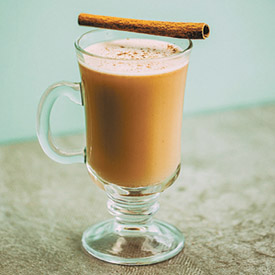 Title Here
Ingredients
Make batter ahead of time and keep in freezer
1 pound dark brown sugar
1 cup butter, softened
1-pint vanilla ice cream
1/2 teaspoon cinnamon
1/2 teaspoon allspice
1/4 teaspoon nutmeg
Rum
Cinnamon sticks for garnish
---
Directions
Mix all ingredients, except the rum, together in a large bowl. Blend until smooth. Store the batter in an airtight container in the freezer.
To prepare each drink, put one heaping Tablespoon of frozen batter and 1 and 1/2 ounces of rum into each mug. Fill the mug with boiling water. Stir well. Garnish if desired.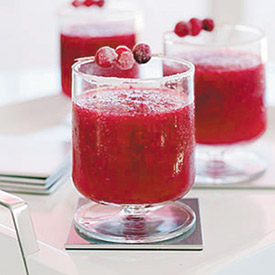 Cranberry Slush
Ingredients
1 quart cranberry juice cocktail
2 small cans frozen lemonade
10 ounces vodka
7-Up
---
Directions
Mix juice, lemonade and vodka together and freeze. It will not freeze solid but will become slushy. To serve, fill a glass 1/2 full of slush and add 7-Up to fill the glass.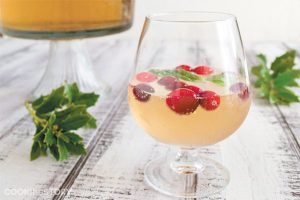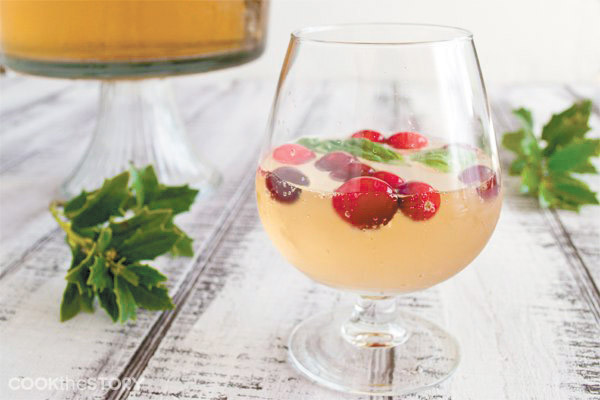 Sparkling Christmas
Ingredients
4 cups apple juice or pear nectar
Cheesecloth squares to make cheesecloth bag
Cinnamon stick
1 vanilla bean, split or 1 teaspoon vanilla extract
6 whole cardamom pods, broken
1 bottle champagne or 2 – 12 ounce bottles lemon-lime carbonated water, chilled
1 large apple, cored and sliced or 1 pear, cored and sliced
Cranberries, optional
---
Directions
Pour apple juice or pear nectar into a medium saucepan. Place cinnamon stick, vanilla bean and cardamom pods a double thickness cheesecloth bag. Add bag to juice. Bring to boil, reduce heat and simmer for five or ten minutes. Remove from heat and cool. Remove spice bag. Pour into pitcher or punch bowl. If using the vanilla extract, stir in now. Add champagne or flavored, carbonated water. Add fruit slices and cranberries.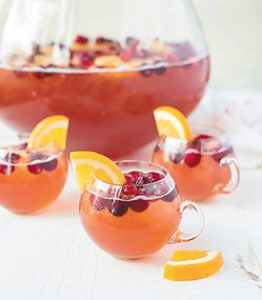 Mulled Cranberry Cider
Ingredients
1 small orange
8 cups cranberry-raspberry juice
1/4 cup brown sugar
Cinnamon stick
1 teaspoon whole cloves
8 inch cheesecloth square
---
Directions
Using a vegetable peeler remove skin from orange. Save the peelings. Squeeze juice from the orange and discard seeds and pulp. In a large saucepan combine orange juice, cranberry-raspberry juice and brown sugar. In the cheesecloth square combine orange peel, cinnamon, and cloves. Pull up corners and tie together. Place into saucepan and bring mixture to a boil, then reduce heat. Cover and simmer for ten minutes. If you wish, you can add a red blend wine at this point. Remove and discard spice bag. Serve warm in mugs. Using a crock pot to keep warm works well.
[Ella can be contacted at ellaweeza@yahoo.com or Ella at 50+ Lifestyles, 804 W Lombard Street, Davenport, IA, 52804]