December 27, 2018
Ella's Kitchen
Have you finished off the last of the holiday baking, the candies and rich foods? Maybe you are thinking of healthy dietary changes to start off the new year. Remember, color is your friend. Bright, deep colored fruits and vegetables.
– Ella
[Ella can be contacted at publisher@50pluslife.com or Ella – 50+ Lifestyles, P. O. Box 2125, Davenport, IA, 52809]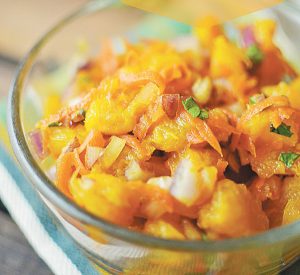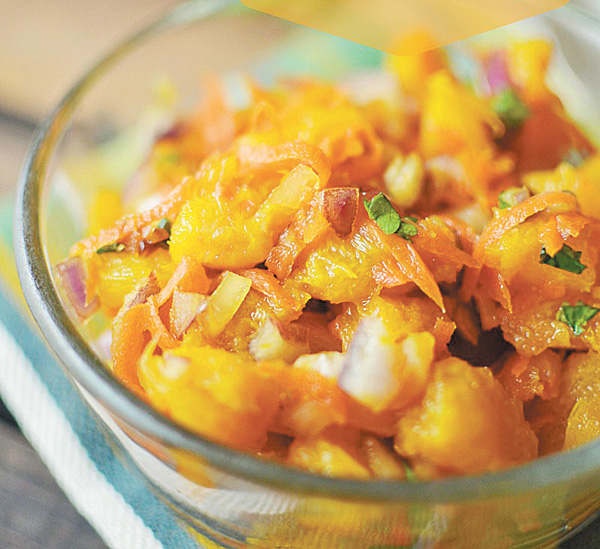 Orange Salsa
Ingredients
1 large navel orange or two smaller oranges
(seeded), peeled and chopped in small pieces, but not minced size
1 medium sized tomato, chopped
1 Tablespoon chopped cilantro
1/4 cup chopped green onion
1/4 cup chopped walnuts or sliced almonds
Juice from one lime
---
Directions
Combine ingredients and let stand for a while for the flavors to marry. Use as a dip with thick corn chips or as a topping for fish or chicken.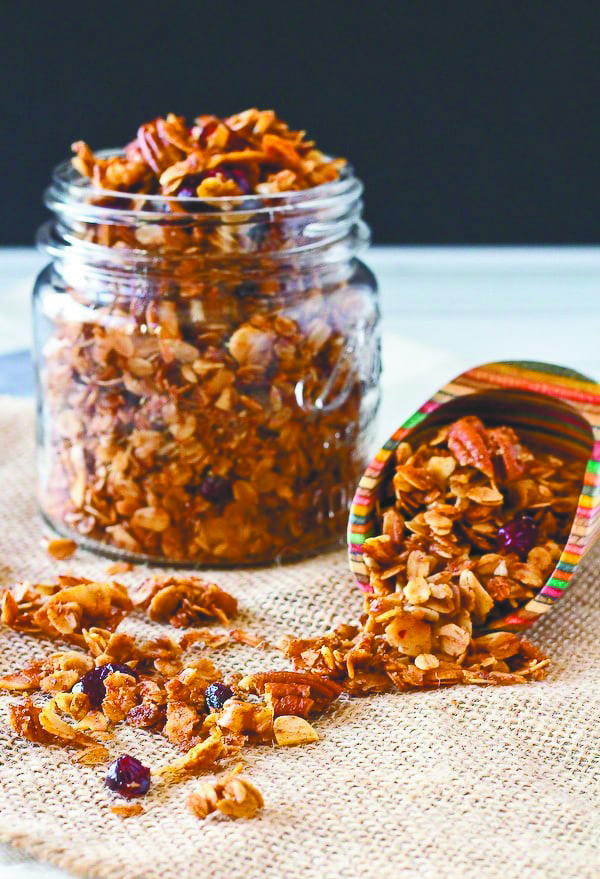 Cranberry & Cherry Granola
Ingredients
4 cups rolled oats
1 3/4 cups wheat germ
1/2 cup chopped cashews
1/2 cup chopped almonds
1/2 cup chopped pecans
1 cup dried cranberries
1 cup dried cherries
1/2 cup vegetable oil
1 1/4 cup honey, or to taste
1 1/2 teaspoon vanilla extract
1 teaspoon ground cinnamon
---
Directions
Preheat oven to 300 degrees.
In a large mixing bowl, stir together the rolled oats, wheat germ, nuts and berries. In a separate bowl combine oil, honey, vanilla and cinnamon. Drizzle over dry ingredients and stir to coat evenly.
Spread mixture in a thin layer on an ungreased baking sheet. Bake 30 to 40 minutes, stirring every ten minutes to toast evenly. Allow to cool completely prior to storing. Store in an airtight container.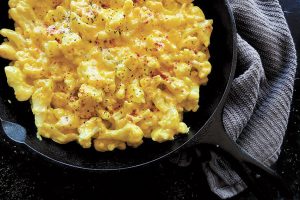 Cauliflower "Mac" and Cheese
Cauliflower may not be rich in color but it is low in calories and high in nutrients. It contains vitamins C, K and Bs, potassium, magnesium and fiber.
---
When making your next meal of Mac 'n Cheese, use steamed cauliflower florets instead of macaroni. To add color, use some steamed broccoli florets as well.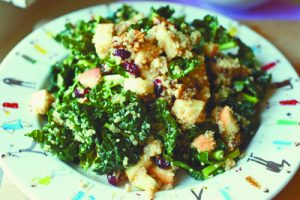 Massaged Kale Salad
Ingredients
1 Bunch of kale, washed, removed from stalks and torn into bite size pieces
Juice from one lemon
Drizzle of olive oil, maybe about 2 teaspoons. You can be the judge, just don't overdo it
Pinch of sea salt
---
Directions
In a large serving bowl, place the kale. Add the lemon juice and drizzle the oil over the kale. Add salt. Massage the kale until it starts to wilt and turn a bright green, one to two minutes.
Now make this salad your signature masterpiece. Add cherry tomatoes, shredded carrots and celery pieces. Or do sliced mangoes, strawberries and mandarin oranges. Maybe shredded red cabbage, and julienne sticks of red and yellow bell peppers. The combinations are endless depending on what you have on hand. Sliced, slivered or chopped nuts can also be used. Make it a meal by adding turkey, chicken or ham.
Dress with a light vinegar and oil dressing.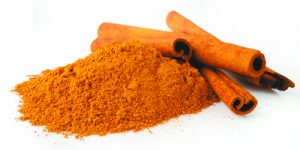 Cinnamon Apples and Oranges
Ingredients
2 Navel oranges, peeled and
white pith removed
2 Apples, cored
2 Tablespoons orange juice
2 Tablespoons lemon juice
1 Tablespoon sugar
1/4 teaspoon cinnamon
---
Directions
Section the oranges or slice crosswise. Slice apples in wedges or slice crosswise in circles. These will be arranged on four separate serving plates, so you can alternate fruits either in wedge design or circle design.
Whisk together juices, sugar and spice. Spoon over the fruits and serve. Serves four.