December 27, 2018
Surrounded by Friends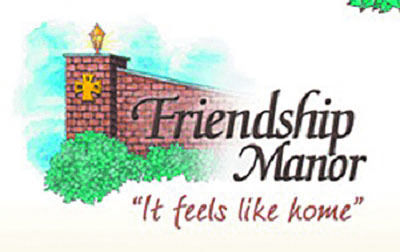 Information from Friendship Manor
In the 14 years that Myrtie has lived at Friendship Manor, she's made many friends. Her secret? Just visit with everybody! Myrtie served on Friendship Manor's welcome committee for many years and would lead by example and encourage residents to talk with everybody they met. She says being social is one way she makes sure she never feels lonely.
When outgoing Myrtie turned 100 years old, it was no surprise that 200 people came to celebrate with her. Myrtie talks about her party with great fondness and excitement,
"It was a big, big thing. I didn't have a chance to visit with everyone because as soon as I started talking to somebody, I'd see somebody else I needed to visit with. My cake was huge and I don't even know how many candles they put on it. I was so busy, I didn't spend much time with my cake either."
Myrtie was happy to see her two children at her birthday party and many old friends from Prophetstown where she and her husband lived. Although her children do not live in the area, they come to visit when they can and one of her children calls her every single day. "They like this place, they really do," she says of her children and their thoughts on Friendship Manor. "It's beautiful! When you look around, you see all the beautiful things they have here. Everything is kept up so well."
When Myrtie isn't celebrating her birthday, a fellow resident's birthday or a holiday at Friendship Manor, she stays on the go with activities without even leaving home. She likes to attend church services right at the Manor every week and gets dealt in regularly on euchre and bridge.
If Myrtie needs a little quiet time to herself, she just heads back to her apartment. "I kind of like being in my apartment," she says. "I like to keep it nice and tidy and it's wonderful to have it cleaned for me every two weeks. We can do our own laundry in our building so we can stay independent. Another perk of my apartment is I like knowing I have the lifeline emergency call system in case I need it. That gives my children some peace of mind, too."
Myrtie says everybody is so friendly at Friendship Manor, "and the people take good care of you and make sure you're doing ok. So after 14 years of living here, so far, so good."
Would you like to be invited to the next party at Friendship Manor? Join Friendship Connection, the pre-residency program that gives you access to social mixers, day trips and educational seminars, before you decide to move in. Your membership can be applied to your first month's rent when you're ready to move in. Other privileges at the Manor include exercise classes and shopping on our Main Street. Curious about the food? Dine with us at the resident cost per meal in our casual Bistro or Emerald Dining Room.
January is a great time to join Friendship Connection so you can start meeting new friends and stay active even when it's cold outside. To ask about Friendship Connection, or to take a tour call (309) 786-9667. Myrtie and her friends would love to welcome you to their neighborhood.