March 1, 2019
Ella's Kitchen
March is a mish-mash of dates and seasons: in like a lion, out like a lamb; Mardi Gras and Fat Tuesday; Lenten meals; Julius Caesar's infamous Ides of March, St. Patrick's Day and a time change. All of this is rolled up in 31 days. So enjoy each day as it unfolds..
Ella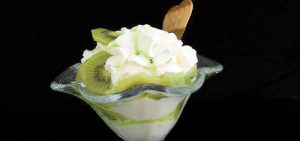 Emerald Isle Fruit with Bailey's
Ingredients
2 Granny Smith apples
3 Tablespoons lemon juice (if need be, apple vinegar can be substituted)
4 ripe kiwis
3 Tablespoons sugar
1 pint carton of vanilla ice cream
1/4 cup Bailey's Irish Cream
---
Directions
Wash and core apples. Cut into julienne strips (match stick size) and sprinkle with lemon juice. Peel and slice kiwis. Combine in a bowl with apples. Sprinkle with sugar. Refrigerate until serving time.
Meanwhile, place ice cream in a bowl and allow to soften slightly. Stir in Bailey's thoroughly. Freeze until firm.
To serve, place some fruit in a small serving bowl or footed sherbet dish. Top with a scoop or two of the ice cream.
Serves approximately 6 – 8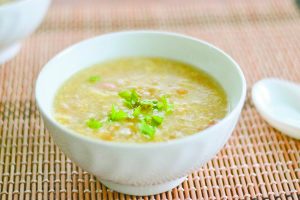 Corn and Crabmeat Soup
Ingredients
1 pound lump crabmeat (canned)
1/2 stick butter
1/4 cup flour
1 can creamed corn
1 cup chopped green onions
1 cup milk
1 cup half and half
Salt, pepper to taste
---
Directions
Make a roux of the butter, flour, milk and half and half. To do this, melt butter over medium-low in a deep pan, add flour and stir gently until well blended. Do not let it darken. Add milk gradually while stirring. Then add half and half blending all the while with a whisk. Now add corn and green onions and let cook a few minutes until onions are tender. Add lump crabmeat and simmer until hot, but do not boil! Serve immediately. May garnish with fresh parsley.
Serves 6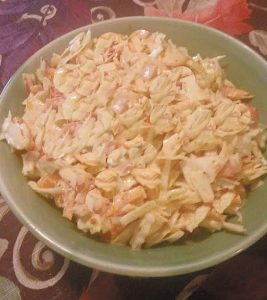 Cajun Country Cole Slaw
(not really spicy)
Ingredients
1 small head cabbage
1/2 cup vinegar
1/2 cup sugar
1 cup mayonnaise
2 Tablespoons mustard
Milk, as needed
Salt and pepper to taste
1/2 cup finely chopped peanuts
---
Directions
Slice or chop the cabbage, finely. Mix vinegar and sugar together. Pour over the cabbage and let stand for at least 2 hours. Overnight in refrigerator is better. Mix the mustard into the mayonnaise, add to cabbage mixture. Stir thoroughly, Mo Iren with milk until the slaw is creamy. Add salt, pepper and chopped peanuts right before serving. If you want to make it a little spicier, add a dash of cayenne pepper or Cajun seasoning.
Serves 6 – 8

Pelican Goodies
(a make ahead and freeze hors d'oeuvres)
Ingredients
1 pound lean ground beef
1 pound hot sausage (a mild sausage can be used)
2 medium onions, chopped
2 – 3 cloves of garlic, crushed
1 Tablespoon Worcestershire sauce
2 pounds Velveeta or mild cheddar cheese, cut in chunks or grated
3 loaves party rye or pumpernickel bread, sometimes called cocktail rye, either squares or circles will work
---
Directions
Brown beef and sausage in a large skillet. Drain well. Add onions,
garlic and Worcestershire sauce; cook for 5 minutes. Lower heat, add cheese and stir until melted. Mixture will be gloppy. Drop by spoonfuls on the party rye or pumpernickel. Broil until cheese bubbles.
To make ahead, do not broil. Freeze on cookie sheets. Once frozen, transfer to Zip-lock bags. When needed, removed the desired amount from the Zip-lock bags and broil from the frozen state.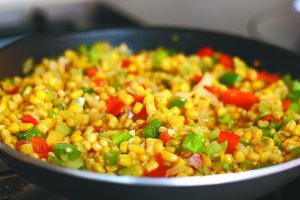 Creole Corn
Ingredients
1 onion, chopped
2 Tablespoons butter
2 1/2 cups tomatoes, peeled and chopped (can be canned or fresh)
1 Tablespoon sugar
2 cups whole kernel corn
1/2 green pepper, chopped
Salt and pepper to taste
---
Directions
Cook onion in butter until lightly browned. Add tomatoes, sugar, salt, pepper and corn. Simmer for 10 minutes. Add green pepper and
simmer another 5 minutes. Serve.
Serves 4 – 6
[Ella can be contacted at publisher@50pluslife.com or Ella – 50+ Lifestyles, P. O. Box 2125, Davenport, IA, 52809]