March 1, 2019
Seniors look to fill two main objectives when buying their next home.
Dan Dolan Homes has some answers
By Kevin Dolan
Dan Dolan Homes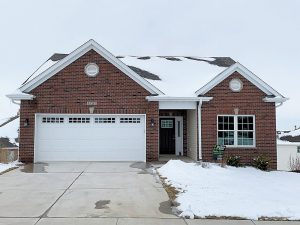 Each week Dan and I host open houses at our various model homes and have a chance to meet people who are looking at their options for their next home. Most of the time, the people we meet have lived in their current home for many years and while they love their home, they recognize it no longer meets their needs or provides the best housing option. Whether we're at our model homes in the Quad Cities, Clinton, or Muscatine, when we visit, senior home buyers generally have two overall objectives they want to address:
1. To find "the best" all-on-one-floor accommodations to replace the current too large, older, stair-studded home with the large high-maintenance yard and,
2. To identify those options that will best help preserve the financial assets that have been accumulated over the years.
Other important considerations may include location, proximity to family, operating costs, taxes and perhaps selected personal preferences.
To address the primary issue, builders who target the senior housing market design homes that allow buyers to "age in place." While most home buyers tend to be mobile at the time of purchase, in the event of a possible future need for a walker or wheelchair to get around, it is desirable that the new home allows for that occurrence. For instance, all our new townhomes feature no-step entry, wider doorways, main floor laundry, step-in showers, lever door handles, etc. Current owners of Dan Dolan townhomes constantly remind us how vital these features are to their lifestyle.
Of course, freedom from lawn maintenance and snow removal are highly desirable benefits of all Dan Dolan townhomes. Especially so this winter!
When it comes to the preservation of wealth, I have some ideas there, as well. And while I'm not an estate planner, I can share the experiences of some of our buyers who have faced the same preservation of wealth issues. For instance, we have buyers who pay cash for their new home. They believe that their home represents their primary investment and that they prefer not to have to deal with a monthly mortgage payment. I respect that point of view and we are certainly prepared to accept cash at closing, but I would remind any buyer that the home will appreciate at the same rate regardless of the amount of equity in the home. In essence, then, the equity in the home is not earning any investment return though admittedly the homeowner is not incurring any mortgage interest expense.
A very popular home financing option since January of 2009 that does free up the excess equity in a home is the Reverse Mortgage for Purchase now referred to as a HECM or Home Equity Conversion Mortgage.
Since Congress approved the use of a HECM, a home buyer makes a one-time down payment based on his/her age, takes title to the home and lives there as long as desired. Upon eventually vacating the home, the home is sold by the heirs and the proceeds are used to pay the mortgage balance. The remaining proceeds go the homeowner or the estate. However, the
liability never exceeds the value of the home so neither the homeowner nor the estate are ever left with a remaining "balance due."
What homebuyers like about the HECM:
1. For a couple, the down payment is based on the age of the younger borrower. The older the borrower, the lower the down payment. For instance, a 76 year old buyer of a new $350,000 town home would put down around $185,000 or so. There are no further mortgage payments. Ever. Owners still pay the same expenses as if they had paid cash for the home: real estate taxes, homeowners insurance, and the HOA fee for lawn maintenance and snow removal, but no monthly mortgage payment.
2. Because there are no monthly mortgage payments, housing expenses are fixed so income such as social security benefits or pension benefits can be used for living expenses generally without need for withdrawing from a 401K or other investment accounts.
3. Any funds from the sale of the existing home not used for the new home down payment can be invested as desired.
4. Should the husband or wife become incapacitated or pass, the remaining member needs not be concerned about the source of funds for mortgage expenses. There are none.
5. Upon the eventual passing of the surviving home owner, the estate need not worry about how to pay off the mortgage. In fact, any sale proceeds in excess of the mortgage payoff would revert to the estate.
Some buyers prefer the conventional mortgage option and elect to put down perhaps 20 percent of the purchase price and make a monthly mortgage payment. That's certainly another possibility.
Making it happen
We encourage seniors looking to make the housing decision to visit one of our open houses to see and hear the Dan Dolan Homes story and to discuss the financing options available. At the Fountains, we have a completed model with more under construction with completion scheduled for April. We are available there on Sundays from 1-3 p.m. Of course, I am always available by phone. We also have town homes at a number of price points in Blue Grass, Muscatine, and Clinton. Call me at (563) 506-4265 for the open house hours or for a
private appointment at any of our locations.
We hope to see you soon.