March 29, 2019
Ella's Kitchen
It's April. Easter comes late this year so you have plenty of time to practice making these cute egg chicks! Let the grandchildren help you. Make great memories.
Ella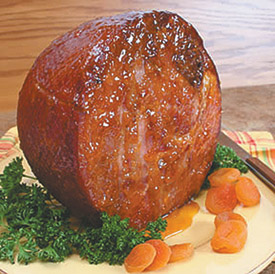 Apricot Baked Ham
1/2 fully cooked ham with bone
(5 to 7 pounds)
1/2 C apricot preserves
3 TBL dry mustard
1/2 C packed light brown sugar
20 cloves
---
Score the surface of the ham with shallow diamond-shaped cuts. Inserts cloves in the cuts. Combine preserves and mustard; spread over the ham. Pat brown sugar over apricot mixture. Place ham on a rack in a roasting pan. Bake at 350 degrees
for 20 minutes per pound or until ham is heated through and thermometer reads 140 degrees. Yield: 10 to 14 servings.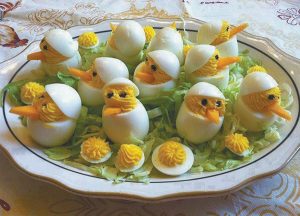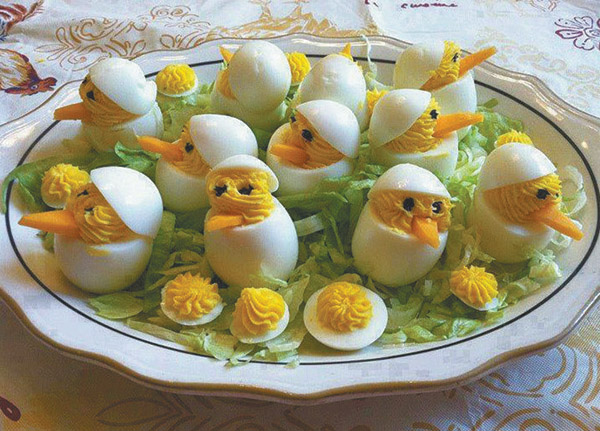 Easter Chick Eggs
12 Hard-boiled eggs – peeled
1/3 Cup Mayo or Miracle Whip
1 Tbs lemon juice (white vinegar can be used, but I prefer the taste of the lemon juice)
1 teaspoon yellow mustard
salt and pepper to taste
Carrot stick pieces or cantaloupe pieces for beaks
Peppercorns or capers for the eyes
---
Slice a small portion off of one end of the egg. This will allow it to sit upright. Cut about 1/3 to 1/4 off of the other end. Scoop out yolk. Blend the yolk, mayo, lemon juice, mustard, salt and pepper to a creamy consistency. Use pastry press or plastic bag with a corner snipped out to refill the eggs. Put the tops back on at an angle. Decorate with the peppercorns and carrot or cantaloupe pieces. Arrange on a platter with shredded lettuce as the nest.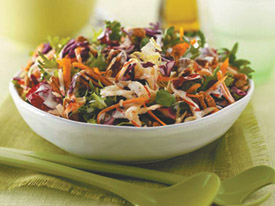 Heart and Head Healthy Coleslaw
3 cup of red cabbage (thinly sliced)
6 carrots (peeled and thinly sliced)
1 granny smith apple (thinly sliced)
1/4 cup of sesame seeds
1 tablespoon of grated fresh ginger
1/4 cup of raw apple cider vinegar
3/4 cup of extra virgin olive oil
A handful of pecan nuts for garnish
---
Cut the cabbage, carrots and apples Julienne style either using a knife or food processor. Toss in the sesame seeds in raw or pre-toast them lightly in a frying pan. Mix all of this together.
For the dressing, combine the ginger, vinegar and oil and stir with a spoon. Add this to the cabbage, carrots and apples evenly.
Top with more sesame seeds (fantastic source of Calcium). Salt and pepper to taste and add pecan nuts for a delicious nutty taste.
Excellent salad for heart and brain health.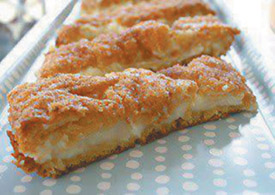 Cinnamon Brunch Crunch
2 cans Pillsbury butter crescent rolls
2 (8oz) packages cream cheese (softened)
1 Cup sugar
1 teaspoon vanilla
1/4 cup butter (melted)
1/4 Cup sugar and 1 to 1 1/2 Tbs cinnamon combined together
---
Unroll and spread one can crescent rolls on bottom of un-greased pan. Combine softened cream cheese, sugar, and vanilla. Spread mixture over crescent rolls. Unroll and spread remaining crescent rolls over mixture. Spread melted butter over the top and sprinkle with cinnamon and sugar. Bake at 350 degrees for 20-30 minutes
[Ella can be contacted at publisher@50pluslife.com or Ella – 50+ Lifestyles, P. O. Box 2125, Davenport, IA, 52809]