March 29, 2019
Young at Heart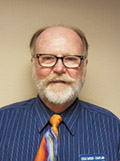 By Chaplain Doug Shook
Chaplain at Ridgecrest Village
My office at Ridgecrest Village has a window that looks out onto the hallway that connects the Koning Chapel and Eastridge apartments to the dining room. Because of this, I get a lot of traffic past my office and some of the best people in the world regularly stop in to chat.
Often, those chats are friendly encounters consisting mostly of small talk and pleasantries. Just as often, however, they will be of a more substantive nature—a sharing of heartfelt concerns, or a desire for prayer.
I started working at Ridgecrest Village a year ago this month. Right away I realized that this new position felt more like my years in youth ministry than those as a senior pastor. Like youth ministry, I spend time with a significant percentage of our residents each day, sharing meals, going to events, and connecting at the local hang-outs. In many ways, it's like being on a never-ending youth retreat—minus the challenges and uncertainties brought on by youthful hormones!
But there is more to the similarity than just the time spent together, there is an enthusiasm and love of life here that is reminiscent of the youth I used to minister. I think I know the reason for this. For most of our residents, the mental and physical energy that went into raising a family, preparing for retirement, or working hard for that promotion is now spent on enjoying life, volunteering, taking a class, or just hanging out with friends. It's a youthful zest for living combined with the wisdom that comes from a long life and knowing who you are; call it a mature zest for living.
In that same spirit of exuberance, I went home and found my old nameplate from my youth ministry days. I brought it to my office and placed it in the window and waited. It reads: Rev. Douglas Shook, Youth Ministry. When people stop to read it, it's fun to watch their expressions of curiosity turn to smiles and laughter.
One of our ninety-year-old residents exemplifies that attitude every time we end a conversation. A whimsical smile washes over his face and with a slight wave he says, "See you around campus, Chaplain!" and away he trots. I can't help but smile.
When I transitioned from church-based ministry to chaplaincy I adopted Proverbs 11:12 as sort of a philosophical North Star for my ministry.
A generous person will prosper; whoever refreshes others will be refreshed.
I had no way of knowing that I was going to be serving in a place where people habitually practice a generosity of heart and spirit that offers me refreshment on a daily basis. Being around people like that makes it easy to serve and makes Ridgecrest Village a great place to be. How wonderful to be a part of such a great community!
See you around campus!
Chaplain Doug Shook
Doug Shook is Chaplain at Ridgecrest Village in Davenport, Iowa. For more information about Ridgecrest Village, contact Mary or Karen at (563) 391-3430.