May 2, 2019
Ella's Kitchen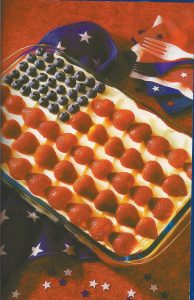 Flag Dessert
2 pints fresh strawberries
1 package (12 ounces) pound cake,
cut into 16 slices
1 1/3 cups blueberries
1 tub (12 ounces) COOL WHIP

®

Whipped topping, thawed
---
Slice 1 cup of the strawberries; set aside. Halve remaining strawberries; set aside. Line bottom of 12×8-inch glass baking dish with 8 cake slices. top with 1 cup sliced strawberries, 1 cup of blueberries and 1/2 of the whipped topping. Plce remaining cake slices over whipped topping. Spread remaining whipped topping over cake. Arrange strawberry halves and remaining 1/3 cup blueberries over whipped topping to create a flag design. Refrigerate until ready to serve. Makes 15 servings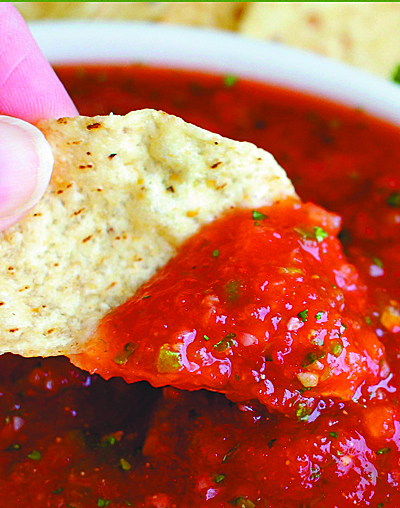 Pico de Gallo
(also called Fresh Salsa)
Equal parts of chopped red tomatoes, white onion and cilantro.
Sea salt
Lime
---
I usually do about 1/2 cup of the three main ingredients. A sprinkle of sea salt and 1/2 a lime squeezed over the salsa. Serve with Mexican corn chips. But if you are expecting a large group, increase the amounts.
Trivia: the colors of tomato red, onion white and cilantro green are the colors of the Mexican flag.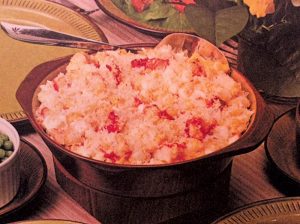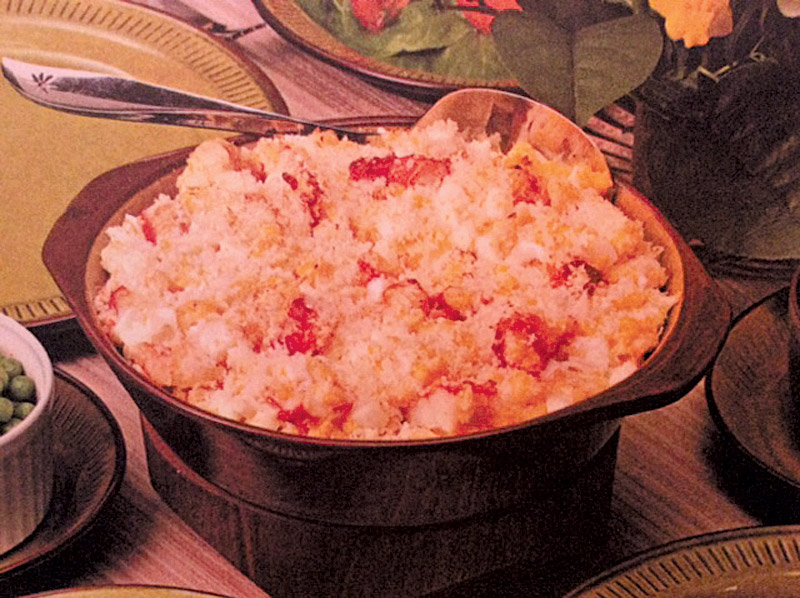 Crabmeat Casserole
1/2 cup milk
3/4 cups soft bread crumbs
1 can (7 1/2 ounce) flaked,
cooked crabmeat
3 hard boiled eggs- separated whites and yolks. Dice the whites and mash the yolks
3/4 teaspoon salt
1/4 teaspoon dry mustard
Dash cayenne pepper
3 Tablespoons melted butter
Wheaties or cracker crumbs
---
Heat oven to 450 degrees. Mix milk and soft bread crumbs together. Gently stir in crabmeat and diced egg whites. Now blend in remaining ingredients. Place into buttered 9x5x3 loaf pan or a 1 1/2 quart baking dish. Sprinkle with Wheaties or cracker crumbs. Bake for 15 minutes.
Will make two generous servings
Double Lemon Cheesecake Bars
52 vanilla wafers, finely crushed (about 2 cups)
3 Tablespoons melted butter
4 eggs, divided
4 pkg (8 ounce, each) cream cheese, softened
1 3/4 cups sugar, divided
3 Tablespoons flour
1 Tablespoon lemon zest
1/3 cup lemon juice, divided (probably need 2 lemons)
1/2 teaspoon vanilla
2 Tablespoons cornstarch
1/2 cup water
---
Preheat oven to 325 degrees. Line a 13×9 inch baking pan with foil with the ends of the foil extending over the sides of the pan. Mix wafer crumbs and melted butter until well blended. Now press into the bottom of the pan. Bake for 10 minutes.
Separate 1 egg and refrigerate the yolk until ready to use later. Beat the softened cream cheese, 1 cup of the sugar, flour and lemon zest in a large bowl. Mix in 2 Tablespoons of the lemon juice and the vanilla until well blended. Add the egg white and the three remaining eggs, one egg at a time, mixing on low speed after each egg. Pour mixture over crust and bake for 40 minutes, or until center is set. Cool 1 hour. Then refrigerate for at least 4 hours. In a medium sized sauce pan, mix cornstarch and remaining sugar. Gradually stir in water and remaining lemon juice. Bring to boil on medium heat, stirring constantly, cook and stir until clear and thickened. With a fork, lightly beat reserved egg yolk in small bowl, gently stir in 2 Tablespoons of the hot cornstarch mixture. Pour this mixture back into the cornstarch mixture in the pan, stir until blended. Cook one minute. Cool slightly. Now spoon this glaze mixture over the cheesecake. Refrigerate an hour until glaze is set. Remove cheesecake from the pan using the foil handles. Cut in squares and serve.
Charlestown Egg Balls
8 hard boiled eggs 1/2 teaspoon Worcestershire
1/2 cup butter 1/4 teaspoon celery seed
1 teaspoon salt 1 cup bread crumbs
1/4 teaspoon red pepper
---
With electric mixer cream eggs and butter until well-blended. add salt, pepper, Worcestershire sauce and celery seed. Refrigerate several hours. Form into balls and roll into bread crumbs. Makes 30 balls.
Ella's note: Have you ever wanted to serve deviled eggs, only to have some of them tear? Well, I just found a recipe that takes all of the worry out of unsightly torn deviled eggs! Enjoy!
[Ella can be contacted at publisher@50pluslife.com or Ella – 50+ Lifestyles, P. O. Box 2125, Davenport, IA, 52809]