July 1, 2019
The Hills are Alive with the sound of Music… ­ Hilltop Campus Village, that is.
Did you hear the cannon reverberating in the neighborhood on Saturday, May 25th? That was the start to the Pirate Race on Main Street, the kick-off to the first annual Hilltop's Hidden Treasure Fest. A great time was had by all participants. Thanks to Pirate Stu and his Mateys at Zeke's Island Cafe for the outstanding start to the day.
Another great gem of musical talent was the Steel Drum Band. A talented group of eighth graders from Creative Arts Academy of the Quad Cities played the steel drums and other percussion instruments in the green space at J. B. Young Opportunity Center. What a beautiful sound! These youth and their instructor are truly amazing.
More music has come to the Hilltop Campus Village in the form of a new business, Shumaker Guitar Works.
Thad Shumaker, owner of the store, is a welcome addition to the business of the Hilltop Campus Village. He had this had this to say about his store:
"Shumaker Guitar Works is different than your other local music shops. We are the only shop in the Quad Cities that builds instruments from scratch, not from catalog parts or kits. All of our guitars are 100% hand made by me, Thad Shumaker, a luthier – a craftsman and maker of stringed instruments.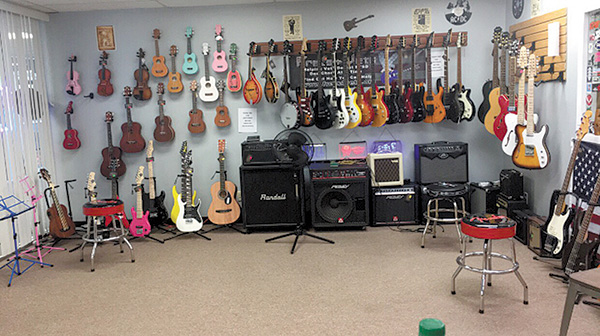 We also specialize in the mechanical restoration of vintage instruments. Currently, in the shop I have 2 World War II era Gibson's, a 1930 dobro, a 1963 silvertone 12 string, a 1964 Kalamazoo electric, and a 1969 Yamaha 12 string. They are all in for repair and mechanical restoration. In addition, we also have a extensive inventory of new and used instruments, amps, accessories, and even a drum set.
Shumaker Music lessons are offered from local guitar prodigy Matt Fuller. Matt has been playing professionally since he was 9 years old. He has played several blues fests, and has even toured some. Lessons are $25 for a 1 hour session, and we teach all ages.
At Shumaker Guitar Works you have a relaxed, non-pushy family environment. You might see my two children when you come in, and as always you're welcome to bring your kids or grandkids.
We are located at 1706 Brady Street, Suite102 in the Midtown Plaza Building, Davenport, Iowa, and we can be reached at 563-676-2734.