July 30, 2019
Ella's Kitchen
Summer desserts – a refreshing end to a meal or just a midday snack with iced tea or coffee. An asterisk * denotes a make ahead dessert. I found these in a cookbook that I received in the early 1970s. I will list them as written, but will give you substitutions as some ingredients popular then are difficult to find now. Please enjoy. 
                           – Ella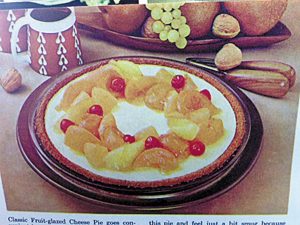 Fruit-Glazed Cheese Pie*
1 (8 ounce) package cream cheese, softened
1 cup dairy sour cream
1/2 cup sugar
1/2 teaspoon vanilla
1 Vanilla cookie pie crust (recipe below) or 1 (9 inch) store bought graham cracker crust
1 (16 or 17) ounce can or jar of salad fruits, or you can use fresh fruits
---
Combine cream cheese, sour cream, sugar and vanilla; beat until smooth. Pour into pie shell. Bake in moderate oven (375 degrees) for 20 minutes or until just set. Chill. Drain fruits thoroughly. Arrange in a circle on the chilled pie. Stir the marmalade and spoon over the fruits to glaze.
Vanilla Cookie Crust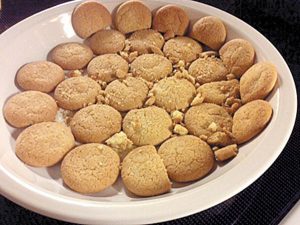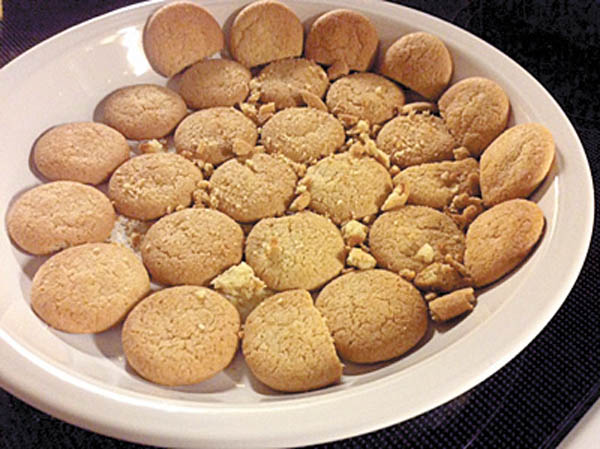 Line the bottom of a buttered 9-inch pie plate with whole vanilla wafers. Trim 1/4 inch off of enough wafers to stand up around the edge of pie plate. Crumble a few wafers to fill in spaces in bottom crust.
Apricot-Scotch Cobbler
1 (1 pound 5 ounce) can apricot pie filling **
1 roll refrigerated butterscotch nut cookie dough, sliced 1/4 inch thick ***
1 teaspoon sugar
Dash cinnamon
---
Heat pie filling and pour into an 8-inch pie plate. Slightly overlap cookie slices on top of the filling. (Extra slices can be baked separately for snacks) Sprinkle the cinnamon and sugar on the cookies topping the filling. Bake at 350 about 25 minutes or until cookies are done. Serve warm or cold topped with a scoop of ice cream.
** I couldn't find apricot, so I used peach. However, you could use cherry, berry, blueberry or apple pie filling.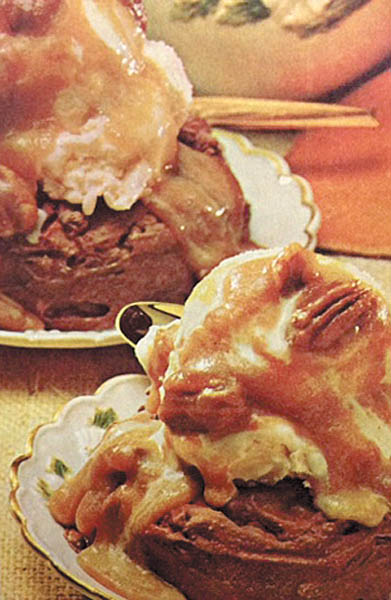 Chocolate Nut Sundae Cups*
1 (3 3/4) ounce package chocolate
fudge flavored whipped dessert mix**
1 cup whole milk as per instructions on package
1/4 cup chopped pecans
1 jar butterscotch topping
1/3 cup broken pecans
---
Prepare dessert mix with milk as directed on package. Chill until almost set, 45 minutes to an hour. Gently stir or fold in the 1/4 cup chopped pecans. Drop onto the waxed paper-lined baking sheet in about 1/2 cup portions. Make a depression in the center of each with a spoon to make an indentation to hold a scoop of ice cream. Freeze 2 or 3 hours.
Before serving, heat butterscotch topping slightly. Stir in broken pecan pieces. Place a scoop of vanilla ice cream in each chocolate cup. Top with the warm butterscotch topping. If desired, garnish with pecan halves.
** I found a chocolate mousse mix at HyVee. It is called Southern Gourmet – incredible Milk Chocolate Mousse, 4 ounce.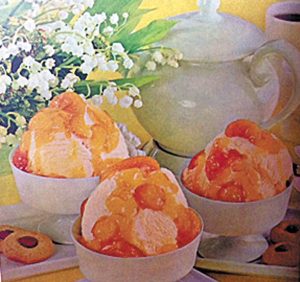 Hong Kong Sundaes
1 (11 ounce) can mandarin oranges
1 Tablespoon cornstarch
1 (8 3/4 ounce) can crushed pineapple
1/2 cup orange marmalade
1/2 teaspoon ground ginger **
1/2 cup sliced preserved kumquats***
---
Drain mandarin oranges, reserving 1/4 cup of the juices. In a saucepan, blend reserved juice and cornstarch. Stir in untrained pineapple, the marmalade and ginger. (This is where I added the fresh kumquats .) Cook and stir over medium heat until the mixture thickens and bubbles. Stir in mandarin oranges. Serve warm or cold over vanilla ice cream.
** I have found candied ginger in the spice department. I absolutely love it. I added about a Tablespoon of it to the mixture.
*** I was unable to find preserved kumquats so I used fresh ones and added them to the cornstarch mixture in the sauce pan, increasing the cornstarch by about 1/2 teaspoon.
Pineapple Cream Cheese Parfaits*
1 (2 3/4 ounce) package vanilla custard mix (no-bake type)
2 cups milk
2 (3 ounce) packages of cream cheese, softened
1/2 teaspoon vanilla
1 (1 pound 5 ounce) can of pineapple pie filling **
---
In saucepan, prepare custard according to directions using the milk. Remove from heat. In a mixing bowl place the softened cream cheese. Gradually stir hot mixture into cream cheese, mix well. Stir in vanilla. Chill the custard mixture and chill the pie filling until serving time. When ready to serve, spoon alternative layers of custard mixture and pie filling in parfait glasses. Garnish with the pineapple.
** I couldn't find pineapple pie filling. It must have been popular in the 1960s and '70s since I saw at least three other recipes calling for it. I substituted with apple filling and added half a can on drained pineapple tidbits stirred in. Saved some of the tidbits for garnish on the top.
[Ella can be contacted at publisher@50pluslife.com or Ella – 50+ Lifestyles, P. O. Box 2125, Davenport, IA 52809]