July 30, 2019
Sustainability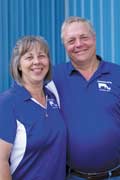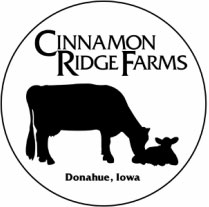 By John & Joan Maxwell
Cinnamon Ridge Farms
"We do not inherit the Earth from our ancestors; we borrow it from our children." So teaches a Native American proverb. At Cinnamon Ridge Farms, we are working hard toward sustainability: protecting our planet's precious resources while striving to humanely provide fresh, nutritious food to our Midwestern consumers.
Sustainability in dairy farming is defined as:
1) What is beneficial for the planet?
2) What is beneficial for the people?
3) What is profitable for the agricultural sector?
At Cinnamon Ridge, we have worked diligently to meet these criteria by using what we call "an integrated cycle." The cows eat what our soil produces: forage, such as alfalfa hay and corn silage. When our cows eat these nutritious plant products, they produce nutrient-rich milk. The cows also produce fertilizer in the form of manure, which we then return to revitalize the soil. This integrated cycle is wonderful, but we at Cinnamon Ridge have strove for sustainability to go even one step farther: we also use the soil's plant products (forages) to improve water quality and reduce soil erosion. One method of this is planting winter wheat and rye, which establishes a root system in the fall and stays through the winter and spring, helping to prevent soil run-off. We then mow and chop these cover crops to be feed for the cows. We even then plant soybeans directly into the field without tilling – which is a huge step in preventing erosion.
Our efforts at sustainability have not gone unnoticed. A few months ago, Cinnamon Ridge was one of only three United States farms to receive a national Dairy Sustainability Award. Everyone who is a part of the Cinnamon Ridge family has been very humbled and honored to receive such a prestigious award and participate in many media segments. Indeed, we are thankful for all our staff and partner's cooperation: it takes all people on the farm for us to achieve sustainability and protect the earth's resources! Yet, we recognize we are not alone in striving for and achieving sustainability. Countless dairy farmers are doing every bit as excellent a job as we. We are so honored to be able to sustainability steward our dairy farm alongside so many others who are also doing so.
Just like the Native American proverb teaches, as I am a fifth-generation dairy farmer in Scott County, one of my goals is to leave our farm to my children even better than I received it. Just as we are proud to produce fresh, delicious cheese and beef for our community that is done with sustainability in mind, we also recognize and want to thank you, our consumers, for making informed decisions to support us. We could not run Cinnamon Ridge Farms sustainably without your support. Thank you for choosing us and our products as we all care for our planet and each other together. Cinnamon Ridge's delicious and sustainably produced products are available in our self-service store, the Cinnamon Ridge Country Cupboard as well as the I-80 Truckstop, Gramma's Kitchen restaurant, Machine Shed restaurant, and North Scott Foods.