August 27, 2019
Ella's Kitchen
When entertaining this fall do you have the dilemma of whether to serve a plated meal or do family style? Should it be sit-down or buffet? The good news is that in this day and age, anything goes. You are the hostess. Just remember to enjoy yourself and have fun!

Some Ideas for a Plated Salad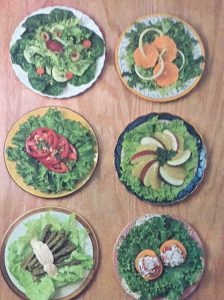 ---
Simple greens and vegetables garnished for the appeal.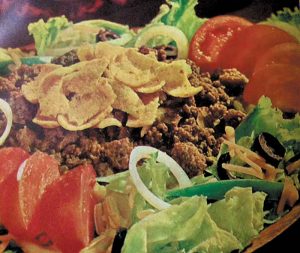 Taco Salad
A salad that everyone builds their own, almost like a salad bar
We called this Taco Salad, and it was a favorite at my house.
I will print the original recipe and also my variations.
Make your own variations with shredded chicken or pork.
1 pound ground beef
1/2 envelope (1/4 cup) dry onion soup mix
3/4 cup water
1 medium head lettuce, torn into bite size pieces (approx 4 cups)
1 large tomato cut in wedges
1 small onion, thinly sliced and separate rings
1/4 cup chopped green pepper
1/2 cup sliced ripe olives
1 package (4 ounce) shredded sharp cheddar cheese
1 package (6 ounce) Fritos
In skillet, brown ground beef. Sprinkle onion soup mix over meat; stir in water. Simmer uncovered about 10 minutes. In a large salad bowl, combine lettuce, salad ingredients and cheese. Toss well. Spoon meat on top of salad, top with Fritos. Serve.
---
My variations for my family:
For the salad, I used a package of prepared shredded letuce/salad mix. It was placed in the salad bowl. Then I had separate bowls (soup or cereal size)of: the tomatoes, sometimes I used grape or cherry tomatoes; chopped onions or sliced green onions; bell pepper, green, orange, red – whatever was in season or on sale; ripe olives; green olives; sliced radishes; jalapeño or banana peppers; avocado wedges; salsa; and sour cream. Then each member "built" their own salad. Some loved tomatoes, two family members wouldn't eat them. My son loved the banana peppers but wouldn't touch bell peppers. So each person got just what they wanted. I have a granddaughter that wants only the lettuce, meat, cheese, and corn chips. But she will eat the black olives on the side. So everyone is happy.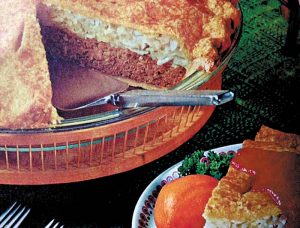 Hearty Meat and Potato Pie
2 sticks pie crust mix or 2 9-inch shells
1 pound ground beef
1/2 cup milk
1/2 envelope (1/4 cup) dry onion soup mix
Dash pepper
Dash allspice
1 pkg. (12 oz.) loose-pack frozen hash-brown potatoes, thawed
---
Prepare pie crust mix according to package directions; roll out 2 circles for 9-inch pie plate. Line a 9-inch pie plate with one of the crusts. Combine meat, milk, soup mix, pepper, and allspice; mix gently. Lightly pat mixture into the pastry-lined pie plate. Top with potatoes. Cover with the top crust. Seal and flute the edges. Cut a design in the top pastry. Bake at 350 degrees about one hour or till browned. Serve with warm catsup.
Or – make individual meat pies in ramekins or individual tart pans. Would make 6 – 8 depending on size of the ramekin. Each person would have their own rather than a family-style serving.
Ed note: Since I love cheese, I add a small layer of shredded cheese on top of the potatoes before I put the top crust on.
[Ella can be contacted at publisher@50pluslife.com or Ella – 50+ Lifestyles, P. O. Box 2125, Davenport, IA 52809]