October 1, 2019
Ella's Kitchen
Autumn is a great time to try new meat and vegetable recipes. Try barbecued veal with rice, accompanied with stuffed yams or lamb chops Oriental-style paired with carrots Lyonnaise or smoked pork shoulder and spinach salad. All of these recipes will serve 6 – 8.
-Ella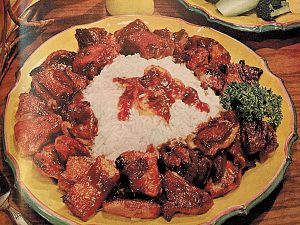 Barbecued Veal with Rice
3 pounds boneless breast of veal,
cut in 2- inch pieces
2 Tablespoons fat
1 can (8 ounce) seasoned tomato sauce
1/2 cup catsup
1/2 cup water
1 medium onion, sliced
1/2 cup chopped celery
2 Tablespoons brown sugar
2 Tablespoons prepared mustard
1 Tablespoon Worcestershire sauce
Hot cooked rice, enough for 6 – 8 servings
---
Brown veal slowly on all sides in hot fat, season with salt and pepper to taste. Combine the remaining ingredients except for the rice. Pour mixture over the meat. Cover and simmer* (do not boil) until tender, about 2 hours. Uncover for the last 15 minutes. Spoon off excess fat. Mound rice in the center of a platter. Circle with the meat. Ladle sauce over the meat and rice.
*Or cover and bake in a moderate oven (350 degree) for two hours or until tender.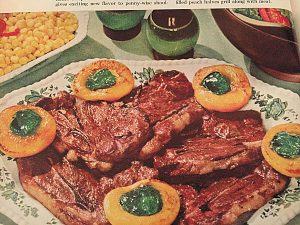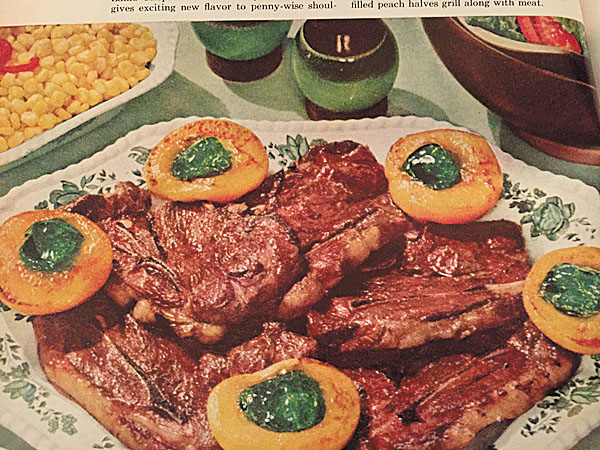 Lamb Chops Oriental
6 lamb shoulder chops, 1/2 inch thick
1/2 cup soy sauce
1/2 cup water
1 clove garlic, minced
6 canned peach halves
Mint jelly
---
Score fat edges of chops. Place in shallow baking dish. Combine soy sauce water and garlic, pour over chops. Let stand in refrigerator several hours or over night.
Arrange marinated chops on broiler rack. Broil 3 inches from heat about 10 minutes on first side. Turn chops, then place peaches hollow side up in the broiler with the chops. Broil another 5 to 8 minutes. Fill the peaches with mint jelly at the end of broiling time.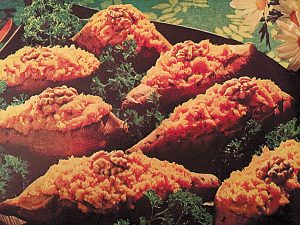 Stuffed Yams
6 medium-sized sweet potatoes or yams
1/4 cup butter
1 Tablespoon brown sugar
1 teaspoon salt
Dash pepper
Hot milk
---
Scrub potatoes thoroughly. Bake at 425 degrees for 40 minutes or until done. Cut a slice from top of each potato. Scoop out the inside, being careful not to break the shell. Mash the scooped out potatoes in a mixing bowl. Add butter, brown sugar, salt, pepper and add enough hot milk to moisten. Beat with mixer or beater until fluffy. Fold in nuts or raisins.
Spoon mixture back into potato shells. Bake in moderate oven (350 degrees) for 15 to 20 minutes.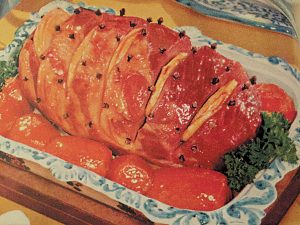 Smoked Pork Shoulder
1 smoked boneless shoulder butt
( 2 – 2 1/2 pound)
Prepared mustard
Onion slices
Whole cloves
1 can (1 – pound 2 – ounce ) vacuum-packed sweet potatoes
1/2 cup brown sugar
---
Place meat in deep kettle and cover with cold water. Place over heat and bring to just boiling. Reduce hear and simmer about one hour per pound, or until tender. Lift from water.
Make 5 diagonal slashes 1/4 way through meat. On each slice, spread mustard on the sliced surfaces, insert onion slice in each. Spread mustard on top of meat and adorn with clove studs. Arrange sweet potatoes around the meat. Sprinkle brown sugar over meat and sweet potatoes. Bake in moderate oven (350 degrees) for 30 minutes or until meat is glazed and potatoes are hot.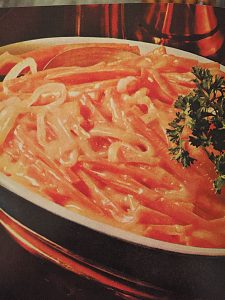 Carrots Lyonnaise
1 pound carrots (about 6 medium size)
1 chicken bouillon cube dissolved in
1/2 cup boiling water
1/4 cup butter
3 medium onions, sliced
1 Tablespoon all-purpose flour
1/4 teaspoon salt
Dash pepper
3/4 cup water
---
Pare carrots and cut in julienne strips. Cook carrots in bouillon, covered, for 10 minutes. Melt butter, add onions and cook, low heat, covered for 15 minutes, stirring occasionally. Stir in flour, salt, pepper and water. Bring to a boil. Add carrots and stock. Simmer uncovered for about 10 minutes.
Tangy Spinach Toss
1/4 cup butter
2 Tablespoons sliced green onions
2 Tablespoons all-purpose flour
1/4 teaspoon salt
1 cup of water
2 Tablespoons lemon juice
1 Tablespoon prepared horseradish
1/2 teaspoon Worcestershire sauce
---
Cook onion in butter about one minute; blend in flour and salt. Add water, lemon juice, horseradish, Worcestershire. Cook and stir until mixture boils. Dice one egg and add to dressing. Pour dressing over salad in salad bowl. Toss lightly. Slice remaining egg for garnish; sprinkle with paprika.
[Ella can be contacted at ellaweeza@yahoo.com or Ella at 50+ Lifestyles, 804 W Lombard Street, Davenport, IA, 52804]