October 29, 2019
Ella's Kitchen
November cries for hot 'n hearty comfort foods and embellished appetizer trays. It's a month for the aroma of flavorful soups simmering on the stove or the eye-catching extras for a celebratory meal.
– Ella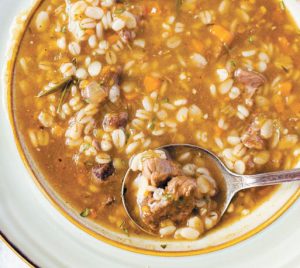 Super Bowl Soup with Barley, Beans and Beer
2 1/2 cups water
1 TB. butter
8 oz. barley
2 Lbs. lean ground beef
1/2 cup chopped onion
2 (19 oz.) cans red kidney beans (drained)
3 (14 oz.) cans peeled tomatoes
1 (12 oz.) can beer
Salt & Pepper to taste
1 tsp. garlic powder, or to taste
---
Bring the water to a boil in a saucepan over high heat. Stir in butter and barley.
Reduce the heat to low. Cook, uncovered for 35-40 minutes or until the
barley is tender.
Brown the ground beef and onion in a large skillet until the ground beef is crumbly; drain well. Transfer to a 10 quart stockpot.
Add barley, beans, undrained tomatoes, beer, salt, pepper, garlic powder and chili powder. mix well.
Cook over medium-low heat for 10 minutes or until the beer evaporates.
Yield: 8 servings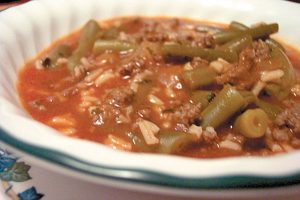 Ground Beef Soup
2 TBS. butter
1 cup chopped onion
1 clove of garlic, minced
2 1/2 Lbs. ground beef
3 (10 oz.) cans beef stock
1 (10 oz.) can tomatoes with green chiles
1 (8 oz.) can tomato sauce
1 cup chopped unpeeled potatoes
1 cup chopped carrots
1 cup chopped celery
1 (16 oz.) can Frendh-style green beans
1 cup dry red wine
1 TB. chopped parsley
1/2 tsp. dried basil
Salt and pepper to taste
---
Heat the butter in a large saucepan over medium-high heat. Add the onion and garlic. Saute until the onion is translucent.
Brown the ground beef in a large skillet, stirring until crumbly; drain well. Add to the onion mixture.
Add the beef stock, tomatoes with green chiles, tomato sauce, potatoes, carrots, celery, green beans, wine, parsley, basil, salt and pepper; mix well.
Cook over medium-high heat for 15 minutes or until vegetables are tender.
Serve with warm bread.
Yield: 8 servings
Turkey Platter Appetizers
Use your imagination and these pictures as a guide.
Create your own masterpiece. It is fun!!!
---
[Ella can be contacted at ellaweeza@yahoo.com or Ella at 50+ Lifestyles, 804 W Lombard Street, Davenport, IA, 52804]