November 27, 2019
Ella's Kitchen
What a busy time of year. Some short cuts and some hints. Have a delightful and delicious December!
-Ella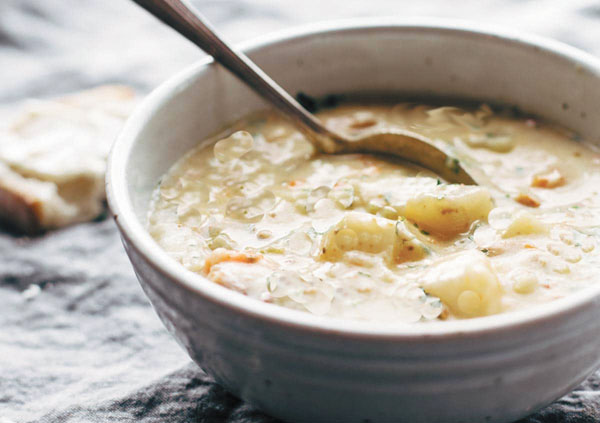 Hearty Potato Soup
A friend told me of a quick and easy way to make a hearty potato soup. In a saucepan, simply cut up some cooked potatoes and add a jar of Alfredo sauce. Heat through. If you want a thin based soup, simply add milk. You are in complete control of how thick or thin you
want your soup.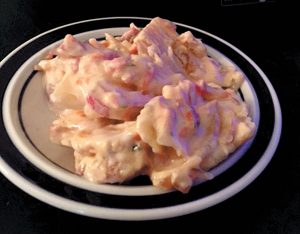 Three Potato/ Four Cheese Crockpot Scalloped Potatoes
Ingredients
3 russet potatoes – washed and sliced thin
9 or 10 baby red potatoes – washed and sliced thin
9 or 10 baby golden Yukon's – washed and sliced thin
1 carrot, peeled and shredded
1 to 2 Tablespoons chopped chives
1 to 2 Tablespoons bacon bits
---
In a large crockpot cover the bottom with a layer of the potatoes, a little of the carrot, chives, and bacon. Pour some sauce just covering the potatoes. Repeat the layering process until crock pot is full. Heat on high for 1/2 hour. Then on low for about 6 hours.
When serving, sprinkle with shredded cheese and more bacon bits, if desired.
Some hints: Russet potatoes take longer to cook, so don't be surprised if they are a little firmer, but they should be fully cooked within 6 hours.
Freezing left-overs. I froze small containers of my leftover potatoes. The sauce seemed to separate a little when thawed and reheated. I simply added about a 1/3 cup of mild nacho cheese (cheese whiz or any cheese dip would work)
Also, if you don't have a carrot on hand, no problem. I just happened to have a lot of them and I wanted to use them up.
Red Wine Vinegar Salad Dressing
So I mixed 1/2 cup extra light virgin olive oil, 1 Tablespoon of the red wine, 2 teaspoons of white balsamic vinegar, 1 Tablespoon honey with a whisk. Added a little of the orange juice from the canned mandarin oranges. Then added about a teaspoon of poppy seeds. Whisked again and poured over the tossed salad.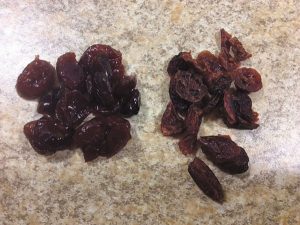 Refreshing Craisins or Dried Cranberries
I had some dried cranberries that had exceeded the "best if used by" date. I had wanted to use them in a tossed salad. They did look quite pathetic. I was also using canned mandarin oranges. I put some cranberries in a shallow plastic container, poured some juice from the canned oranges over, covered and refrigerated overnight. The cranberries came back to life.
[Ella can be contacted at ellaweeza@yahoo.com or Ella at 50+ Lifestyles, 804 W Lombard Street, Davenport, IA, 52804]