January 3, 2020
Ella's Kitchen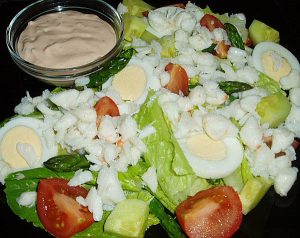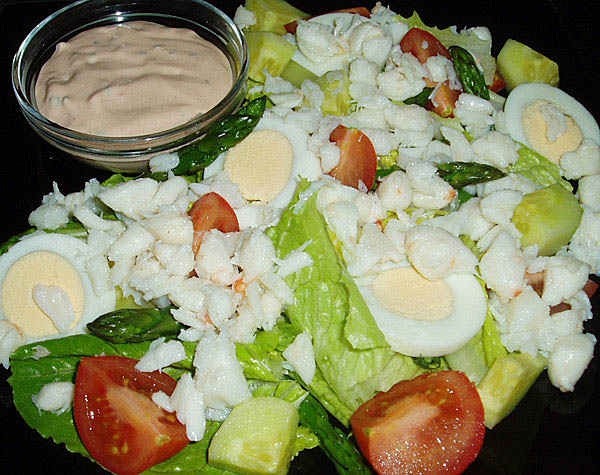 Crab Louis Salad
2 cups salad greens, torn into bite- size pieces
1 can (7 1/2 oz.) or frozen pkg. (7 oz.) crabmeat chunks
2 tomatoes, quartered
2 hard-boiled eggs, quartered
1/3 cup ripe or green olives
1/2 cup Louis Dressing
Louis Dressing:
1/4 cup plus 2 Tbsp chili sauce
1/2 tsp finely minced onion
1/8 tsp Worcestershire sauce
1/4 cup mayonnaise
1/4 tsp sugar
Mix ingredients. Refrigerate at least 30 minutes. Pour over the Crab Louis. Makes 1/2 cup
---
Add color and texture to your salad with any of the following:
Shredded carrots
Dried cranberries, blueberries or raisins
Sliced or slivered almonds
Beets, sliced or cut in matchstick pieces
Sliced mushrooms
Sunflower seeds
Sweet potato, uncooked, sliced or shredded
Pepita seeds
Walnuts or pecans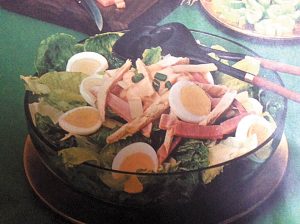 Chef's Salad Supreme
2 cups iceberg lettuce, torn into bite size pieces
2 cups romaine, endive or spinach, torn into bite size pieces
1/4 cup chopped green onion
1/4 cup sliced celery
1/4 cup chopped bell pepper, red or yellow
1/4 cup sliced mushrooms
1/4 cup julienne strips of cold crooked meat (ham, roast beef, luncheon meat)
1/4 cup julienne strips of cold cooked chicken or turkey
1/4 cup julienne strips of Swiss cheese
1/4 cup julienne strips of cheddar cheese
1/4 cup mayonnaise
2 Tbsp French Dressing
4 – 6 ripe olives
1 – 2 hard boiled eggs, sliced
---
Toss the bite-sized greens with the onion, celery, bell pepper, mushrooms and 1/2 of the meats and cheeses, reserving the other half for garnishing before serving. Just before serving, toss with the salad dressings. Then garnish with the remaining meat and cheese strips, the olives and the eggs. Will make 2 to 4 salads depending on your serving size.
Pickled Carrots
Scape 6 medium carrots and cut into 3-inch lengths.
Precook 5 minuets. Drain, cut into thin sticks.
Combine 3/4 cup sugar, 3/4 cup vinegar, 3/4 cup water and
1 Tbsp mustard seed. In a cloth culinary bag or cheesecloth tie
2 sticks cinnamon, broken, and 3 whole cloves. Add bag to sugar-water mixture. Simmer 10 minutes. Place carrots in a glass or plastic container. Pour sugar-water mixture over carrots, cover and refrigerate 8 hours or overnight. Drain well before serving.
---
Mustard Beans
In a saucepan, combine 1 cup sugar, 1/2 cup idea vinegar, 3Tbsp prepared mustard, 1/2 tsp instant minced onion and 1/4 tsp salt. Bring to boiling, stirring to dissolve sugar. Add one 1-pound can yellow wax beans, drained. Simmer, uncovered for five minutes. Cool. Cover and refrigerate overnight.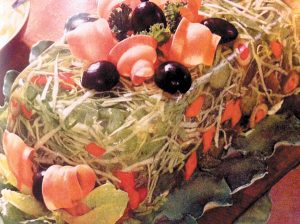 Old-Fashioned Perfection Salad
2 envelopes unflavored gelatin
1/2 cup sugar
1 tsp salt
1 1/2 cups boiling water
1 1/2 cups cold water
1/2 cup vinegar
2 Tbsp lemon juice
---
In a mixing bowl, combine gelatin, sugar and salt. Pour in the boiling water and stir to dissolve gelatin. Then add other liquids. Chill til mixture is partially set.
Add and stir:
2 cups finely shredded cabbage
1 cup chopped celery
1/4 cup chopped green pepper
1/4 cup chopped canned pimiento
1/3 cup chopped green olives
[Ella can be contacted at publisher@50pluslife.com or Ella – 50+ Lifestyles, P. O. Box 2125, Davenport, IA 52809]