March 6, 2020
Won't You Be My Neighbor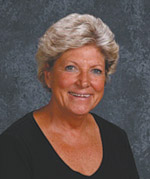 By Mary Schricker Gemberling
"There are three ways to ultimate success. The first way is to be kind. The second way is to be kind. The third way is to be kind. "
………………… Fred Rogers
As I wrote last month, Gary and I spent the month of January in a condo on the Isles of Capris, Florida, just two miles from the Marco bridge. When we checked in January 1st we did not know any of our neighbors. In a very short time we had the opportunity to meet people from many places in the US and Canada.
The condo complex has weekly socials at the clubhouse where residents bring an appetizer to share and their own beverage. When we arrived for our first social, we were overwhelmed by the friendliness of so many people. Now granted, most everyone in Florida is really from someplace else so the people there have certainly walked in our shoes and at some time have been the 'newbies.' But this group was not just marginally friendly; they extended an olive branch. Fred and Darlene, a very congenial couple from Canada asked us to join them on Sunday afternoons on the patio of one of the local restaurants for drinks and music. Others asked us to go out for dinner with them on Marco.
Yet another lady, a docent at the Marco History Museum, encouraged us to come for a personalized tour. On our last Wednesday at the condo many of people genuinely expressed their hope that we would return next year either as renters or owners in the complex. The best thing we took away from this
experience was the knowledge that in the rather isolated and polarized society in which we live, the kindness of strangers was a breath of fresh air.
Our January experience forced me to question whether I am equally kind and friendly to the individuals that I meet. I remember a time many years ago when I was in the grocery store engaged in a conversation with the person behind me in line. When we were leaving my young son Bret asked if the person was a friend of mine. I answered, "No, they weren't, but I think they may be now"!
I am a people person and enjoy meeting new individuals. But our new Canadian friends, Darlene and Fred, went beyond just meeting us; they made the effort to include us and introduce us to others. How often do I go above and beyond in making people feel included? And in our presently divided society do I judge them in the face of their differences rather than the similarities?
The topic of friendliness and kindness brings to mind an individual who was a guest in many of our homes at one time or another. Over the course of three decades, from 1968-2001, Fred Rogers tackled difficult issues of everyday life by stressing acceptance, forgiveness, kindness and inclusiveness for all. His award winning show, Mr Rogers Neighborhood, impacted thousands of children and adults with his lessons about kindness. During the last year I have seen Won't you be my Neighbor, a documentary about Fred Rogers life and more
recently Tom Hanks portrayal of Fred Rogers in the movie, A Beautiful Day in the Neighborhood. I am presently reading the book, The Good Neighbor: The Life and Works of Fred Rogers. My interest in the life of Mr. Rogers stems from what I feel is an overwhelming need to spread more kindness throughout our world.
The story of Fred's life and career is a fascinating and inspiring one. He was never a character separate from Fred. Mister Rogers was Fred's way of ministering to children and families. His own words describe him best;
"I'll never forget the sense of wholeness I felt when I finally realized what in fact I really was: not just a writer or a language buff, or a student of human development or telecommunication, but I was someone who could use every talent that had ever been given to me in the service of children
and their families."
Fred became a pioneer in children's media as well as an artist, Presbyterian minister, musician, environmentalist, and advocate for children and families everywhere. With his gentle and unassuming manner, he made a profound impression on everyone he encountered. And those on the receiving end were forever changed for having met Fred Mcfeely Rogers.
Being kind or friendly to others should not be a difficult gesture. Like many things we do, it just needs to become a habit. Kind, friendly people are generally happier, healthier and more successful in life. Moreover while being kind makes
us happier, being happy makes us kinder. Often a smile, simple act of kindness, or a few words of extended friendship can change another person's attitude and perhaps even make their day. The best and most beautiful things in the world cannot be seen or even touched; they must be felt with the heart. Kindness is loving yourself enough to love those around you. Kindness is free to give, but priceless to receive. Kindness is seeing the best in others when they cannot see it in themselves!
"We live in a world in which we need to share responsibility. It's easy to say, 'It's not my child, not my community, not my world, not my problem.' Then there are those who see the need and respond; they are my heroes."……….Fred Rogers
Mary, a former educator and Seniors Real Estate Specialist is the author of three books, The West End Kid, Labor of Love; My Personal Journey through the World of Caregiving, and Hotel Blackhawk; A Century of Elegance.