July 13, 2020
Ella's Kitchen
Health Guidelines from Chef Donnie
This month I am featuring some recipes from Chef Donnie. He says that presentation is important, after all, the eyes see before the mouth tastes. You can read more about him on page 9. Enjoy!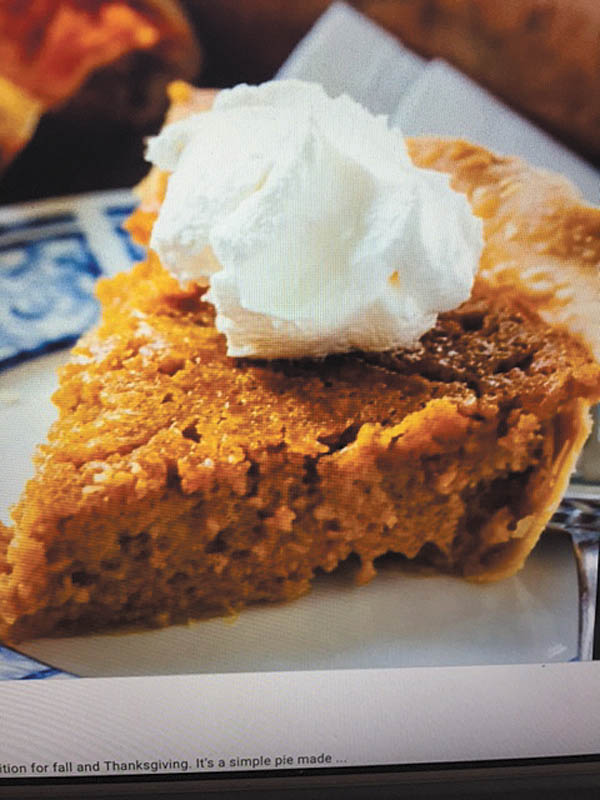 Southern Sweet Potato Pie
Crust
1 1/2 cups flour
1/2 tsp salt
2/3 cup skim milk
4 Tablespoons vegetable oil
Filling
1/4 cup white sugar
1/4 cup brown sugar
1/2 teaspoon salt
1/4 teaspoon nutmeg
3 large eggs, beaten
1/4 cup evaporated skim milk, canned
1 tsp vanilla extract
3 cups sweet potatoes, cooked, peeled and mashed
---
Directions for crust
This heart-healthy crust is made with vegetable oil and skim milk
Combine flour and sugar in a bowl. Add milk and oil to the mixture. Stir with a fork until well mixed. With your hands, form pastry into a smooth ball. Now place ball between two 12 inch squares of waxed paper. Roll out, using short, brisk strokes until the pastry reaches the edges of the waxed paper. Peel off top piece of paper and invert the pastry into a 9" pie plate. Press pastry into pie plate, patting down. Peel off other piece of paper.
Directions for filling
Combine sugars, salt, spices and eggs. Add milk and vanilla. Stir. Now add sweet potatoes, mix well. Pour into prepared crust. Bake in preheated oven, 350 degrees, for 60 minutes or until crust is golden brown. Let cool. Cut pie into 8 to 12 slices. Garnish with whipped cream and a sprinkle of
cinnamon or nutmeg.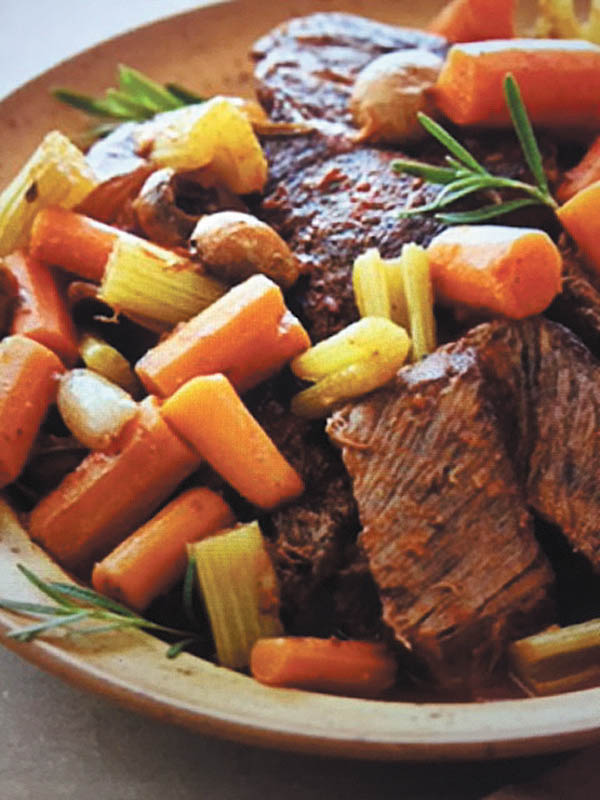 Bourbon Pot Roast
1 1/2 cup carrots cut in chunks or logs
2 1/2 cups beef broth
1 1/2 pounds cooked roast beef,
cut in 2 inch cubes
3/4 cups bourbon
1 1/2 cups celery, cut in 2 inch long sticks
1 can potatoes
I small package peas with pearl onions, frozen
2 Tablespoons cornstarch
1/3 cup cold water
---
Directions
In a Dutch oven or stew pot, pour in broth and add carrots. Bring to boil. Now add the beef and continue to boil. Add the bourbon, then the celery, potatoes and peas with onions. Bring back to a boil.
In a small mixing bowl, mix cornstarch and water together until smooth. Then slowly add to the beef mixture to thicken the broth.
Serve hot. Serving suggestion: serve with cornbread or a slice of crusty French bread. If serving individually plated, garnish a with sprig of parsley.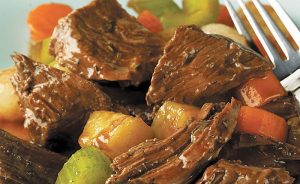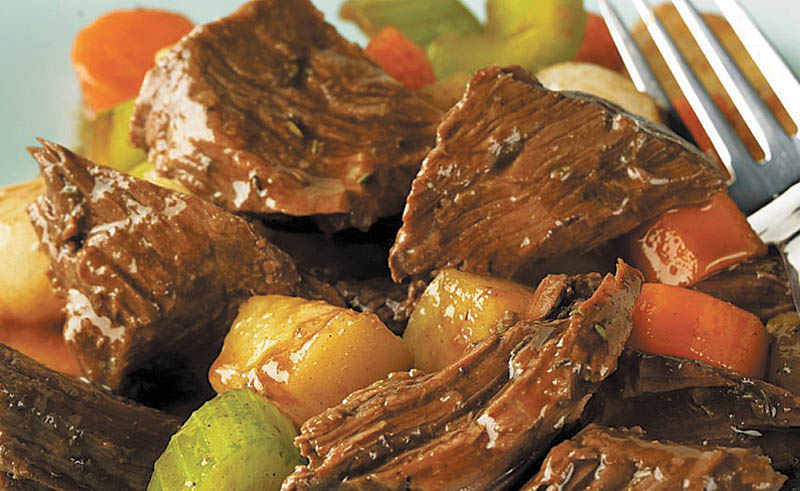 Yankee Beef Pot Roast
3/4 to 1 pound of precooked beef for pot roast
1 1/2 cups of beef broth
1/4 teaspoon black pepper
1/4 teaspoon garlic powder
A bay leaf
3/4 cup puréed tomato
3/4 cup of fresh, whole baby carrots
1/2 cup onion, cut in small wedges
1/2 cup cut celery
1 Tablespoon cornstarch
1/4 cup cold water
---
Directions
Cut up the beef into chunks. Place the beef and broth in a soup pot. Add the pepper, garlic powder and bay leaf and bring to boil. Stir in the tomato purée. In a steamer, steam the carrots for 10 to 15 minutes, then add to beef mixture. Now add celery and onion. Cook until tender. Dissolve cornstarch in cold water. Add to beef and vegetables to thicken, if needed. Serve hot. If holding in a steam serving table, maintain heat of at least 140 degrees.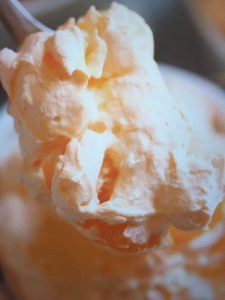 Aunt Jo's Orange Salad
1/2 cup dry tapioca
4 cups boiling hot water
1 small box orange jello
1 box instant vanilla pudding
2 cans (15 ounce) mandarin oranges, drained well, set a few segments aside to use as garnish
2 cups cold water
I large (16 ounce) container cool whip
---
Put hot water in a saucepan. Add tapioca. Boil until tapioca is clear and thick. Make sure to stir constantly so tapioca won't burn. Whip in dry jello with whisk, slowly until jello dissolves. Now whip in dry pudding mix, slowly. Pour into a large mixing bowl. Stir in cold water. Gently stir in Cool Whip. Fold in drained oranges. Spread into 9×13 pans or loaf pans or scoop into individual serving bowls. Serve immediately or refrigerate and serve later. Garnish with mandarin orange slices.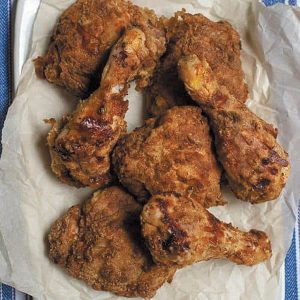 Fried Chicken
12 pieces chicken – a combination of pieces, can be drumsticks, thighs
or breast that has been quartered
(12 pieces allows two pieces per person)
1 3/4 cup flour
2 Tablespoons of Lawry's season salt
1 1/2 cup shortening
---
Place shortening in skillet and heat over high heat, 400 degrees. Season chicken with the seasoning salt. Then cover each piece with flour. Start frying the pieces. Don't crowd the chicken. Turn the browning pieces with tongs so as to not pierce the meat. Continue cooking until the meat thermometer says the internal temperature is 175 degrees.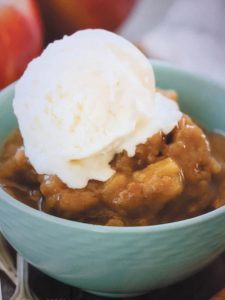 Apple Pudding
3/4 cup softened butter or margarine
3 cups sugar
4 eggs, well beaten
3/4 teaspoon cinnamon
1/4 teaspoon nutmeg
3/4 teaspoon baking soda
1 2/3 cups flour
1 can (20 ounce) apples, drained
1 can (20 ounce) apple pie filling
Whipped cream or cool whip or vanilla ice cream for topping
---
In a large mixing bowl, cream together butter and sugar until well blended. Fold in the beaten eggs.
In a separate bowl, sift together cinnamon, nutmeg, baking soda and flour. Stir into the creamed mixture. Fold in the apples and apple pie filling.
Pour into greased 2 1/2 quart baking dish. Can use a deep-sided 9×13 casserole dish.
Bake at 350 degrees for about 35 minutes. Cool. When serving, garnish with vanilla ice cream or whipped topping.
[Ella can be contacted at ellaweeza@yahoo.com or Ella at 50+ Lifestyles, 804 W Lombard Street, Davenport, IA, 52804]