August 3, 2020
Ella's Kitchen
It's August, how did your garden grow? Community Gardens and Farmer's Markets have produce to choose from. Peaches, Watermelons, Cucumbers and Zucchini. Enjoy the bounty.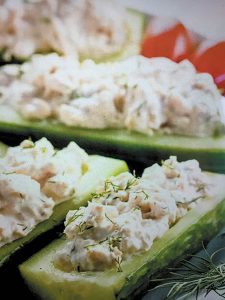 Tuna Salad Cucumber Boats
4 medium cucumbers, washed and dried
4 (5 ounce) cans or pouches of albacore tuna in water, drained
4 stalks of celery, finely diced
1 cup plain yogurt
1/2 cup white onion, finely diced
2 teaspoons prepared yellow mustard
1 teaspoon salt
1/2 teaspoon ground black pepper
1/2 teaspoon fresh dill, finely chopped (optional)
---
Slice the cucumbers down the middle lengthwise. Using a spoon or a melon baller, gently scoop out the insides. Set the cucumber boats aside (You can discard or compost the scooped out seeds.)
Place tuna in a medium-sized bowl. Using a fork, gently mash the tuna until it is flaked. Add celery, yogurt, onion, mustard, salt, pepper, and dill. Mix well. Spoon the tuna salad into each cucumber half. Serve.
Options: Feel free to use your own tuna recipe. Use chicken salad. In place of cucumbers, use zucchini. Fill the zucchini boats with salmon salad or ham salad. Ham and salmon are a little stronger in taste and the zucchini is a milder taste, so they will complement each other.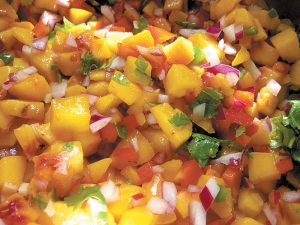 Peach Salsa
6 large peaches, peeled, pitted
and chopped (I have made this using
half peaches and half nectarines)
2/3 Cup orange marmalade
3 Tablespoons cider vinegar
1 Tablespoon sugar
1/4 Cup diced Bermuda onion
1 Tablespoon crystallized ginger
2 Tablespoons chopped parsley or cilantro (optional)
---
In medium bowl, mix all ingredients together. Cover and refrigerate until serving. Has a refrigerated shelf life of 4 to 5 days.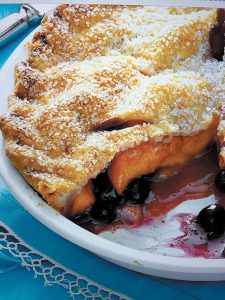 Peach Blueberry Pie
Crusts – you will need two crusts as this is a double-crusted pie. Use your favorite crust recipe or use buy prepared crusts.
Filling
1 cup sugar 1 Tablespoon butter
1/3 cup all-purpose flour 1 Tablespoon milk
1/2 teaspoon ground cinnamon Cinnamon sugar
1/8 teaspoon ground allspice
3 cups sliced and peeled fresh peaches
1 cup fresh blueberries
---
In a large bowl, combine sugar, flour, cinnamon, and allspice. Add peaches and blueberries, toss gently to coat fruit.
Preheat oven to 400 degrees. Line a 9-inch pie plate with one of the crusts. Trim excess pastry to 1/2 inch beyond rim of pie plate. Add filling, dot with butter.
Arrange the second crust on top. Put a few slits in the top crust or cut out a star or heart-shaped piece in the center of the crust. This allows steam to escape. Trim edge and seal to lower crust, Flute the edges. Brush top with milk, then sprinkle with cinnamon sugar.
Bake 40 – 45 minutes or until crust is golden brown and filling is bubbly. Cool on wire rack. Slice and serve When pie is cooled.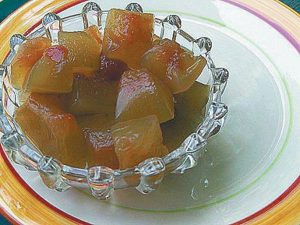 Pickled Watermelon Rind
2 quarts watermelon rind (equal to one medium-sized melon)
3/4 C. salt
5 cups of sugar
3 quarts water
3 cups of water
3 cups white vinegar
1 Tbs. Allspice
1 Tbs. (about 48) whole cloves
6 cinnamon sticks, broken into 1-inch pieces
1 lemon, thinly sliced, with seeds removed
---
Trim the pink flesh and the green outer skin from the rind. Cut into small strips, about 1" x 2". Cover with a brine made by combining 3 quarts water and 3/4 cup salt. Refrigerate for five hours or overnight.
Drain; rinse. Cover the watermelon with water and bring to a boil; continue cooking until fork-tender, about another 15 minutes. (Overcooking will cause the rinds to become rubbery.) Drain.
Combine sugar, vinegar, water, and spice. Boil 5 minutes and then pour over watermelon; add lemon slices. Refrigerate overnight.
Heat watermelon in syrup to boiling; reduce heat to medium-high and for one hour. Pack the hot watermelon pickles loosely into clean, hot pint jars. Cover with boiling syrup, leaving 1/2 inch headspace. Remove air bubbles and adjust headspace if needed. Wipe rims of jars with a dampened clean paper towel; apply two-piece metal lids.
To seal: Submerge the full jars in boiling water (enough water so the jars are 1-2" below the surface); boil for 15 minutes (or slightly longer at higher altitudes). Remove jars and let them sit undisturbed at room temperature for 24 hours. Check seals.
[Ella can be contacted at ellaweeza@yahoo.com or Ella at 50+ Lifestyles, 804 W Lombard Street, Davenport, IA, 52804]