September 1, 2020
Building a Better Breakfast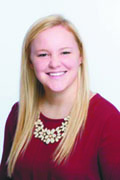 By Katie Schaeffer, RD, LD
Hy-Vee Registered Dietician
(563) 359-9323 kschaeffer@hy-vee.com
Starting your day with breakfast is a great way to give your body a boost of energy to power through your day. If you choose the wrong breakfast, however, it could quickly lead to an unwanted energy crash. This advice from a registered dietitian will ensure that your breakfast fuels you, instead of failing you.
There are several key components to a balanced breakfast. A good breakfast should be high in fiber. Fiber helps your meal digest slowly. The longer food takes to digest, the longer you will remain full and satisfied. Fiber at breakfast is also crucial for blood sugar and mood stability. A good breakfast should incorporate a lean source of protein. Protein is also important to help keep you full throughout the morning. And protein is used for muscle building and maintenance.
A good breakfast should also be colorful. The more fruits and vegetables (yes, vegetables at breakfast!) we can incorporate, the better. Many people do not meet recommended daily servings of fruits and vegetables. Making sure produce is incorporated into all meals will help individuals get closer to that daily goal.
There are also a few nutrients that should be limited at breakfast. A meal high in sugar can cause a spike in blood sugar, often resulting in a subsequent crash. That blood sugar crash will leave you feeling moody and hungry. A breakfast too high in saturated fat can weigh you down and leave you feeling sluggish. Try to incorporate plant-based fats such as nuts, seeds or avocados, which also tend to be good sources of fiber and provide the added benefit of improving heart health.
Here are a few examples of better breakfasts:
Oatmeal: This is a great source of fiber. Eat plain oatmeal to avoid added sugars, and sweeten naturally by adding berries or a half a banana. Throw protein powder in after cooking for both added protein and flavor.
Greek Yogurt Parfait: Greek yogurt is a great source of protein. Pair with fruit for added fiber, and chopped nuts for more fiber, protein, heart-healthy fats and crunch.
Breakfast Sandwich: DIY instead of going through the drive-thru. Thomas' 100-calorie English muffins are a great source of fiber and low in calories. Fill it with scrambled egg whites, avocado slices and/or breakfast turkey sausage. Add even more color by throwing on lettuce and a tomato slice.
Smoothie: This is a great breakfast with a variety of options and an easy way to incorporate all of the ingredients needed for your best breakfast. Add spinach, fruit, flaxseed for fiber and heart-healthy fats, Greek yogurt and/or protein powder, and skim milk or a milk alternative.
Breakfast Tacos
Serves 4 (1 tortilla each)
All you need:
4 Hy-Vee whole-grain flour tortillas with omega-3
4 slices reduced-fat cheese
4 large eggs
4 oz turkey breakfast sausage
½ avocado, seeded, peeled and sliced
1 medium red bell pepper, seeded and diced
1 green onion, finely chopped
Salt and black pepper, to taste
All you do:
Preheat oven to 375 degrees F. Line a rimmed baking pan with parchment paper. Arrange tortillas on prepared pan. Top each tortilla with 1 cheese slice. Bake for 5-7 minutes, or until cheese is melted.
Coat a small skillet with nonstick cooking spray; heat over medium heat. Break egg into skillet. Cook for 2-3 minutes, or until white is set and yolk begins to thicken. Remove egg from skillet and keep warm. Repeat with remaining eggs.
Cook and crumble sausage according to package directions.
Place one egg on each tortilla. Add sausage, avocado, red pepper and green onion. Add salt and pepper, to taste.
The information is not intended as medical advice. Please consult a medical professional for individual advice.