September 1, 2020
Ella's Kitchen
Here it is September already. The growing season is coming to an end and we now reap what has been sown. Whether it is from your vegetable garden, the patio garden pots, your neighbor or The Farmers' Markets make the best of the season. Experiment with new flavors as I did with the blueberry salsa. It's fun and can be rewarding.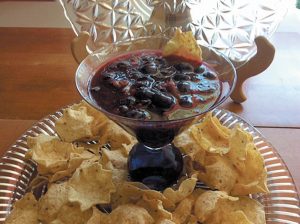 Blueberry Salsa
1 cup fresh blueberries, slightly mash about 1/2 of them
1/2 cup Smuckers seedless red raspberry jam (strawberry jam or raspberry jam with seeds can be
used. Your personal preference)
2 – 3 Tablespoons cider vinegar
1/4 cup finely chopped celery, I used the inside, more tender part
1 Tablespoon crystallized ginger
1 Tablespoon chopped dried parsley
or 2 Tablespoons chopped fresh parsley
1 teaspoon dried cilantro
---
In a medium bowl, mix all ingredients together. Cover and refrigerate until serving. Serve with corn chip scoops, or other chips or crackers of your liking. Wedges of pita bread or flatbread would also be good. This is very sweet. I think it would be good over French toast or pancakes, too.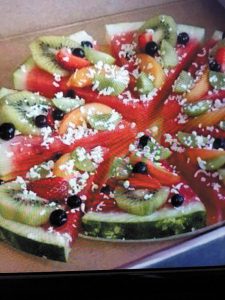 Get Creative with Fresh Fruit
---
Take a big round slice of watermelon. Use grapes, berries of all kinds, kiwi, peach slices, even pieces of cantaloupe. Or add banana slices, just make sure you squeeze lemon or lime juice over them so they won't darken. This is sprinkled with flaked coconut, but that is optional. You could sprinkle almond slices over the top. Then cut the watermelon in wedges like a pizza.
Making HALF a Recipe
Do you often need to make half or one-third a recipe?
It's easy to divide 1 cup, but other things are not so easy. Here is a helpful chart.
---
When the recipe calls for: Use:
1/4 cup 2 tablespoons
1/3 cup 2 tablespoons plus
2 teaspoons
1/2 cup 1/4 cup
2/3 cup 1/3 cup
3/4 cup 6 tablespoons
1 tablespoon 1 1/2 teaspoons
1 teaspoon 1/2 teaspoon
1/2 teaspoon 1/4 teaspoon
Making One-third of a Recipe
1/4 cup 1 tablespoon plus
1 teaspoon
1/3 cup 1 tablespoon plus
2 1/3 teaspoons
1/2 cup 2 tablespoons plus
2 teaspoons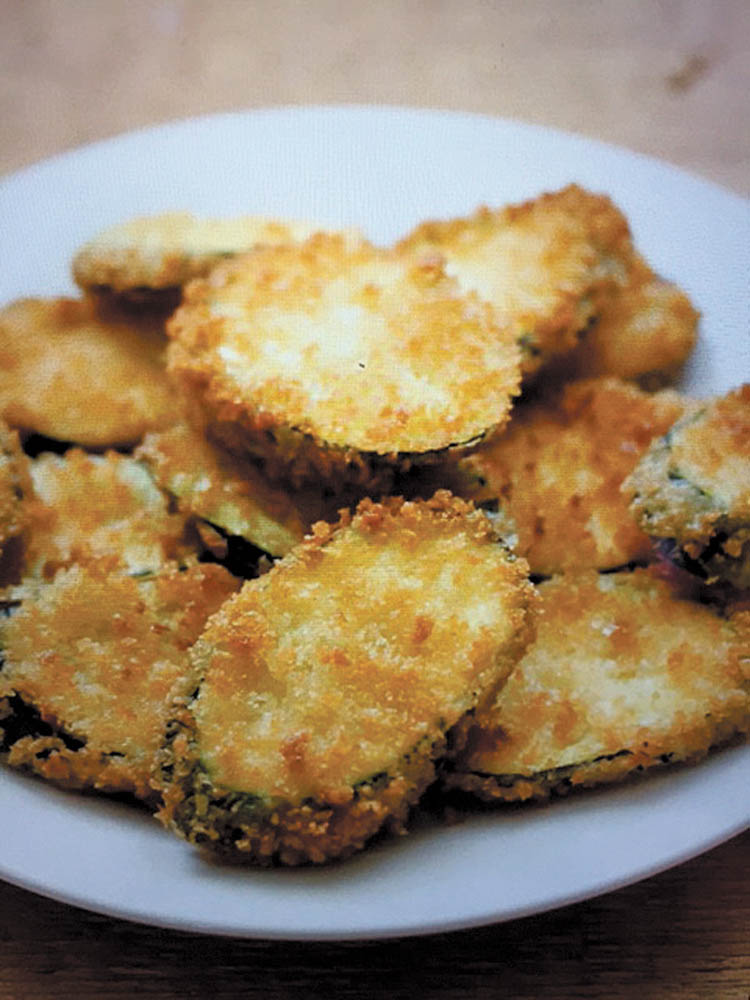 Fried Green Tomatoes
and Zucchini
Vegetable Oil for frying
1 cup yellow cornmeal (fine bread crumbs or corn flakes that have been crushed into a crumb consistency)
Salt, to taste
Pepper, to taste
Garlic salt, to taste
1 cup green tomato slices
1 cup zucchini slices
---
Clean and slice your tomatoes and zucchini. A thin slice will be crispy like a chip, a thicker slice will be crispy on the outside and soft and juicy on the inside. This is a personal preference. You may want to quarter larger tomato slices and slices from a fat zucchini. You will probably want about 1 cup each of the green tomato slices and the zucchini slices.
Pour 2 – 4 Tablespoons of oil into a large skillet. Heat the oil over medium/ medium-high heat.
While oil is heating, mix together the cornmeal, salt, pepper, and garlic salt in a medium-sized mixing bowl.
Toss the vegetables in the cornmeal mixture, coating each one completely. Now place a layer of the coated vegetables in the skillet. Cook until golden brown and crispy, turn and cook on the other side. When done, place on paper towels or drying rack. Continue cooking process until all of the pieces have been cooked.
Can be served with marinara sauce, bar-b-cue sauce or ranch dressing.
[Ella can be contacted at publisher@50pluslife.com or Ella – 50+ Lifestyles, P. O. Box 2125, Davenport, IA 52809]