September 1, 2020
It's September in the Hilltop Campus Village
Smell the aroma of freshly brewed coffee at your favorite morning coffee spot. Well, grab a cup and let's visit four great gems of the Hilltop Campus Village.
We will start at Redband Coffee Company, located at 110 W 13th Street (corner of 13th and Brady). Redband has been expanding at this
location. The expansion is now complete. They have a drive-thru window and a walk-in counter to serve you. The drive-thru is accessed off of Brady, and the walk-in counter is accessed off of 13th Street. Coffees include a delicious drip coffee and a New Orleans style iced coffee. Bags of whole bean coffee can be purchased, so that you can have this great coffee at home if you wish. Their fried-egg breakfast sandwich is served until 1:00 pm. Check them out in person or on Facebook!
Now we will wander up Brady Street to Donuts & More located at 1717 Brady, just south of Walgreens. Donuts & More has been a Quad Cities favorite for over 30 years. Cris and Scott Ryder have been owners since 2017 when they purchased the business from original owners, Jan and Tom Amyette. Both locations, the store in the Hilltop Campus Village and the store in Moline, have drive-thru.
What is that delightful aroma that we smell? Why it is the pumpkin donut! What a wonderful fall treat to savor in the month of September. Besides adding autumn inspired donut flavors, they have also expanded their beverage menu. Previously they had only offered plain coffee. They now offer smoothies, meal replacement drinks, refreshers, flavored cold brews, energy drinks and Frappuccino.
Donuts & More have completely remodeled the inside and hope to open to indoor seating later this month. Follow them on Facebook to see what else is new.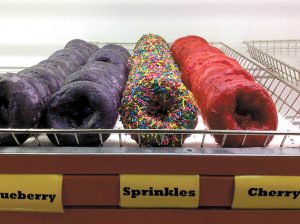 From here, we are going to head over to Main Street just north of Locust. The destination is Main Street Coffee at 1927 N Main Street. This is the happening place for drive-thru coffee. Under a new name and new management, they demonstrate great community involvement at the north end of the Hilltop. They are a convenient drive-thru service, offering premium coffee and espresso drinks, lattes, mochas, white mochas, specialty drinks, energy bursts, smoothies and snacks. All of this and you never have to leave your car. Check out their photo gallery on Facebook.
Our last visit on our Hilltop tour will be at The Brewed Book, 1524 Harrison. Stop in to browse through the many books offered here. They have recently completed their expansion remodel, allowing them to space tables at the proper distance so you can sit, read a book and sip your coffee.
They are open for people to come in and sit at tables again and drink coffee, eat pastries, read a book, study, work from "home," converse, etc. Although masks aren't required, they are encouraged. And groups should be limited to six maximum and social distancing should be practiced. And of course, don't come to the store if you have symptoms.
So many choices to grab that great cup of coffee. Make sure you try them all!