September 1, 2020
Susan G. Komen MORE THAN PINK WALK®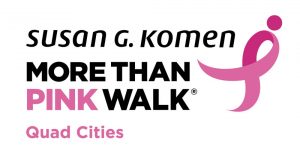 Though there are many things that have shifted in our world this year, the mission to fight breast cancer has not stopped. In fact, it's even more important that we support breast cancer patients as they face the difficult realities of a cancer diagnosis and treatment during a global pandemic.
Susan G. Komen of Greater Iowa has transformed its signature event in the Quad Cities to a virtual event. The MORE THAN PINK Walk is now a virtual Walk Where You Are event! Individuals and families can join together to support Komen's mission of support, research, and advocacy by registering and fundraising for the Quad Cities MORE THAN PINK Walk. We rely on the walk as one of our biggest fundraisers of the year. The funds raised are used on a state level to support our Treatment Assistance Program, advocacy for breast health, and life-saving research for breast cancer treatment.
The virtual MORE THAN PINK Walk includes an exciting lineup of events to safely replicate the typical walk experience. On Saturday, October 17th, we will have a socially distanced packet pick up. The location and time of this event will be announced soon. On Sunday, October 18th, beginning at 1:30 PM, we will live stream an opening ceremony on the Susan G. Komen Greater Iowa Facebook page. The ceremony will recognize our sponsors, recognize our survivor speakers, and get you warmed up to complete a 5K walk! Once the short ceremony ends, everyone is encouraged to head out and walk 3.1 miles. We will be sharing photos and videos throughout the day.
The first step in participating is to register at
komengreateriowa.org/qcwalk.
We are grateful for the community's continued support. The fight against breast cancer has not ended, and we need all of you to keep rallying for the cause.