November 11, 2020
Ella's Kitchen
The November Kitchen is full of many aromas! Baking apples, cinnamon, spices, caramel, sweet potatoes, and hearty soups… these are only a few of the sensational smells of cooking in November.
– Ella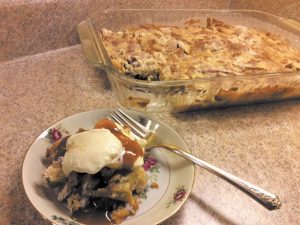 Autumn Apple Cake
5-7 apples, cored and sliced thin
(peel if you want but not necessary)
1 (9 ounce) package yellow cake mix
2 tablespoons sugar
1 tablespoon ground cinnamon
1 stick real butter (if it seems to dry, you can add another 1/2 stick)
---
Preheat oven to 350° Fill your 9×12 pan 1/2 full with apples.
Sprinkle the apples with dry cake mix.
Combine sugar and cinnamon and sprinkle over the cake mix.
Melt butter and drizzle over.
Bake for 30 minutes or until golden brown.
Can be served with ice cream, if desired, with caramel sauce drizzled over ice cream.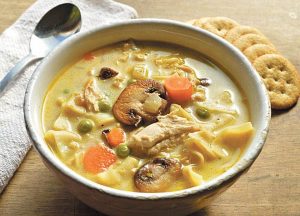 Turkey Tetrazzini Soup
1 Tablespoon vegetable oil (I prefer extra virgin olive oil)
1 medium onion, diced
1 cup carrots, cut into bite-size pieces
1/2 cup celery, chopped
2 cups sliced mushrooms
2 Tablespoons butter
1 cup flour
6 cups chicken or turkey broth
2 cups cooked turkey, shredded (cooked chicken can also be used)
3 ounces egg noodles
1 cup frozen peas
1/4 cup heavy cream (optional, but does add a real richness to the soup)
---
In a large soup pot heat the oil over medium-high heat. Then add the onions, carrots, and celery. Cook for 2 minutes or so until the onions appear somewhat transparent. Add mushrooms and cook another minute or two.
Reduce heat to medium. Push the vegetables to one side on the pan. On the other side add the butter and let it melt. Stir in flour, making a roux. Gradually add about a 1/4 cup of the broth stirring into the roux. Continue adding the broth a little at a time constantly stirring. By now the vegetables will also be mixed in. Add any broth that might be left, bring the mixture to a boil. Add the turkey. Then add the egg noodles.
Continue cooking until the noodles are almost done. Stir in the frozen peas and heavy cream. Cook until the peas are heated through, serve.
Suggestion: I like to serve with a dash of fresh ground pepper and a little grated Parmesan cheese on top.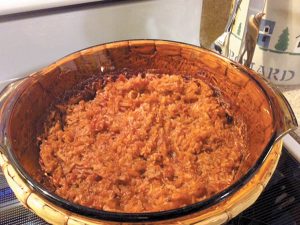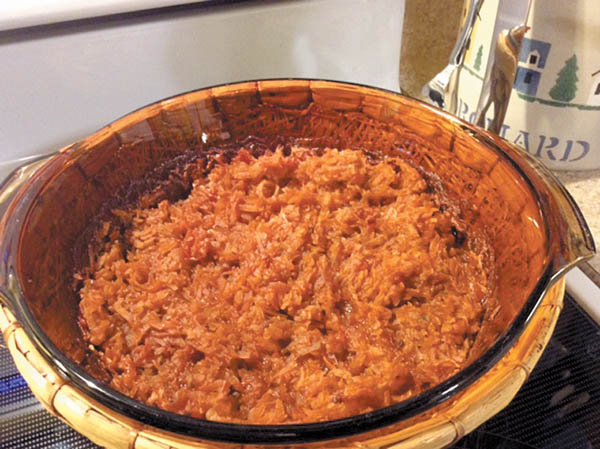 Caramelized Sweet Potatoes
4 C. shredded raw sweet potato (1 lb.)
1 C. water

1

/2 C. brown sugar

1

/2 tsp. salt

1

/2 tsp. ginger
2 Tbsp. butter or margarine
---
Combine potatoes, water, sugar, salt and ginger. Turn into a 1-quart casserole. dot with butter. Bake at 350° till potatoes are tender and caramelized, stirring occasionally, about 2 hours. Serves 4.
This is an excellent side dish for chicken, turkey or ham.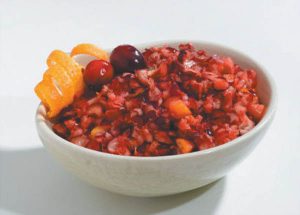 Cranberry-Orange Relish
1 small or 1/2 large unpeeled orange
(remove seeds if any)
2 Cups raw or thawed frozen cranberries
1 Cup sugar (or equivalent sugar substitute)
---
Put orange and cranberries through food chopper. Mix in sugar and let stand for several hours. Store covered in refrigerator. Makes 1 and 1/2 cups.
[Ella can be contacted at ellaweeza@yahoo.com or Ella at 50+ Lifestyles, 804 W Lombard Street, Davenport, IA, 52804]