December 1, 2020
Ella's Kitchen
Festive dinners may be for only two or four this year. Try a Cornish game hen per person instead of the big turkey. A suggested dinner for four menu: Cranberry Pineapple Gelatin Salad, Cornish Game Hen, Basic Bread Herb Stuffing, Twice Baked Potato, Buttered Broccoli, Corn Muffins, Pecan Tarts.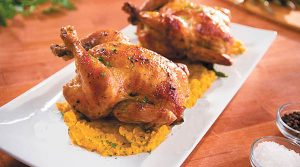 Cornish Game Hens
4 (12 to 15 ounce) Cornish game hens, cleaned and ready for roasting
---
Heat oven to 425 degrees Fahrenheit. Season hens inside and out with salt and pepper. Place hens, breast side up in large roasting pan. Brush hens with unsalted butter or fat. Roast about 1 hour, until fork-tender. Remember to baste the hens 2 or 3 times during roasting. Serve immediately.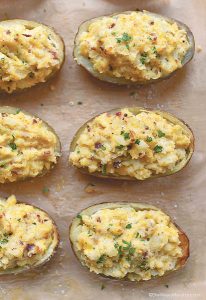 Twice Baked Potatoes
2 large russet potatoes, washed and scrubbed
2 Tablespoons butter, softened
3 Tablespoons half and half
1 Tablespoon chives
1/3 cup shredded cheddar cheese
---
Bake potatoes until done. Let cool enough so that you can handle them. Slice in half lengthwise. Scoop cooked potato out of the skin. Leave enough potato so that it keeps it shape. In a small bowl whip the scooped potato, butter, half and half and chives all together. Spoon mixture back into potato shells. When ready to serve the meal, heat potatoes through, then sprinkle shredded cheese on top, and heat until cheese starts to melt.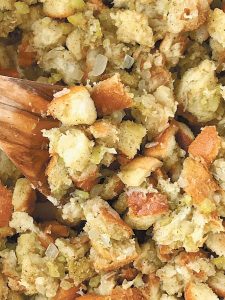 Basic Bread Herb Stuffing
1/3 cup butter
1/4 cup chopped or minced onion
4 cups dry bread cubes, can use
white, wheat, French or even a little rye
1 teaspoon each: rubbed sage, thyme, crushed rosemary and salt
1/3 cup chopped parsley
1/3 cup chopped celery (stalks and leaves)
1 cup chicken broth
---
Melt butter in a heavy skillet. Add onion and cook until transparent, stirring occasionally. Stir in some of the bread cubes. Now put in a big mixing bowl. (Adding a few cubes helps get all of the butter and onion out of the skillet) Now gently stir in the herbs, parsley, celery, and bread. Add broth and stir. Place in casserole or baking dish. Cover with foil and bake in a 375 – 400 degree oven for 30 minutes. Remove foil and bake an additional 10 to 15 minutes. Serve while still warm.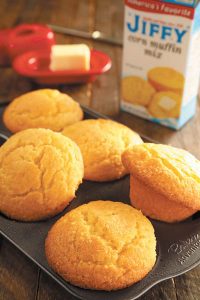 Corn Muffins
(prepare a day ahead)
1 Tablespoon sugar
1 egg
1/3 cup milk
2/3 cup Bisquick
1/3 cup corn meal
---
Heat oven to 450 degrees Fahrenheit. In a mixing bowl, combine all ingredients; beat vigorously for about 30 seconds. Grease cups of a six-count muffin pan. Fill each cup 2/3 full. Bake for 12 to 15 minutes. Let cool. Then wrap in foil and reheat before serving.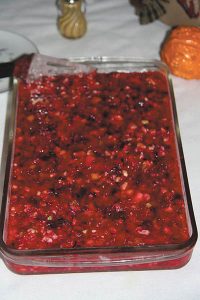 Cranberry Jelled Salad
(prepare a day ahead)
1 (9 ounce) can crushed pineapple
1 package cherry or raspberry flavored gelatin
1 cup hot water
1 Tablespoon lemon juice
1 Tablespoon orange juice
1 Tablespoon orange zest
1 cup ground fresh cranberries
1 cup shredded carrots
---
Thoroughly drain pineapple, reserving the liquid. Add water to make 1/2 cup liquid. Dissolve the gelatin in the 1 cup hot water. Add the reserved pineapple juice, lemon, and orange juices. Chill until partially set. Add fruits, carrots, and celery. Mix thoroughly. Pour into a square pan or a round mold. Chill overnight.
This will make 8 servings. To serve, cut into squares and place on salad plate on a lettuce leaf.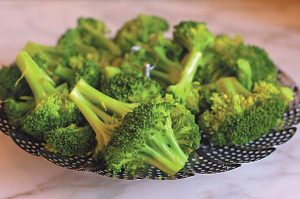 Broccoli
Wash about a pound and a quarter of fresh broccoli. Trim the stems and make 3 or 4 gashes or slits in the stems. Set upright in a small pan. Add water to completely cover the stems and partially the flowerettes. Cook uncovered for 10 minutes, then cover, lower heat to simmer, and let steam for another 5 minutes. Drain, place in serving bowl, butter, and season with salt and pepper.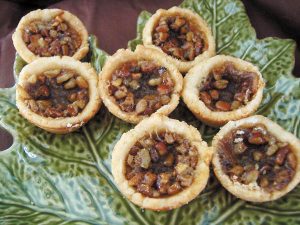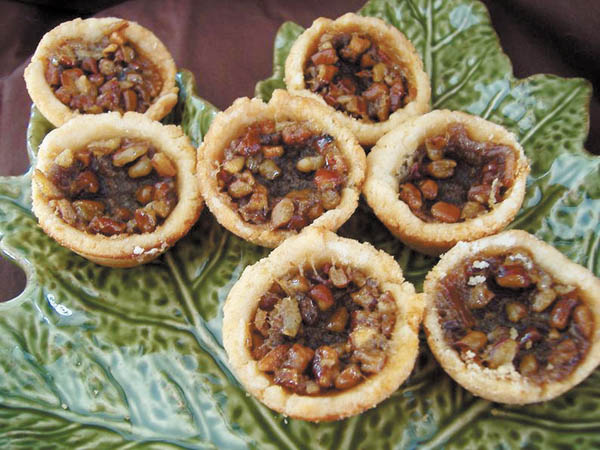 Pecan Tarts
4 prepared (store bought) unbaked tart shells, or four custard dishes for crustless desserts
Pecan Filling:
2 eggs
1/2 cup sugar
1/4 teaspoon salt
4 Tablespoons butter, melted
3/4 cup dark corn syrup
3/4 cup pecan halves
---
Heat oven to 375 degrees.
With a rotary beater mix all ingredients except the pecans. Then stir in the pecans. Pour filling into tart shells or custard dishes. Bake 40 to 50 minutes until filling is set. Serve cold or warm. May garnish with whipped cream.
[Ella can be contacted at ellaweeza@yahoo.com or Ella at 50+ Lifestyles, 804 W Lombard Street, Davenport, IA, 52804]