February 1, 2021
And the Cycle Continues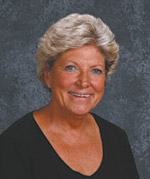 By Mary Schricker Gemberling
My first recollection of Florida was as a child of nine or ten traveling with my sister in the back of the family station wagon. In the days before seat belts, we would while away the hours reading or playing games on the large mattress in the back of the car. We excitedly anticipated our first glimpse of the Spanish moss hanging from the massive southern trees, for it was then that we knew we were approaching our destination. We traveled this route several times during my childhood and always stayed at the same beachside ma and pa motel in Hollywood Florida not far from Fort Lauderdale. I remember the fun we had running through the waves and building castles in the sand. In later years I looked for the hotel, but both the neighborhood and the building had fallen on hard times. My parents returned to Florida in their retirement years, settling on the Gulf coast in Fort Myers. I loved to visit and bring my sons every chance I had; I watched with joy as they too ran through the water and played in the sand. After my parents passed, I continued to vacation in the 'Sunshine State,' often escaping the mid-west winters to work on one of my writing projects. Eleven years ago this month, shortly after we met, Gary and I spent a week on Fort Myers Beach, weaving the stories of our past into a new beginning together. Gary and I were married in December of 2011 and have since traveled from the white sands of Destin to the aqua blue waters of KeyWest. It has been an unforgettable nine-year adventure exploring this diverse state.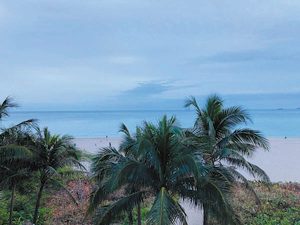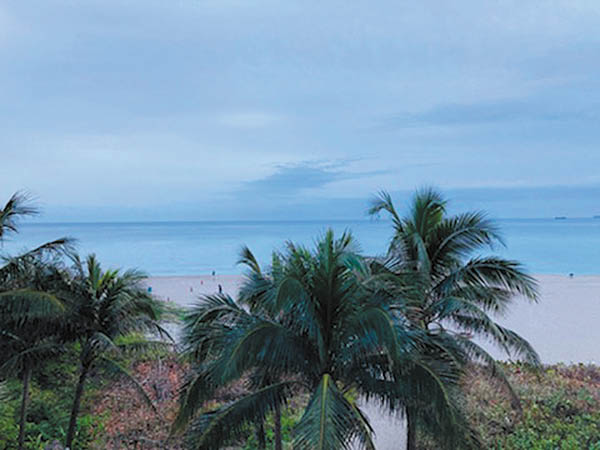 Last winter, faced with the shortage and rising costs of vacation rentals, we decided to buy a condo in Fort Myers. Having many friends here along with the familiarity of the area made settling in this location an easy decision.
I had hoped to fly down to the condo over the spring and summer to furnish and decorate, but Covid altered that plan. It was November before Gary and I were able to come. We packed the car with extra household items I had discovered in my pandemic cleaning frenzy and headed to our new condo. Our intent was to stay over in Georgia the first night and then
drive on to Fort Myers after stopping to have lunch with a friend in central Florida. But hurricane 'Eta' waylaid our plans. Our weather radar revealed that the sixth hurricane to make landfall in the United States threatened the lower half of Florida. We decided to stay over and drive down the next morning. We arrived around noon only to learn that the storm had circled around and was headed straight for Fort Myers. Although the winds and high water resulted in some massive cleanup for coastal residences and business the inland areas were unscathed.
Once we had stocked up on groceries and took a long look at each nook and cranny, we began making 'to buy' and 'to do' lists for the next fourteen days. Gary, who likes to do just about everything in life but 'SHOP,' was forced to spend many hours going in and out of furniture and home decor shops. To his credit he never complained once, and if I didn't know better, I would have thought he was even enjoying himself. The closure of some stores and the shortage of items due to the pandemic made furnishing our place an unexpected challenge. But after two weeks we had our new home away from home furnished with the basics. Leaving behind a very long "still to do list," we left the car here and flew home for the holidays.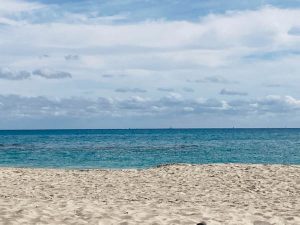 One perk of having a permanent place to go to is trading the 2 1/2 day drive for a 2 1/2 hour flight. We have now been back in Fort Myers for almost three weeks and much of the furniture we ordered in November has been delivered and the
necessities of comfort have been put in place. As we acclimate to our new surroundings, we are feeling less like newbies each day. Covid restrictions have made meeting new people a
challenge, but we are discovering an overall atmosphere of friendliness in the community.
We are expecting friends from Iowa to visit soon and next month my younger son Bret and his family are planning to visit; once again with joy in my heart I will watch Lucy, Pearl and Gus run through the waves and build castles in the sand. The cycle of life continues.
"Other things may change us, but we start and end with the family"
-Anthony Brandt
Mary, a former educator and Seniors Real Estate Specialists, is the author of four books, The West End Kid, Labor of Love, Hotel Blackhawk; A century of Elegance, and Ebenezer United Methodist Church; 150 years of Resiliency.