February 1, 2021
Ella's Kitchen
February, the month of hearts. Eat right for heart health – and also for your brain.  Try a slice of "decadent" cheesecake, but with less than 1/4 the fat grams.
Ella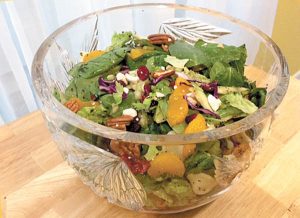 Spinach Romaine Super Salad
4 Cups Spinach leaves
4 Cups Romaine/ red cabbage mix
3/4 cup chopped celery, can include celery leaves
3/4 cup dried cranberries or raisins
1 can (15 ounce) mandarin oranges, drained
1 large Granny Smith Apple
2 teaspoons lemon juice
1/3 cup pecans
1/3 cup feta cheese
1/3 cup cooked Orecciette (little ears) pasta
---
Mix the greens in a large mixing bowl. Core and thinly slice apple, then pour lemon juice over slices so they don't yellow. Add all of the items to the greens and toss together. Pour on dressing, toss again and enjoy.
Dressing:
4 Tablespoons olive oil
2 Tablespoons apple cider vinegar
2 Tablespoons white wine vinegar
2 Tablespoons honey (2 – 4 Tablespoons sugar can be used instead)
1/8 tsp. each: paprika, thyme, ground nutmeg, onion or garlic powder
1 Tablespoon poppyseeds
Spinach Salad Ideas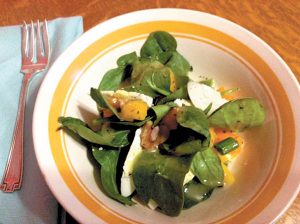 This spinach salad has hard-boiled egg, walnuts, yellow & orange sweet peppers and a little bit of chopped Anaheim pepper for a little kick. Creamy Italian dressing and cracked black pepper.
---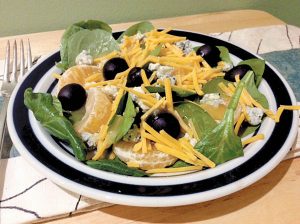 Spinach leaves with tangerine sections, ripe olives, blue cheese crumbles and shredded cheddar cheese. Use golden Italian dressing or a mild vinaigrette.
---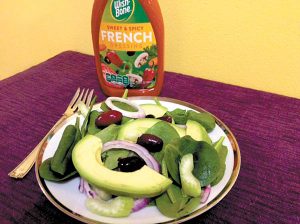 Spinach leaves with rings of red onion, celery, avocado and pitted kalamata olives. Paired with sweet and spicy French dressing.
---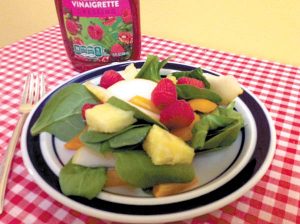 Spinach leaves. Red raspberries, orange bell pepper, pineapple and pears on the green leaves of spinach. Pair with raspberry vinaigrette.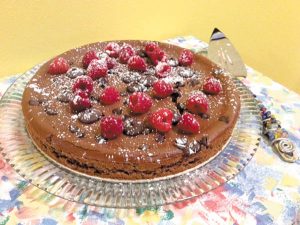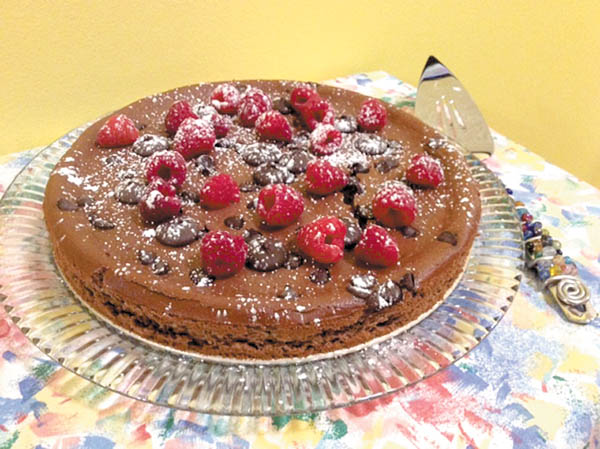 Chocolate Raspberry Cheesecake*
*this is a make ahead recipe because the cake needs to chill and set up for eight hours before cutting.
3/4 cup crushed chocolate wafers
(Nabisco makes a chocolate wafer, but the store I was at didn't have them in stock. They can be ordered online, but I didn't want to place an order for just one item).
I used a combo of Ghirardelli dark chocolate melting wafers and Oreos with the center frosting scraped off.
2 (8 ounce packages) 1/3 low-fat cream cheese
1 1/3 cup sugar
1 1/2 cup 1% low-fat cottage cheese
1/2 cup all purpose flour
1/3 cup unsweetened cocoa
1/3 cup raspberry schnapps or liqueur
2 eggs, slightly beaten
1 teaspoon vanilla extract
1/2 cup semisweet chocolate chips
---
Sprinkle crushed wafers on bottom of a spring- form cake pan. Set aside. Preheat oven to 300 degrees. In a large mixing bowl, cream together cream cheese and sugar. Using rotary beaters, mix in cottage cheese at medium high speed. Now beat in the cocoa, flour, eggs, raspberry schnapps and vanilla extract. Beat until well mixed. Slowly pour in the cake pan. Sprinkle chips over the top. Bake for 65 to 70 minutes. Cool on rack. When pan is cool to touch,
cover and chill for 8 hours.
[Ella can be contacted at publisher@50pluslife.com or Ella – 50+ Lifestyles, P. O. Box 2125, Davenport, IA 52809]