March 1, 2021
Ella's Kitchen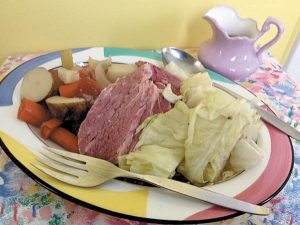 Corned Beef and Cabbage in Crockpot
2 or 3 celery stalks, cut into pieces of about 3 inches (I use one stalk that has leaves and chop the leaves and add them also)
3 carrots cut into large chunks
1 small to medium yellow onion cut in wedges
About 1/2 pound potatoes, cubed in pieces of about 2 or 3 inches (this time I used four medium sized red and two russet because that was what I had on hand)
6 sprigs of thyme (dried thyme can be used
if you don't have fresh)
1 corned beef brisket (about 3 pounds)
Pickling packet from brisket package
or 1 Tablespoon pickling spices
1/2 head cabbage, cut in 1 1/2 inch wedges
---
In a 5-to-6 quart slow cooker put carrots, celery, onion, potatoes and thyme. Place the corned beef, fat side up, on top of the vegetables and sprinkle with the pickling spice. Add water (4 to 6 cups) to almost cover the meat. Cover and cook until the meat is tender. 4 1/4 hours on high, 8 1/2 hours on low. I started one hour on high, then about six plus hours on low. Now place cabbage wedges on top of meat and continue cooking 45 minutes to an hour.
Remove corned beef from pot and let rest a few minutes on cutting board. Slice meat in thin slices against the grain. Arrange meat and vegetables on a serving platter.
Options for serving: Thicken the broth with a little cornstarch and serve along side. Accompany with a brown mustard or a horseradish sauce.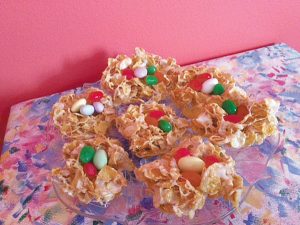 Easter Eggs Nests
3 Tablespoons butter
1 pkg. (10 ounce – about 40) Kraft Jet- Puffed marshmallows. (For this treat, I do like the name brand best.)
6 cups corn flakes
Jelly beans or other Easter candy
In a large saucepan melt the butter over low heat.
Add the marshmallows and stir until completely melted.
Remove from heat. Stir in the corn flakes a little at a time.
---
Stir around until they are completely coated with marshmallow mixture. Using a buttered spatula or your hand, form circles of the flakes and place on waxed paper. Flatten the circles a little and make an indentation in the center, forming a nest.
Put the candies in the nest.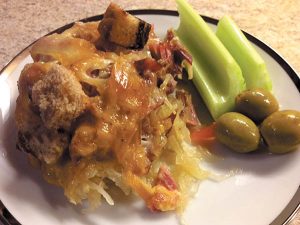 Reuben Casserole in the Crock
1 (16 ounce) can sauerkraut, partially drained
3/4 to a pound of corned beef, cubed or diced or in small pieces.
2 cups Swiss cheese, shredded
1/2 cup mayonnaise
1/4 cup Russian salad dressing
2 Tablespoons butter
1/2 cup soft rye or pumpernickel bread crumbs or cubes
---
Grease the inside of the crock pot insert.
In a small bowl, mix mayonnaise and salad dressing together. Set aside.If you don't have Russian dressing you can substitute Thousand Island, French or Catalina. The Russian dressing has a sweeter flavor than the others, but any can be used.
Spoon the sauerkraut into the  bottom of the pot. Then layer in the corned beef. Add the Swiss cheese. Now spread the dressing mixture over the top. Cover crock pot and cook on slow for 5 to 7 hours.
Melt butter in a large skillet over medium heat. Add the bread cubes/crumbs and cook until they are a golden brown, stirring constantly. Sprinkle over the casserole just before serving.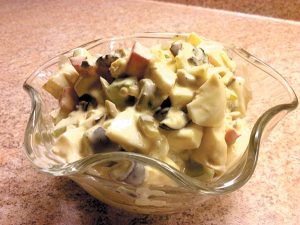 It's All Here Egg Salad
Egg salad can be so much more than eggs, onion, celery and mayonnaise. Get creative!
6 hard boiled eggs, chopped
2 tender stalks of celery, chopped (about 1/3 cup)
2 green onions, chopped or 1/4 yellow onion, chopped
1/3 cup yellow bell pepper, chopped
1/3 cup red bell pepper, chopped
1/4 cup green olives, chopped
1/4 cup ripe olives, chopped
1 Tablespoon dill pickle relish
1 Tablespoon sweet pickle relish
3/4 cup to 1 cup mayonnaise or Miracle Whip
Salt and pepper to taste
---
Mix all ingredients together. If you noticed, I said chopped rather than diced or minced. This makes for a chunkier salad, (and not as much time to prepare) but I have also diced or minced the ingredients other times.
Also, if there is a certain item you don't care for, omit it. My husband liked radishes so I have been known to add a radish or two to the salad. I also like the orange bell pepper, but last week they were twice the price of the red and yellow so I opted not to buy them. Nor did the green bell peppers look that good. This is your salad so put your individual twist on it. For a different flavor, you could cut back on the mayonnaise and add a tablespoon of another dressing such as Thousand Island, Ranch, French or Italian.
[Ella can be contacted at ellaweeza@yahoo.com or Ella at 50+ Lifestyles, 804 W Lombard Street, Davenport, IA, 52804]