April 1, 2021
Ella's Kitchen
Welcome April! A great time to try new things, keep your produce fresh, and some hints from readers. One reader told me that when she cooks corned beef brisket, she simply pours a can of beer over the meat before slow cooking. This is a great idea for any inexpensive cut of meat that you are preparing. Another reader told me that when he prepares Irish Stew, he adds a bottle of Guinness stout and a cup of red wine.
-Ella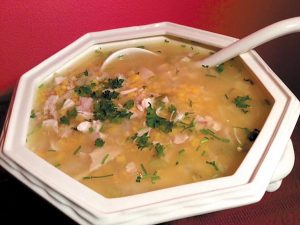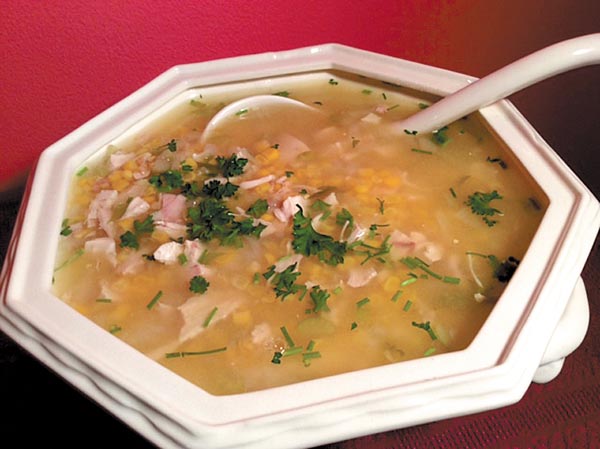 Velvet Chicken Corn Soup
2 – 2 1/2 pounds cooked chicken meat
1 Tablespoon butter
1 medium onion, minced
1/2 cup finely diced celery
4 quarts (16 cups) water
1 can cream of corn
6 cups frozen corn ( I used a 24 ounce bag. When measured out, it was 5 3/4 cups, so that is what I used. I didn't open a new package)
1 Tablespoon chopped parsley
Salt and pepper to taste
---
In soup pot, melt butter on medium-low heat. Add onion and celery, let them sweat. (Cooking until tender and transparent) Add chicken, creamed corn, water and frozen corn. Cook over medium heat about 15 – 20 minutes. Garnish with parsley when serving.
If you like a little kick to your soup, sprinkle with
red pepper flakes or garnish with jalapeño pepper rings.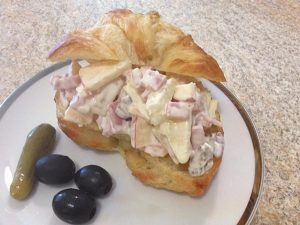 Ham and Fruit Salad on a Croissant
8 – 10 ounces of cubed ham
1 medium rib of celery (about 1/4 cup) diced
1/4 cup diced onion, or 3 or 4 green onions
1/2 cup cream cheese, softened
1/2 cup mayo
1/2 cup pineapple tidbits, drained reserving some juice to put on apple pieces
1/2 an apple, cored and cut in small pieces, sprinkle the pineapple juice over cut apple so that it doesn't turn brown.
Optional: 1/3 cup pecan or cashew pieces
---
Mix all ingredients together. For best flavor, let sit in refrigerator for at least four hours before serving.
Serve on a croissant or other roll or bread.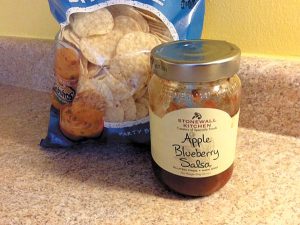 Title Here
I received a jar of apple and blueberry salsa in a gift basket. It was delicious, tomatoey and spicy like regular salsa, but with a hint of fruit and sweetness. So I decided to make some of my own.
1 jar of your favorite salsa
1 apple, cored and diced
1/3 to 1/2 cup of blueberries – I used fresh, but canned (drained) would work, maybe even better because they would be smaller.
---
Gently mix together. Place in covered container and refrigerate. Enjoy with corn chips.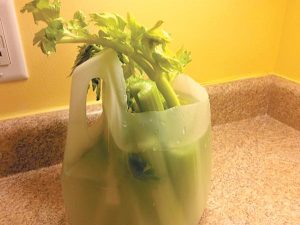 Keeping Produce Fresh
Celery
If you cut the base off, rinse all ribs and then place up right in cold water in a container in the fridge, the celery should remain fresh and crisp for two weeks or longer. You might need to change the water once or twice. I learned this trick when I worked in a restaurant during my college years. Of course we never had celery remain unused for that length of time. We used the large wide mouth glass jars, but since I no longer have those I created a large container from a plastic jug.
---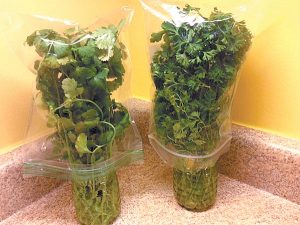 Parsley, Cilantro, and other fresh herbs –
(this trick I learned from Rachel Ray) place in a container with water, then cover with a plastic bag loosely over the top. Leave on the kitchen counter. The herbs seem to "wilt" in the cold refrigerator. The bag acts as a terrarium for the produce so that the sprigs of herbs don't dry out. Change water as needed.
[Ella can be contacted at ellaweeza@yahoo.com or Ella at 50+ Lifestyles, 804 W Lombard Street, Davenport, IA, 52804]