May 1, 2021
A Taco Twist with Tilapia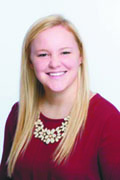 By Katie Schaeffer, RD, LD
Hy-Vee Registered Dietician
(515) 695-3780 kschaeffer@hy-vee.com
Spring into healthy habits by making Tilapia Tacos this week! Stop by your Hy-Vee seafood department for sustainably raised Rainforest tilapia. Hy-Vee's Responsible Choice program ensures top-notch, quality seafood where the best aquaculture practices are used to protect seafood ecosystems. Tilapia is a versatile, mild-flavored white fish, making it a family favorite. It's easy to bake, grill, pan-sear or air-fry.
Four easy ways to cook Tilapia:
Bake: Preheat oven to 400 degrees F. Spray a foil-lined baking sheet with nonstick cooking spray. Pat tilapia fillets dry and season tilapia as desired. Bake for 10 to 12 minutes or until fish flakes with a fork and reaches 145 degrees F.
Grill: Brush fish with olive oil and season as desired. Place on greased grilling screen and grill over medium-high heat for 4 to 5 minutes or until fish flakes with a fork, turning once halfway through.
Pan-Sear: Pat fish dry and dip in seasoned flour mix. Sear in a tablespoon of oil in a nonstick skillet over medium heat for 3 to 4 minutes per side or until crust is golden and fish flakes with a fork.
Air-Fry: Coat fillets with seasoning as desired. Air-fry at 375 degrees F for 5 to 10 minutes or until fish reaches an internal temperature of 145 degrees F, turning once halfway through.
With your health top of mind, eat seafood at least twice each week and connect with a Hy-Vee dietitian to enroll in programs to help you reach your nutrition goals. Programs include virtual or in-person nutrition store tours about heart-health or diabetes (more topics available) or individual nutrition counseling to discuss your personal nutrition needs or Healthy Habits menu program, all with weekly accountability check-ins. You've only got one body, so take care of it and keep it a top priority.
Try this recipe for your next taco night.
Air Fryer Tilapia Tacos Serves 4 (2 tacos each)
All you need:
1 lb. fresh tilapia fillets
¾ cup + 1/3 cup Old El Paso zesty ranch taco sauce, divided
2 cups Hy-Vee plain panko bread crumbs
1 (1.25-oz) pkg Hy-Vee original taco seasoning mix
Hy-Vee nonstick cooking spray
5 cups Hy-Vee coleslaw mix
8 Hy-Vee taco-size flour tortillas
Desired toppers: Grilled corn, diced avocado, chopped tomato, guacamole salsa, diced mango, red onion, jalapeno slices, chopped onion, Mexican crema, chopped cilantro, Cotija cheese
All you do:
Preheat air fryer to 375 degrees F.
Pat tilapia fillets dry; cut into 2½- x ½-inch pieces.
Place ¾ cup Old El Paso zesty ranch taco sauce in a shallow bowl.
Combine panko bread crumbs and taco seasoning mix in another shallow bowl.
Dip fish, one piece at a time, into sauce; shake off excess. Evenly coat with bread crumb mixture, pressing to adhere.
Lightly spray the air fryer basket with Hy-Vee nonstick spray.
Air fry for 5 to 6 minutes or until lightly golden and fish flakes easily with a fork (145 degrees F), turning fish and spraying with additional nonstick spray halfway through.
While fish is air frying, combine Hy-Vee coleslaw mix and 1/3 cup additional Old El Paso ranch taco sauce.
Serve fish on taco-size flour tortillas with cabbage slaw and desired toppers.
Recipe source: April 2021 Seasons magazine
The information is not intended as medical advice. Please consult a medical professional for individual advice.