September 2, 2021
Ella's Kitchen
Do you have a surplus of tomatoes and zucchini? Here are some twists to using the fall harvest. Also, September is time for crockpot meals! Enjoy the change of seasons.
Ella
[Ella can be contacted at publisher@50pluslife.com or Ella – 50+ Lifestyles, P. O. Box 2125, Davenport, IA 52809]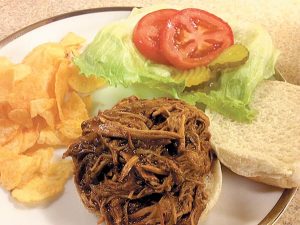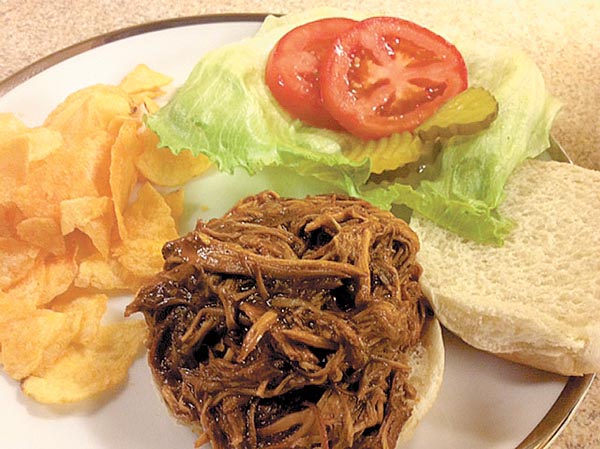 Easy Crockpot BBQ Chicken
3 pounds boneless and skinless chicken breasts – that's about 5 – 6 breasts
1 1/2 cups BBQ sauce
1/2 medium onion, grated with the juice
1 Tablespoon olive oil
1 Tablespoon Worcestershire sauce
2 Tablespoons brown sugar
---
Hint for BBQ sauce – The other day I heard Rachel Ray say she often made her own homemade BBQ sauce. No particular recipe, just a combo of items in her refrigerator. This is a great way to use up the small amounts of salad dressings that are left. Just add some Italian dressing instead of the olive oil. French, Southwestern, or Russian dressings can add a new dimension to your sauce.
When I recently made this recipe, I noticed the sauce was not as thick as I would have liked. It was a thick sauce to begin with, but the chicken must have had more water added than normal and the end result was a thin sauce that made the buns soggy and was watery on the plate. If you feel that your sauce is thinner than you would like, simply mix a tablespoon of cornstarch into 1/2 cup cold water. When thoroughly mixed, add to the hot mixture in the crockpot, stir and continue heating for another ten minutes or so.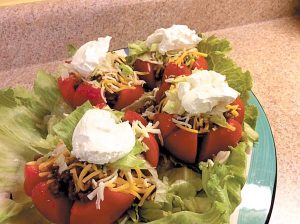 Taco Stuffed Tomatoes
4 medium to large ripe tomatoes
1 Tablespoon olive oil
1/4 onion, chopped or diced
1 pound lean ground beef (chicken, turkey or other meat can be used)
1 packet of taco seasoning mix
Shredded lettuce
Shredded cheddar cheese or other shredded cheese to sprinkle on top
Sour cream – you will need four
"dollops" so the size of your dollop will determine the amount of sour cream you will need.
---
Core tomatoes and cut into sixths, careful not to cut all the way through. Leave the bottoms intact. Heat skillet over medium heat, add oil. Add onion and stir, reduce heat a little and cook onion until it sweats or becomes translucent. Do not over cook or caramelize. Add ground meat, stirring and cooking meat. Sprinkle taco mix packet over the cooking meat, stirring constantly. Maybe add a tablespoon or two of water, if needed.
When meat is thoroughly cooked, remove from heat and spoon into the tomatoes. Garnish with lettuce, cheese and sour cream.
Other garnishes can be added: green or black olives, avocado slices, guacamole, hot peppers.
Another variation would be to core and devein bell peppers. Place the meat mixture in them. Then you would want to add diced tomatoes or salsa to the garnish.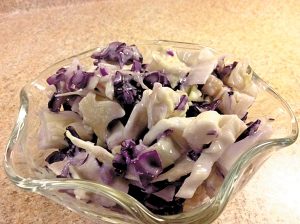 Hawaiian Twist Coleslaw
1/2 head of medium sized
green cabbage, coarsely chopped
1/2 head of small sized purple
cabbage, finely chopped
1/2 – 3/4 cup crushed pineapple
3/4 cup mayonnaise or miracle whip
1/3 cup coconut milk, orig. unsweetened
1 Tablespoon pineapple juice from the crushed pineapple
1 Tablespoon sugar
1 tsp. horseradish sauce
(optional for a little kick)
---
Combine the cabbages and pineapple in a large bowl. In a medium bowl whisk together the mayo, milk, juice and sugar (and horsey sauce if you are adding it). Pour over the cabbage mixture. Toss to mix. Cover and refrigerate for at least an hour.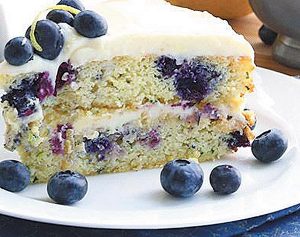 Blueberry and Zucchini Cake with Lemon Buttercream Frosting
Cake:
3 large eggs
1 cup olive or vegetable oil
1 Tablespoon vanilla extract
2 1/4 cups sugar
1 pint blueberries, tossed in about a tsp. of flour
Preheat oven to 350°. Lightly grease and flour a 9 x 13 baking pan. In a mixing bowl, beat eggs, oil, vanilla and sugar until well blended. Fold in the zucchini. In another mixing bowl, whisk flour, salt, baking powder and baking soda. Slowly add to the wet mixture, mixing just enough to blend. Gently fold in blueberries. Pour into the baking pan. Bake for about 50 minutes. Top should just start to turn golden and an inserted toothpick should come out clean. Cool on rack.
---
Lemon buttercream frosting:
3/4 cup (1 1/2 sticks) unsalted butter at room temperature
4 cups confectioners sugar
1 – 1 1/2 Tablespoons lemon juice
In a rotary beater mixing bowl or food processor, mix butter until it is creamy. Slowly add confectioners sugar one cup at a time, thoroughly beating after each cup full. After the second cup of sugar has been added, stir in the lemon juice. Then add the remaining sugar, one cup at a time. If frosting is too dry, add a little more lemon juice, if it is too moist, add a little more sugar.
When cake is completely cool, frost. Garnish with blueberries and lemon zest. Store in refrigerator.
[Ella can be contacted at ellaweeza@yahoo.com or Ella at 50+ Lifestyles, 804 W Lombard Street, Davenport, IA, 52804]