September 2, 2021
September is National Senior Center Month and World Alzheimer's Awareness Month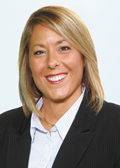 By Laura L. Kopp, MS
CASI President/CEO
September is National Senior Center Month and World Alzheimer's Awareness Month – a special time to celebrate how Senior Centers and Adult Day Services across the country are vital partners in the health and wellbeing of our community. This past year has forced us into the spotlight even more than usual as COVID reared it's ugly head and posed a significant and unique risk to older adults. In Iowa alone, 98% of those who died of COVID were over the age of 50. COVID posed many unique challenges but it also offered us the opportunity to showcase our strength and our role in keeping seniors safe, educated and healthy.
Over the last 18 months CASI has fought to keep our doors open and to provide the critical and sometimes lifesaving services seniors needed during this global pandemic. Many seniors were ill equipped to navigate a new and literal "virtual reality." Many did not possess computers or smart devices, some did not have home Wi-Fi and others simply struggled with gaining the knowledge and skills to navigate the internet, social media and online/virtual appointments. While close to 80% of our activities and staff were furloughed, our Senior Advocacy team provided round the clock support to older adults terrified of what they did not know about this novel virus. Our staff ensured seniors had access to equipment and tools necessary to meet with their doctors remotely, to access their prescriptions and to secure fresh, nutritious food without leaving their homes.
In the Spring of 2021 our Senior Center staff helped over 3,000 older adults, without computers or internet, access the COVID vaccine. Our team worked around the clock to connect seniors with the services and supports they needed to navigate the pandemic.
In March, a year to the date that we closed, we reopened our doors and our arms to those we have the privilege of serving. Our job now has been to provide safe opportunities for older adults to come out of isolation and reconnect with others. Socialization has been found to be one of the most critical strategies to successful aging. Those with access to the services and supports provided through a senior center self-report greater health outcomes and overall higher quality of life.
We have spent the last six months creating new and innovative programming like our Diamond Painting Class, Chair Yoga, and Drums Alive! We are always working toward providing opportunities throughout the day for seniors to come together, have fun and learn new things while following guidance from the CDC, state and local health departments on serving seniors during a global pandemic.
Just as we have begun to find what feels like a new normal, we are beginning to see COVID positivity rates and risk rate increase. Many have shared their own anxiety and have asked what we plan to do. My honest answer is, "I don't know." But what I do know is that the last 18 months have been extremely trying times but also some of the most rewarding. We have learned a great deal about the virus, the vaccine and ways in which to function alongside COVID. We will continue to do everything in our power to ensure seniors are protected and have access to the services and supports they need to age successfully during a pandemic and beyond.
Laura L. Kopp, MS is President/CEO of CASI, located at 1035 W. Kimberly Road, Davenport, IA 52806. For information call (563) 386.7477 or email info@CASIseniors.org.