October 1, 2021
Ella's Kitchen
We're well into fall, and crockpot meals are still a favorite of mine. They are relatively easy, simmer all day and little clean up. Very handy if you or family members "binge" on football all weekend long. Enjoy October
– Ella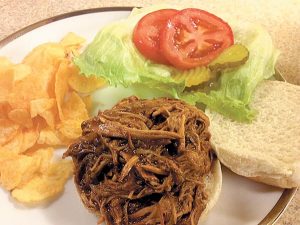 Easy Crockpot BBQ Chicken
3pounds boneless and skinless chicken breasts, that's about  5 – 6 breasts
1 1/2 cups BBQ sauce
1/2 medium onion, grated with the juice
1 Tablespoon olive oil
1 Tablespoon Worcestershire sauce
2 Tablespoons brown sugar
---
Stir together all the sauce ingredients and pour into a 5-6 quart slowcooker. Add chicken and turn to coat with the sauce. Cover and cook on high for 3 to 4 hours or on low for 5 to 6 hours. (I did mine about 5+ hours) Chicken is done when cooked entirely through and easy to shred.
Remove chicken from pot to a cutting board. Shred the chicken using two forks. Now place shredded chicken back in the crockpot and stir to coat with the sauce mixture.Hint for BBQ sauce – The other day I heard Rachel Ray say she often made her own homemade BBQ sauce. No particular recipe, just a combo of items in her refrigerator. This is a great way to use up the small amounts of salad dressings that are left. Just add some Italian dressing instead of the olive oil. French, Southwestern, or Russian dressings can add a new dimension to your sauce.
When I recently made this recipe, I noticed the sauce was not as thick as I would have liked. It was a thick sauce to begin with, but the chicken must have had more water added than normal and the end result was a thin sauce that made the buns soggy and was watery on the plate. If you feel that your sauce is thinner than you would like, simply mix a tablespoon of cornstarch into 1/2 cup cold water. When thoroughly mixed, add to the hot mixture in the crockpot, stir and continue heating for another ten minutes or so.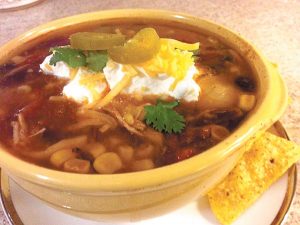 Southwestern Chicken Soup
1 Chicken breast, boneless and skinless
2 teaspoons chopped or crushed garlic
1 package of taco mix
Water
1 can whole corn, drain & reserve juice
1 can diced fire roasted tomatoes, drain and reserve juice
1 can black beans, drained and rinsed
1 can red kidney beans, drained and rinsed
1/3 cup orecchiette (macaroni pasta) May substitute with elbow macaroni or the like
1 Tablespoon green chiles
Optional items for garnishing: Sour cream, shredded cheese, black olives, cilantro, jalapeños, corn chips, tortillas.
---
Place chicken breast in crockpot. Add garlic. Add reserved juices from corn and tomatoes. Add taco mix. Add water until chicken breast is covered. Cover pot and cook on high for 3 to 4 hours or on low for 5 to 6 hours. About 1/2 way through cooking time add the pasta, corn, tomatoes, beans and chiles. When chicken is done, remove from pot and place on cutting board. You may shred or cut chicken into bite size pieces. Return to pot.
This is a very mild soup with hint of the Southwest. If you want more spice, add a second packet of taco mix, or a teaspoon or so of chili powder or cumin, or a dash of hot sauce. Add a few jalapeños or more green chiles.
I found a can of jalapeños at the store that said mild jalapeños. The veins & seeds had been removed so the flavor was there, but the heat was not. Garnish with sour cream, shredded cheese, fresh cilantro (parsley could be used) & a jalapeño slice. Or other toppings desired. Serve with chips or tortillas.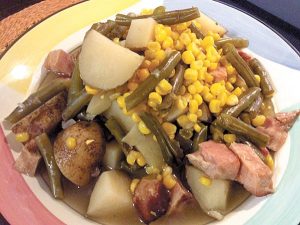 Ham, Potato, Corn and Green Bean Crockpot Dinner
2 pounds ham, diced
1 pound fresh green beans, rinsed and cleaned – cut beans in half or bite sized pieces
2 cups whole kernel corn (I used frozen but canned can be used)
4 baking potatoes, diced
1 large onion, chopped or diced
Water
Salt and Pepper to taste
---
Place ham, green beans, corn, potatoes and onion in crockpot. Salt and Pepper to taste. Add about 3 cups water. A dash of steak sauce, Heinz 57 or A-1 can be added for a richer flavor. Cover pot and cook for about 6 hours on low.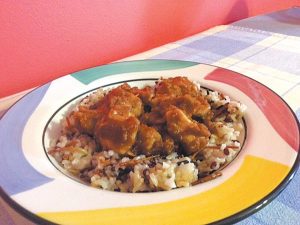 Peanut Butter Chicken on Rice a Roni
2 Chicken breasts, cubed in about 1 inch pieces (boneless and skinless are easiest, but if you skin & debone the breasts yourself, you might save some money)
1 Tablespoon oil
Basic peanut sauce
1/2 cup creamy peanut butter
1/4 cup soy sauce
Milk to thin the peanut butter (I used about 2 TBS. of coconut milk)
Mix together to make sauce. If desired, you can add crushed garlic, ground ginger, red pepper flakes. It is all a personal taste. In a wok or large skillet, heat oil then add chicken pieces and brown chicken. Turn pieces often. When chicken is done, stir in sauce to coat chicken pieces. Serve over the rice a roni.
---
Make your own rice a roni:
1 cup cooked white rice
1 cup cooked brown or wild rice
1/2 cup spaghetti or lingerie pieces, pieces should be no longer than 1 inch and can be a lot shorter. They do not need to be uniform.
2 teaspoons oil
In a medium sized skillet heat oil and add pasta pieces. Start with medium high heat, then lower heat. The pasta will brown, stir constantly so as to not burn pasta. When all pasta is browned, stir in the two rices. Heat through and serve with the chicken. To enhance the meal, add water chestnuts, snow peas, cooked broccoli flowerets, shredded carrots or other vegetables to the chicken mixture. Enjoy
[Ella can be contacted at publisher@50pluslife.com or Ella – 50+ Lifestyles, P. O. Box 2125, Davenport, IA 52809]