November 1, 2021
Ella's Kitchen
It's November and apples are still quite plentiful. I have included a fun-to-do cookie that might keep children entertained after Thanksgiving dinner. Enjoy the month.
-Ella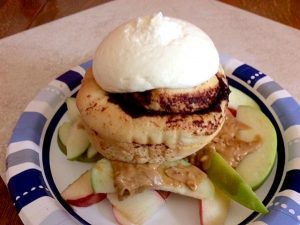 Peanut Butter Apple Cinnamon Roll
A quick and easy way to make
that decadent cinnamon roll
a little bit healthy.
1 Apple, cored and sliced thin
2 Tablespoons peanut butter
(I prefer chunky, but smooth
will work, too)
1 Store-bought cinnamon roll
with frosting
---
Layer apple slices on a microwaveable plate. Heat in microwave for 15 – 20 seconds. This will soften the apple, but slices will still remain firm.
Now add the peanut butter in dollops on top and microwave another 10 seconds. Gently spread the softened peanut butter over the apples.
Place the frosted cinnamon roll on top and microwave for 30 – 35 seconds.
Let sit for a bit, then microwave another 10 seconds so that frosting melts down the sides.
Enjoy.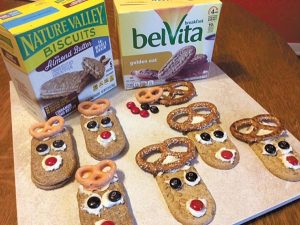 Reindeer Cookies
BelVita, Nature Valley Biscuits or Nutter Butter cookies.
White frosting
Pretzels (I just happened to find some pumpkin spiced flavored yogurt covered pretzels. I show two different types of pretzels and two different cookies. One is just the single wafer, the other a sandwich cookie. Be creative and use what you find available.)
Red and Brown M & M's
---
So simple to make.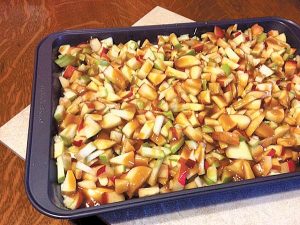 Caramel Apple Cream Cheese Delight
2 Cups Graham cracker crumbs
1 Tablespoon sugar
1 stick melted butter
1/4 Cup sour cream
2 (8 ounce) blocks of cream cheese (softened)
3 Cups powdered sugar
1 (8 ounce) container Cool Whip
Approximately 6 apples cored and chopped. Use a combination of red and green apples.
Caramel sauce topping.
---
Combine Graham cracker crumbs, tablespoon sugar and melted butter. Press mixture into a 9 x 13 inch pan. Refrigerate to set while mixing cream cheese mixture.
Cream together the softened cream cheese, sour cream and powdered sugar. Then fold in Cool Whip.
Spread mixture over the Graham cracker crust.
Top with the apple pieces, drizzle with the caramel sauce topping.
[Ella can be contacted at publisher@50pluslife.com or Ella – 50+ Lifestyles, P. O. Box 2125, Davenport, IA 52809]